Chemistry Students to Attend NSF Summer Programs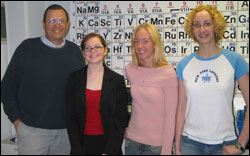 Keene, N.H. 5/10/04 - Three Keene State chemistry majors have been selected as participants at prestigious research programs for the summer.
Michele Tague, a sophomore from Richmond, N.H., has been accepted into the National Science Foundation summer program in solid state chemistry, which will be held over ten weeks at Wayne State University in Detroit. The program begins with a week-long tutorial session at Clemson University and finishes with a symposium, also at Clemson.
Jerry Jasinski, professor of chemistry, will attend the NSF summer research program in solid state chemistry at Brandeis University. Jerry, who was accepted for the same program last year, will work under the supervision of Dr. Bruce Foxman.
Jennifer Taylor, from Hinsdale, N.H., and Sara Frawley, from Meridan, Conn., both juniors, will attend NSF Research Experiences for Undergraduates (REU) programs in chemistry at Virginia Commonwealth University and the University of Memphis respectively.
According to Frawley, the experiences she's most looking forward to are meeting people from the same field and working with different faculty to learn new techniques.
When the students return, they will be among the first to work and study in Keene State's new Science Center, which will be completed in August. "It will be a much more comfortable environment for all of us to study in," says Taylor.
Each student will receive a stipend of $3,500 and housing and travel allowances during their programs.
Related Stories