Music of Ecuador Highlights Guitar Concert (4/14/04)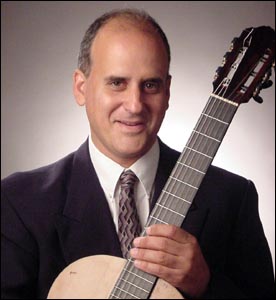 KEENE, N.H. 4/9/04 - Ecuadorean Landscapes, a new work by Professor José Lezcano, and other Latin music will highlight the Keene State College Guitar Orchestra concert on Wednesday, April 14, at 7:30 p.m. in the Alumni Recital Hall of the Redfern Arts Center on Brickyard Pond. Tickets are $7 for the general public and $5 for KSC students, senior citizens, and youth age 17 and under. Call the box office at 603-358-2168.
Lezcano will direct the Guitar Orchestra through an eclectic program that ranges from the stately Renaissance music of Jan-Pieterszoon Sweelinck and Pierre Attaignant to and a modernist jazz toccata by Leo Brouwer. The orchestra will also play Concerto grosso op. 3 no. 8, one of Antonio Vivaldi's more popular concertos that includes a lyrical duet for two guitarists.
KSC scholarship students David Ross of Drewsville, Adam Kale of Brookline, and Nic Tremblay from Berlin, who all study guitar with Lezcano, will open the concert with solos of standard guitar works by Fernando Sor, Heitor Villa- Lobos, Leo Brouwer, and Richard Rodney Bennett.
Lezcano will play a guitar solo during a rearrangement for guitar orchestra of the Ecuadorean Landscapes, third movement of his guitar concerto which he premiered earlier this year with the Keene Chamber Orchestra.
Lezcano, who was Composer of the Year in 2002, received two honors in 2003: a New Hampshire State Council on the Arts Individual Artists Fellowship and Keene State College's Award for Distinction in Research and Scholarship in recognition of his activities as performer, scholar, and composer.
Related Stories