Staff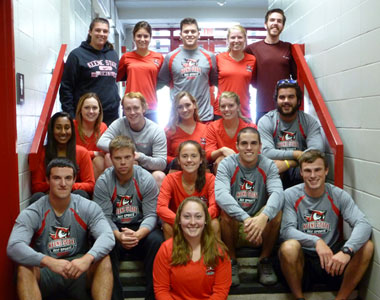 The BodyWorks staff, made up of students majoring in Health Science, serves as a laboratory experience where the staff can apply their classroom knowledge and sharpen skills in program design, participation incentive programs, fitness testing, facility management and marketing.
The staff is available to answer questions, assist with your workout, make appointments, demonstrate exercises and do fitness testing.
How Can We Help You?
Would you like an individual tour of our facility to find out where the locker rooms are located, how to get to the indoor track, where the free weights are located, etc.? Email: cmiles@keene.edu
Would you like an orientation to our equipment? Find out how to use various strength training equipment and cardiovascular equipment. This can take as little or as long as you want. Email: cmiles@keene.edu
Would you like a personal trainer to help you reach your goals? We will match you up with a trainer based on your needs and times available to train. Email: cmiles@keene.edu
Do you have questions about strength and conditioning for your sport? Email: stesto@keene.edu
The BodyWorks Fitness Center's Manager is Chris Miles and the Assistant Manager is Sarah Testo. Chris can be reached at 358-2697 and Sarah can be reached at 358-2866.
---
Lynne Andrews
Director of Recreational Sports
603-358-2815
Front Desk: 603.358.2826