Orientation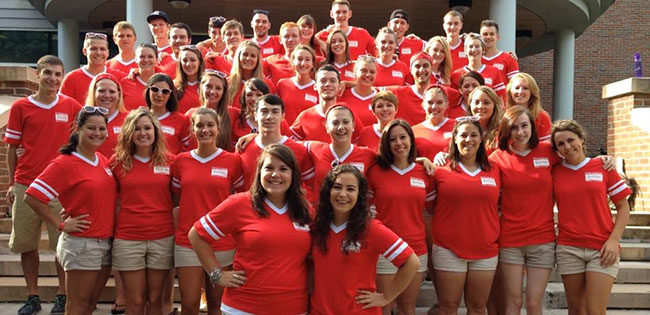 Congratulations on your decision to choose Keene State College!!!! Our faculty, staff, students and alumni look forward to welcoming you to campus.
The beginning of your transition to becoming a Keene State College student starts with Orientation in June. During orientation you will learn about campus resources, support services, be introduced to campus traditions and points of pride, interact with faculty, administrators, and current students. You will also leave campus with a class schedule for the upcoming fall semester.
During the overnight June Program, the student will be staying in one residential hall and the parent/guardian(s) will be staying in another, within a short distance between the two. We ask that all who attend the overnight June program bring their own bedding (sheets, sleeping bags, pillows, etc.) for the one night you will be staying. This overnight program is required for all new students and a parent/guardian is strongly encouraged to attend. A second parent is welcome to attend for a nominal fee.
For more information and details about our June Orientation, please click here to view our brief June Orientation Schedule. Registration is limited per session to 325 students and is on a first come first served basis. Register TODAY!!!
In order for the Orientation Program to have accurate registration information Adjustments/Changes to Orientation sessions will no longer be accepted after 12pm on Friday May 29th 2015. If you need to register for Orientation, the only session available at this time is Session 2 Wednesday June 10th – Thursday June 11th and you can register via the registration form.




June Orientation dates are as follows:
Session 1:Sunday 6/7 - Monday 6/8
Session 2: Wednesday 6/10 - Thursday 6/11
Session 3: Sunday 6/14 - Monday 6/15
Session 4: Wednesday 6/17 - Thursday 6/18
Should you need to re-register for a different June Orientation session, please re-register for the correct day and send us an email at orientation@keene.edu with the following information:
Student & parent/guardian(s) names
Which session you have re-registered for
Which session you need cancelled
If you have paid the $75 fee for a second parent/guardian to attend when you initially registered – If you have paid the $75 fee, do not pay again, leave the section of adding a second parent/guardian blank when you re-register and we will add that second guest to your new registration.
---
Contact Orientation Staff