Biology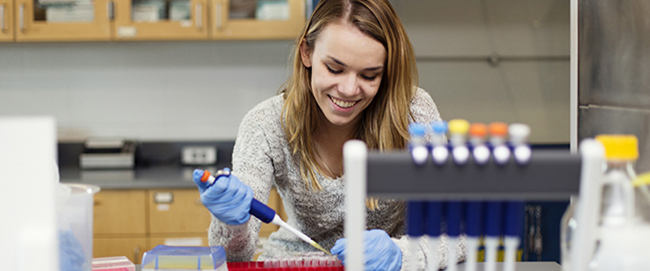 Where Life Science Comes Alive!
The Biology Department at Keene State offers students a comprehensive and practical understanding of life and living organisms, and the vital roles those organisms play in our world.
Our faculty is constantly developing creative ways to present meaningful scientific concepts through experiment, research, and hands-on experience.
Today's biologists must have a thorough understanding of the forces affecting the natural world, and of the science and approaches they can apply to develop effective solutions to current challenges. Our biology students learn to think critically, work collaboratively, and assess and solve problems effectively.
"At larger universities, biology students are often taught by graduate assistants, and their lab experience may consist of menial tasks while they work their way up the ladder. But at a small school like Keene State, our biology students work directly with their professors and take on their own research projects, which gives them a sense of ownership and the motivation to work hard.
Our students not only learn good organizational and technical skills, but they also develop the ability to think for themselves and work independently. That's why I get calls from labs at places like Harvard, Yale, and MIT when they're looking for technicians. They know we have a reputation for turning out skilled, creative lab techs who can work with minimal supervision."
—Dr. Jason Pellettieri, associate professor of biology
---
---
Keene State is large enough to offer a wide range of faculty expertise and experience, yet small enough to offer intimate class sizes. Your teachers, and your fellow students, will know you, and you'll form important relationships that will be invaluable as you pursue your career. You'll also get plenty of individual attention that will help you develop your special interests and abilities. More about Program Highlights
---
What Our Students Are Saying
Brad Stubenhaus
The most interesting part of my education at Keene State has been conducting research on the pigment cells of freshwater planarians. Together with my mentor, Dr. Jason Pellettieri, I investigated how light exposure impacts pigment cell survival. Dr. Pellettieri has pursued this research with contagious intellectual energy, and has inspired my interest in the field.
He received an NH-INBRE grant through the National Institutes of Health to fund our work, which we presented at several conferences, including the North American Planarian Meeting at the Stowers Institute in Kansas City.
My research training and all of the outstanding courses I've taken here have provided me with a strong foundation for success in my plans to study medicine and/or neuroscience in graduate school.
---
Alumni Achievers
Armed with a solid education and practical experience, our biology alums are involved in rewarding and exciting careers and study!
Research Technician II at the Ragon Institute of MGH, MIT, and Harvard
The opportunity to work in multiple research labs, explore different fields in biology, and attend a summer internship at Johns Hopkins Medical School prepared and motivated me for a career in biomedical research.
Research Technician at MassBiologics
With my Keene State biology education, I was able to get a job in research immediately following graduation. I am currently working as a research associate at MassBiologics, a Boston-based pharmaceutical company; part of the UMass Medical School network.
---
With small class sizes, access to state-of-the-art testing and measurement equipment, and an excellent faculty with expertise in a wealth of specializations, your biology education is in good hands at Keene State! More about Department Faculty
---
Wise up!
Contact Admissions
Request information
Biology (Sciences)
Emma Wilson
Administrative Assistant
603-358-2540
Admissions Office
800-KSC-1909
229 Main Street
Keene, New Hampshire 03435