First Person Project: Maxwell Tucker '20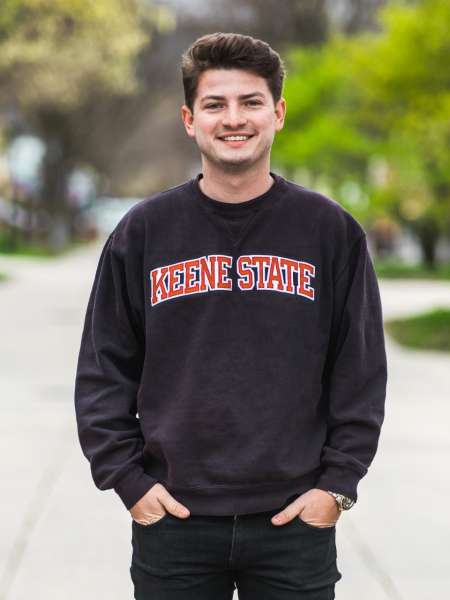 We're Building the Skilled Manufacturing Workforce the Local Economy Needs
Maxwell Tucker '20, BS Sustainable Product Design
Mechanical Engineer, Turmoil Manufacturing, W. Swanzey, NH
Max Tucker is quick to admit that he wasn't a great student in high school. But he was always working on cars and motorcycles, and he wanted to learn more about how things were designed and created. So, he enrolled in community college. "I was set on a two-year degree. That's all I was going to do," he said.
There, he saw his grades skyrocket. "If you're actually passionate about what you're learning, you do much better," he said. He found community college "too easy," and he decided to switch to a bachelor's degree program.
As a Keene native, he didn't have to look far to find the right four-year school. Keene State offers the only program in New England that combines industrial design, project management, and manufacturing engineering technologies.
Max researched the sustainable product design and innovation program at Keene State and liked how the coursework was split between classroom work and hands-on experiences. "It was focused toward a career and getting a job right out of school," he said.
Working students succeed at Keene State
Max was the first person in his family to earn a fouryear degree, and he paid for his education himself, working 30 to 35 hours a week. "That pushed me to do a little bit better," he said. Scholarships also helped him pay for his education. He loved Keene State's small classes, where his professors let him explore his interests. "They let you make out-of-the-box decisions. They really let you be creative. They're always open to new ideas," he said.
And he appreciated how Keene State brought back graduates to share what they learned and what their current jobs were like. "It was nice to see how much you can achieve if you push forward and work hard," he said.
We train our students to excel in the workforce
Graduates like Max don't have to move out of state. They have their pick of good jobs at manufacturing companies in and around Keene, and those companies can find smart, talented workers close to home.
Md. Ahasan Habib, PhD, assistant professor of sustainable product design and architecture, said, "Wherever the world is moving, we are trying to go with them." That forward-looking focus means the program adds classes like biofabrication to prepare students for their evolving careers.
Max said, "You can sit in a classroom all day but if you can't apply it to an actual physical job, it's not worth it. At Keene State, they really prepared you for getting a job right out of school. You can impress somebody who's hiring."
Related Stories