Thorne-Sagendorph Art Gallery Announces Student Winner of People's Choice Award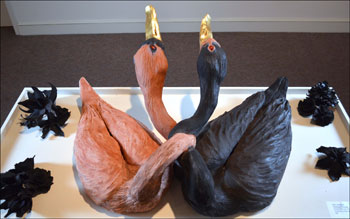 Keene State College's Thorne-Sagendorph Art Gallery is currently displaying works created by Keene State seniors who have earned a Bachelor of Fine Arts or Bachelor of Arts in its Emerging Art Exhibition.
The Thorne Gallery is proud to announce the winner, Chelsea I'Anson of Pelham, New Hampshire, for her ceramic piece titled "Tangled Swans: The Fear of Balance in Love." Gallery visitors were asked to cast votes for their favorite piece to receive this year's People's Choice Commendation Award. A total of 415 votes were cast. The last day of the exhibit is Saturday, May 11.
"Congratulations to Chelsea - this recognition is much deserved. I am extremely proud of the incredible work completed by this year's seniors. I encourage everyone in the Keene area to view the work on display in the Thorne Gallery. There is no doubt that each of these students are prepared for success as they go forth in their careers," said Lynn Richardson, associate professor of Art at Keene State College.