The Future is Bright for Class of 2013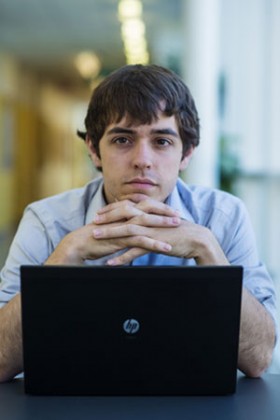 Graduate school, community service programs, transitional jobs, and professional work in their fields of study – when it comes to the future, Keene State's 2013 graduates are moving on in style. Here's a selection of this year's graduating class and their plans for the coming months.
After finishing a psychology degree in three years, serving as a resident assistant for two of them, Kristen N. Shannon is headed to Suffolk University's Master of Science in Crime and Justice Studies/Master of Science in Mental Health Counseling joint degree program. She has also accepted a Graduate Resident Director Fellowship at Suffolk.
Whitney Cyr has a paid internship at "The Patch" online out of Worcester, Mass.
Brian Schnee has lined up a job at ESPN New Hampshire. He'll be doing sales, Sportscenter updates, and hosting a Sunday morning show for ESPNNH.com.
Brett Casna is heading to the Virginia-Maryland Regional College of Veterinary Medicine to work toward a DVM.
Monica Schauss will enter a master's program at Hofstra University on Long Island.
After graduation, Ariel DeLaura, with a B.A. in American Studies and BS in Political Science, will work for Connecticut Families, an advocacy group that helps give working-class American families a say in local politics. She'll be going to work for AmeriCorps starting in September, and is also planning to take the September LSATs in preparation for applying to law school.
James Lavimoniere, who took a year off during his college career to serve with the Air National Guard – including a stint in Iraq – earned a fellowship from the Congress-Budestag Youth Exchange Program to spend the next year studying in Germany.
James Cahan graduates as a certified world language teacher. He'll be off to Morocco for the summer. From there he will head north to France, where he'll teach English for one year. Upon his return stateside, he will start his search for a French teaching position at the secondary level.
Armed with two degrees, a Bachelor of Fine Arts in Graphic Design and a Bachelor of Arts in Film Production, Nicole Perry will start a full-time job as a creative marketing assistant at Sonnax. She was offered the position after participating in Graphic Design Portfolio Review Night at Keene State. She'll be using her graphic design, film, and photography skills to market the company.
Adam Carr, with a B.S. in geology, has accepted a position as a field geologist with NOMAC Drilling/Chesapeake Energy. After completing his on-site training in Oklahoma, he will be stationed in Wyoming, Colorado, Texas, Oklahoma, or Pennsylvania. "It seems like an awesome job and an opportunity to apply what I have learned," he says.
Brendan Clement will put his B.S. in geology to work as a member of the US Army Corp of Engineers Visitor Survey Team for the Student Conservation Association at Oxford, Mississippi. After that, he might head to another internship with the Geological Society of America during fall and winter 2013-14. Future plans include graduate work in planetary geology, an interest he first explored during a 2011 summer internship at the University of Arkansas.
Mia McGorry, who was named the 2012 New Hampshire Association for Health, Physical Education, Recreation and Dance Outstanding Future Professional, starts a full-time job as a physical education teacher at Brattleboro Union High School in Vermont in the fall.
After graduation, Kaleigh Liupakka will take a road trip to California. "I have never been that far out west," she says, "and as a future teacher, this amazing experience will provide me with knowledge of our country that I can pass on to my future students." When she returns home to Salem, NH, she hopes to achieve her dream of teaching at a nearby elementary school.
Jacob Blake, an architecture major, plans to take a few weeks off to travel to California and to visit with family and friends before starting a job as an assistant project manager for Harvey Construction in Bedford, NH.
Jennifer Hicks, a psychology major and business management minor, is heading to the University of Massachusetts to work toward a master's degree in psychology. After she completes the degree, she hopes to work as a school counselor and then enter a doctoral program.
Architecture major Stefan Cavezzali is in close contact with several architecture offices that have job openings. In the meantime, he plans to travel and experience the world as a way of gaining a better understanding of architecture and the people who interact with it. "Throughout my senior year I was able to apply the many experiences I had while studying in Florence, Italy, and hope to be able to do the same through further travels," he writes.
Two internships at the Boston architectural firm Architerra helped architecture major Michael Helmer land a position with the company. After a trip out West, he'll settle in to his new job in July.
Bridget Love will spend the upcoming academic year working as a corps member in San Antonio, Texas, for City Year, a service program that puts young people in urban schools to fight the dropout rate by mentoring students. But first, the sociology/Holocaust and genocide studies double major will return to her family home in Connecticut for her eighth summer of lifeguarding.
Rebecca Leclerc, who studied abroad in South Africa during her time at Keene State, will also join City Year. She'll be based in Boston.
Corey Austin, who enrolled at Keene State after attending the College's Upward Bound program, is heading to New York. The computer science major starts a job at Google in August. Read the full story in the Keene Sentinel.
Psychology major Katelyn Williams is off to Indiana University of Pennsylvania to pursue a master's degree in student affairs and higher education. She's been granted a graduate assistantship with the university's American Language Institute, where she'll be planning events and trips and working to help international students adjust to the United States.
Travis Corcoran landed a long-term substitute teaching job. He'll be teaching music at McKelvie Middle School in Bedford, NH.
Melanie Sachs, a sociology major, has earned a slot with the AmeriCorps Victim Assistance program for the 2013-14 year. She'll be serving as an advocate at a domestic violence crisis center in her hometown, Salem, N.H.
Mallorie Lyford is heading home to Vermont for a year. She has a job lined up as a billing representative for National Life, an insurance company. She also plans to work toward certification as a DTR – Dietetic Technician, Registered. Then she hopes to apply to graduate programs in food science or find a job related to nutrition, her major.
Biology major Deena Snoke begins a PhD program in biology at Ohio State University in the fall. The winner of an Outstanding Women of New Hampshire Award, she has conducted research at Keene State and during two summers at Dartmouth College.
Keene State College wishes our graduating seniors the best as they "go forth to serve."
*Graduating seniors: add your plans to our list. Email Jane at jeklund@keene.edu. We'll update this list regularly.