The Face of Hunger Has Changed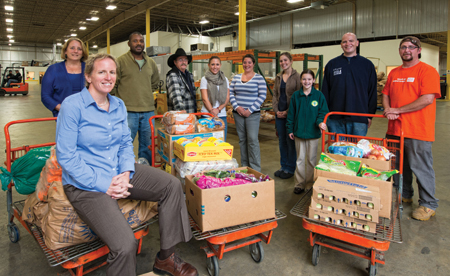 With recent cuts to the federal food stamp program and more under discussion in Congress, hunger has been in the news. One Keene State graduate plays an important role in feeding the hungry in New Hampshire. Mel Gosselin '90 is executive director of the New Hampshire Food Bank.
One in nine New Hampshire residents is hungry. That adds up to 143,000 people, a number that's growing. In Manchester alone, one in every four children lives in a home where it's not always certain where the next meal is coming from. In 2006, the New Hampshire Food Bank served 69,000 people; by 2010, that number had grown to 140,000. "The face of hunger would shock a lot of people," says Mel Gosselin '90, and she's in a position to know. Entering her second decade as executive director of the state's only food bank – which distributes goods to almost 400 food pantries, soup kitchens, and shelters – she's aware that the demographics of need have changed. "Now, it's our grandparents. It's our parents who might have had a medical bill that absorbed their finances. It could be your kid's playmate. The face of hunger is much broader."
Gosselin, a music education major who came to the realization that teaching wasn't for her, took a job at Walmart and worked her way up to management. Next, she served as a supervisor for a computer components manufacturer. After being laid off, she landed the top slot at the Food Bank, which is run by New Hampshire Catholic Charities. When she started, she had four employees, and a typical work day included driving a forklift or unloading a truck in addition to getting the word out about the Food Bank and the need for donations. Now, she has a staff of 27 in addition to the equivalent of 15 full-time employees in volunteer hours. The 2.5 million pounds of food the bank distributed ten years ago has grown to 8.5 million pounds.
The Food Bank's mission has expanded as well. The organization now runs nutrition education courses, a culinary training program for unemployed and underemployed people, a garden where produce is grown for distribution, and food stamp outreach that helps people apply for federal aid. There's a program through which supermarkets freeze unpurchased meats for the Food Bank rather than discard them.
What's the best way to help? Monetary donations pack the most punch, says Gosselin, as the Food Bank can purchase bulk quantities at wholesale prices – and target what's most needed. Donations of food are always welcome, too, as are volunteers.
"It's important for people to know that they can make a difference," she says. "Think about it like this: you're providing a meal to your neighbor."
Related Stories