Tenacity, Life Lessons, Love for Learning Help Monica Muhonen to Finish Line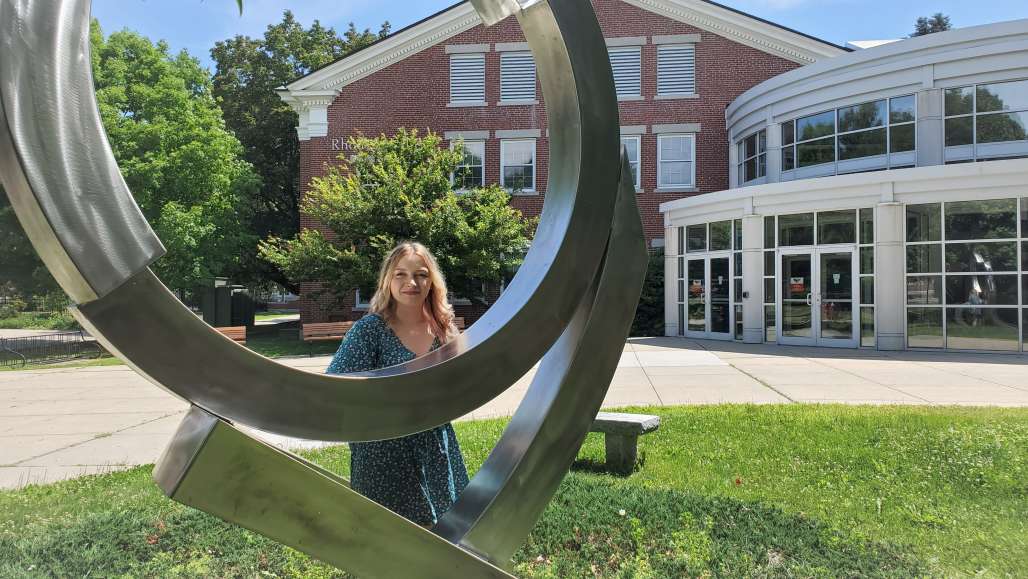 Monica Muhonen's college journey was neither linear nor obstacle-free, but it is a success story by any measure.
It is a story of perseverance, too.
The recent graduate, who transferred to Keene State in 2020 from a neighboring-state community college, owns and shares her experience with pride and a sense of possibility that she had long imaged, but doubted.
"Finally," Monica '22 wrote in a post on her Instagram account, "I accomplished something that I thought was never for me. I finished my bachelor's in Criminal Justice and Sociology, magna cum laude. Through a lot of hard work, summer classes, very little free time, I finished a lot sooner than expected. I am so excited and proud of myself for this great achievement, which I have loved the entire time."
The 25-year-old dual major made the Dean's List each of her semesters at Keene State. One of six siblings, she is the first in her family to graduate college.
At Keene State, she says, she found classes and teachers that nurtured and inspired a love for learning that she has felt since she was a child.
"It's important to show people that they can do what they want to do and that they do not have to give up. I can recall all my favorite classes and professors."
Those include, she says, Dr. Karen Honeycutt, Dr. Peter Stevenson, Dr. Rita Augustyn and Peter Heed, all of whom stoked her passion for sociology and criminal law.
My achievement is very special to me and to my family. I aspire to show others that you can reach your dreams, even when they seem far away."

– Monica Muhonen
"The military," she says, "was always black and white — lots of deadlines. My professors were accommodating to me, as was my boyfriend. It was not stress-free, but I'm thankful to have supportive people around me that helped me to manage jobs, a house and school and get my degree."
"She's courageous," Monica's mother, Nicole, says. "When she is bound and determined to do something, she will do it well. She is just a unique and wonderful person."
The period following her exit from the Army included surviving a serious, life-threatening staph infection in her foot, and later, a motor vehicle crash that left her trapped in her vehicle.
Monica grew up in Jaffrey and Rindge and graduated from Conant High School. She was just 18 when she chose to enlist in the Army. She found herself in the First Infantry Division working as a criminal justice paralegal in South Korea. It was a short-lived stint. She left the military for personal reasons, including the death of her best friend, who died while serving.
Looking back, she says, "I feel like I didn't put much thought into (enlisting), but my mom said either enlist or go to college."
College was hard, she says.
"I went year-round for two years, worked full-time jobs. Getting an associate degree first, that was huge. Getting a 4.0 GPA (my first semester at Keene State) that is what made me know that I could get through the rest of college. It gave me all the confidence."
Monica says she plans to pursue a career as a police officer and see where that takes her. "Get in, see what doors might open."
"I have always been interested in injustices in society, how they came to be, what societal issues underlie people's actions, and what can be done to fix these kinds of issues."
She bought a reliable car recently and she and Tyler, her boyfriend, just bought their first home.
"I would not doubt her," Nicole says of her youngest daughter, noting her inner tenacity. "She loves education. She loves to explore. And nothing stops her."
Adds Monica: "My achievement is very special to me and to my family. I aspire to show others that you can reach your dreams, even when they seem far away."
Related Stories