TDS Center Earns LEED Platinum Certification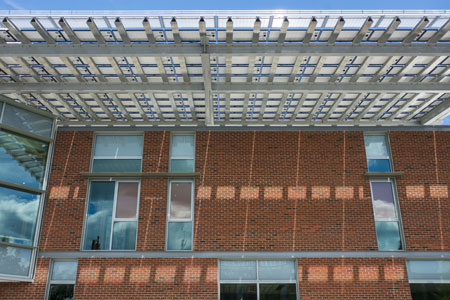 Building Serves as Example for Student Learning and Delivers on College's Commitment to Sustainability
Keene State College's Technology, Design and Safety Center (TDS Center) has earned LEED Platinum Certification by the US Green Building Council/Green Building Certification Institute. This designation was given to the building based on its energy efficiency and the materials used to build the structure. The building was designed by Boston-based architecture firm, Architerra and engineered by Rist Frost Shumway Engineering, which is based in Laconia, NH. The TDS Center is home to Keene State's Sustainable Product Design and Innovation, Architecture, and Safety and Occupational Health Applied Sciences programs.
"Academic success of our students comes first – we are proud to provide this state-of-the-art facility that sets an example for sustainable design, offers our students the space they need for classroom and hands-on learning, and facilitates team-oriented approaches to projects," said Keene State College President, Anne Huot. "As we look forward to the next several years of campus planning, student needs and learning opportunities will continue to guide our decision making."
The TDS Center makes Keene State College the third largest producer of solar energy on the Public Service of New Hampshire (PSNH) system, as announced earlier this year.
"This building effectively integrates with these programs for effective teaching and learning – student learning was our top priority all along," said Keene State College Vice President for Finance and Planning, Jay Kahn. "This building demonstrates sustainable design and construction, while providing a space that is welcoming to our campus community and the broader community. The TDS Center was created with these priorities in mind – the solar array, which was supported financially by businesses and organizations in our community, made it possible to achieve LEED Platinum Certification."
"It was a pleasure to work with the Keene State College administration and faculty and USNH leadership. From day one, they insisted on an energy-efficient design. The secret triumph of this design is its conventional cost, popularity among students, opportunity to integrate the building into teaching curriculum, and 60 percent energy savings compared to the baseline model," said Ellen Watts, Architerra Principal.
Related Stories