Swim Team Builds Winning Model; Unprecedented Sweep for Brother-Sister Tandem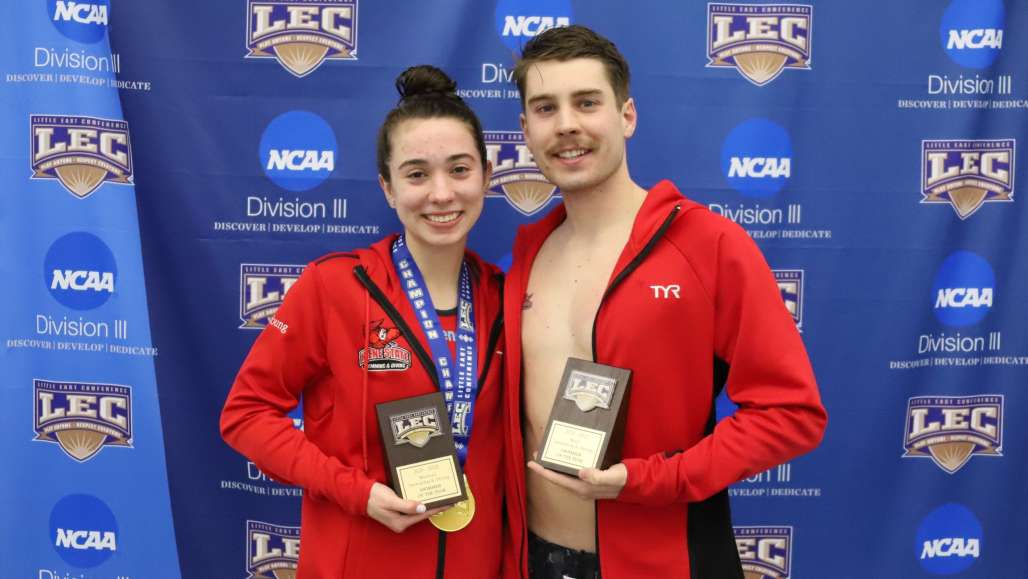 The Keene State College swimming and diving program must do something special to turn a head, especially on the women's side, where the Owls' dominance is so off the charts it can seem pedestrian.
It's not a matter of running out of banners and trophies; rather, it's a matter of running out of superlatives.
The women's team recently captured its 15th consecutive Little East Conference title, at the Boston Sports Institute, leading start to finish in the three-day competition. In all, the women's team touts 18 LEC crowns. The run of 15 began in 2006 and stretched to 2020 before COVID-19 busted a sure title party in 2021, when all but two competitions that season were postponed.
Beyond the conventional bank-on-it outcome for the women this year, there was this headline-maker: A Keene State brother-sister tandem made an unprecedented splash by sweeping Swimmer-of-the-Year honors.
"I was blown away," senior captain Tyler Young '22 said of the honor. "I'm extremely grateful. Not all my swims went the way I wanted this year, but that was cool, to share that with my sister. It's an overflow of emotions still."
Kiley Young '24 said the award was not something that she was expecting, but that she will cherish. "I wasn't even aware it was an award because we didn't have an LEC Championship last year, my first year on the team. I joined my first swim team when I was 7 because Tyler was on it. Not sure I'd be swimming today otherwise."
At the LEC meet, the Owl women outpointed runner-up Bridgewater State, 855-719, which required a complete team effort, Kiley said. Meanwhile, Keene State finished second to Bridgewater State, 945-858, in what was the first contested LEC team championship for men. Until this year, the men's side did not have the requisite number of teams, five, to stage a sanctioned team competition.
"Bridgewater being our big competition, we needed everyone's 100 percent to get the outcome we did," said Kiley, a three-sport standout at Oakmont High in Winchendon, Massachusetts, before coming to Keene State.
The LEC event, Kiley said, is the culmination of pent-up anticipation and training that begins back in early September. "It's pretty easy to want to excel, given the team's record (in this event). The whole feel of the meet is one of high energy and everyone gets super excited."
The remarkable run of the women's team and success of the program in general is product of hard work, focused and event-specific practice, and talent development, its coach, Chris Woolridge '04, said.
"What's separated our women's teams from others, I think, is the work our students are putting in during the season and during the offseason, the program's coach since 2016, said. "Our program is a place where students can come and get better for four years. We're pretty up front with our athletes about that; we bring people in who know what they're signing up for. Our program is challenging, especially for our freshmen. It can be a new world for them for what we are doing in the pool."
Paige Carey '22, who has been competing in organized swimming for 11 years, spoke to that development process.
"Being a freshman and being on a relay with upperclassmen really helped my confidence as a swimmer," the Owls' senior captain said. "I was finding my place on the team and where I could contribute in meets."
Her career, consequently, played out in linear fashion: growth followed by success.
The one chronological exception, said the Lowell, Massachusetts, native, was the "proudest moment of my college career," which happened her sophomore year when she captured the mile (1,650 yards, or 66 laps) at the LEC meet.
"I never saw myself as a distance swimmer until Coach Chris trained me and mentally prepared me for the race," she said. "I had to swim a best time to come in first by only 2 seconds to a swimmer from Eastern. We did not compete in the same heat, so I had to swim the 1,650 yards pacing myself and trying to predict her speed and match it to win."
Another highlight of her collegiate experience, of course, was captaining the Owls to this year's conference title, Paige said.
"This team was my favorite group of people to have ever swam with and helped make my senior year of swimming my favorite year yet. This team consists of the hardest workers and most supportive people I have ever met. Saying goodbye to the KSC swim and dive program was very difficult but I truly am thankful for all of the accomplishments, mental toughness, and grit it brought me."
Tyler was similarly reflective.
"I have been swimming competitively for 13 years and I feel that this sport has taught me many valuable lessons," he said. "I have experienced happiness, joy, failure, and success, and my fondest memories have been with swimming. It gave my life purpose, and I will be forever grateful for the journey that I have experienced in this sport."
Paige graduates in May with a degree in biology and a minor in Holocaust and Genocide Studies. Her first step in a career in marine biology, she hopes, is to become a vet tech intern at a sea turtle rehabilitation center.
More time in the water, fewer grueling off-season workouts, as she sees it.
Woolridge and his staff will quickly turn its attention to off-season work, including recruiting, looking for good fits with growth potential, in the classroom and in the pool.
The Owl women lose just one senior, Paige, and have room to grow their roster, Kiley said. That does not bode well for opposing teams in the seasons ahead.
"With the women's team," Woolridge said, "the focus is not to continue the streak, but to do what we need to do to win that meet. They've really embraced that. We try not to put too much pressure on what other teams have done in the past.
"I'm most proud," he added, "of the way our athletes conducted themselves throughout the meet. Everyone on our team matters … everyone was part of the end result. There are no free rides in the program, and everyone lived up to that."
Here are some individual highlights from the women's LEC performance:
• Emily Rogers '23 won the 1,650-meter freestyle race in dominating fashion. Her time of 19:00.43 was nearly 10 full seconds faster than her nearest rival.
• Jaelin Jang '23 captured the 200 Butterfly in 2:17.76.
• Alice Loucraft '24 won the 100 Individual Medley in 59.77.
• Kiley, Paige, Jaelin and Alice teamed for a meet-record time of 3:39.45 to win the 400 Freestyle Relay. Their time eclipsed the mark of 3:39.56 set in 2013 by Taylor Dasilva, Stephanie Murray, Brianna Laliberte, and Alison Bartlett.
• Kiley and Alice set meet records in the 200 Individual Medley and 400 Individual Medley, respectively.
• The squad's lone diver, Emma Stelzner '23, placed third in the 1-meter springboard.
Related Stories