Swim Alums Make a Splash in the Coaching Ranks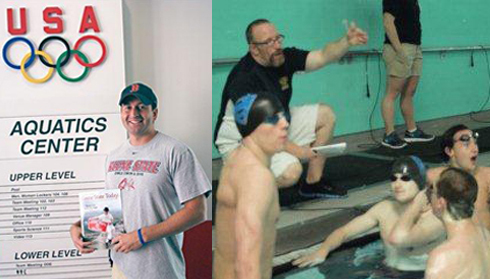 It's widely acknowledged in the world of sports that great athletes don't always make good coaches. Sure, there are exceptions to every rule. But if you look across all major American sports you will notice that it is a rarity to find a star player who has made it as a star coach.
The axiom isn't reserved for professional or marquee sports. It even trickles down to the pool, where former Keene State College swimmers Matt Donovan and Brenden Smith are making names for themselves as coaches at the YMCA and club level.
"I wouldn't say I was a standout in college. I just did my part. I was more of a role player. That's why I did so well at Keene State," said Donovan, a 1998 KSC grad. "It never came naturally to me and I think that helped me out with my coaching because I had to dig a little deeper to figure out how things worked."
Although he specialized in the distance and 200 fly events, Smith, who earned his degree from KSC in 1995, was a jack-of-all-trades member of several scrappy Owl swim teams in the early 1990s, willing to jump in and make a contribution regardless of the race. "I don't think we could swim with today's team, but we had fun," said Smith. "I just tried to do my part to help the team win."
Smith and Donovan even crossed lanes at KSC. Smith was a senior captain in the 1994-95 season when Donovan was a freshman. "He won't admit this, but I showed him the ropes," said a smiling Smith."
Donovan and Smith headed in different directions after leaving Keene State. Originally from Bristol, Conn., Donovan taught and coached in his home state before taking over as director of competitive swimming and head coach of the swim team at the Somerset Valley YMCA in New Jersey in 2000.
Staying in the area and serving as an assistant coach for a year at Keene State and Keene High School, Smith, a native of Northampton, Mass., returned to western Massachusetts, where he worked for a while with the swimmers at Mount Holyoke College. In 2003, he headed west, assuming the head coaching position for the Billings (Mont.) Aquatic Club as well as assisting with several area schools.
Taking over teams that were floundering in the water, Donovan and Smith were able to kick-start their programs and get them back up to speed. "It was a good fit for me, a chance to try something new and spread my wings a little bit," said Donovan of his move to New Jersey.
Donovan said all the pieces were in place for a successful swim program. Calming the waters after a merger and several coaching changes, Donovan began to see results in the pool. "Once we brought stability, people began to know what we were all about," said Donovan. "Not only did we get our athletes back that left for other programs, but we started to attract talent from other areas."
Seeing the program grow from 46 to over 400 swimmers, Donovan had a pool well stocked for success. Under his direction, the Somerset Valley team went from last place to winning five New Jersey State Championships (2006, 2010-13). Last summer, the SVY team placed third at the YMCA National Championships in Georgia, with Donovan being recognized as the Coach of the Meet.
Donovan's athletes have won countless local, regional, and national honors, including four individual YMCA National Champion designations and seven relay titles. He also produced a qualifier for the 2012 USA Olympic Trials. Many of his swimmers have gone on to compete at several top college programs, including his alma mater. Former Owls Devon Trabilsy '07 and Patrick Luciano '11 swam for Donovan's Y team before coming to KSC.
Earlier this month, Donovan's YMCA team achieved silver medal status, being recognized as one of the top 100 teams in the country by USA Swimming. "To be recognized along with the top clubs in the country, including the North Baltimore Aquatics Club, home to Olympian Michael Phelps, is a huge confidence builder," said Donovan. "It shows that we are on the right path."
Starting his 10th year as head coach for the Billings Aquatic Club, Smith has seen the BAC program grow from 68 swimmers to over 120. Under his direction, BAC has won numerous state championships and is starting to make a splash at the regional level. Besides coaching BAC, Smith has garnered two high school state championships with the Billings West Lady Bears. At one point or another, he has coached all three of the city's public high schools and is now the coach for Billings Central High School.
Not expecting to make waves, Smith has prospered despite being in the same local swimming zone as legendary Olympians Mike Burton, Tom Jagar, and David Berkoff. Smith's BAC teams have won four short course (25-yard pool) and three state long-course championships.
"I had to build up the program," said Smith, who was named the 2012 Montana Age Group Coach of the Year. "Success breeds success. We were fortunate to have a lot of parents who believed in what we were doing."
Both Smith and Donovan see themselves as teachers, with the pool serving as their classroom. "You can't have the same philosophy for every kid because every kid is different, but you can have a general philosophy," said Smith. "You have to keep them in the pool. You've got to keep them engaged and you've got to teach them patience. That's tough to sell sometimes, but it works in the long run."
"I don't think of myself being at a different level. I'm just a piece of the puzzle – a part of the team," said Donovan. "I want everybody to understand why we're doing what we're doing. They don't always have to agree with me, but I want everybody to have a say. When the athletes realize they are part of this process you're going to have success." Donovan and Smith speak fondly of their days at Keene State, where both were two-year Owls captains. "It was the best place I could've gone to college. All of my close friends are from Keene State," said Smith.
"Keene State will always have my heart," said Donovan. "Coming out of high school I was not recruited and Keene State gave me my chance. If Keene State didn't give me a shot I wouldn't be sitting here right now."
Donovan and Smith not only keep in contact with each other, but swap swim notes with current KSC Coach Jack Fabian, who ran into the two Owl alums at the American Swim Coaches meeting in September. "It was great to interact with two former Keene State swimmers as professional colleagues," said Fabian. "Both Brendon and Matt have been recognized regionally and nationally for their outstanding careers in YMCA and club coaching. I look forward to watching their continued success over the years and hope that some of the fast and talented swimmers they have developed come to Keene State some day."
Related Stories