Staff Member, Club, Nonprofit Recognized for Strengthening Community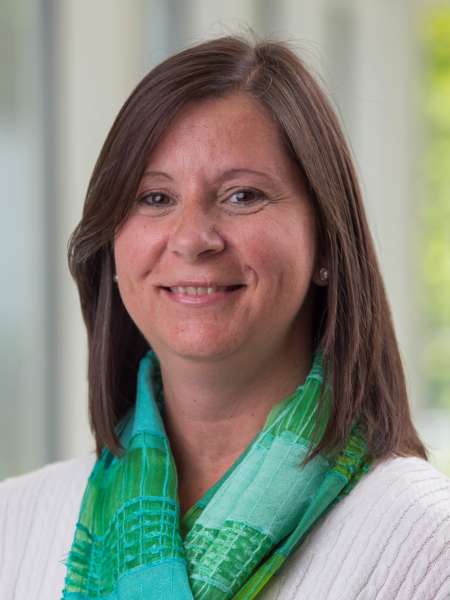 A Keene State staff member, a student club, and a nonprofit were recognized April 12 in a virtual celebration for their difference-making work to help to strengthen communities.
The Campus Compact Presidents' Awards include the President's Leadership Award, President's Good Steward Award, and President's Community Partner Award.
Campus Compact for New Hampshire is a statewide consortium of college presidents committed to integrating community service and civic responsibility into higher education. As a national coalition, Campus Compact represents institutions with more than five million students.
The Good Steward Award is for a member of the faculty, administration, or staff who has contributed their professional expertise in service to the wider community and who has significantly advanced public service on campus.
Liz Cahoon, associate director of admissions, is this year's recipient of KSC's President's Good Steward Award. Also honored were the college's Global Culture Club and a local nonprofit, The Daily Good.
A nomination letter on her behalf noted that in her role, Liz facilitates the training of student tour guides so they can share the campus and culture of Keene State with prospective students. She also helps to coordinate Open House and Admitted Student days and brings a "real sense of enthusiasm and pride" to everything she does.
"To extracurricular involvement as a class government and sorority advisor, to being a personal resource for students who need advice, tough love, or just a trusted adult to talk to, I struggle to think of someone who better represents our college's values of community and service."
The college's Global Culture Club is the recipient of the President's Leadership Award, which recognizes an individual student or student organization that has made outstanding contributions to community service, service learning, and/or civic engagement efforts on campus.
Through this student-run group, international students can meet like-minded global travelers, and American students can meet students from all around the world, including Japan, China, Nepal, France, Italy, and Somalia.
"The presence of a growing number of international students on campus promotes diversity on campus and provides an avenue for local students to learn about international culture, understanding, tolerance, and friendship," a nomination letter noted.
"During the pandemic, (the club) became a refuge and a strong source of support for many international students who were unable to visit their families back in their home countries. The organization continues to be a melting pot among those students to learn from each other and share interests that intensify a holistic college experience."
The Daily Good Institute is the recipient of the President's Community Partner Award, given to a non-profit organization that has enhanced the quality of life in the community in meaningful and measurable ways and engaged in the development of sustained, reciprocal partnerships with a college or university.
According to its website, The Daily Good's mission is to make a difference in the region by focusing on diversity and inclusion, food security, health and well-being, and literacy.
"Service to the community is a long-standing value at Keene State College and this organization's accomplishments are significant," a nominating letter noted.
"Since 2019 the Daily Good has increased access to cultural foods on Keene State's campus through its Global Food Pantry. Every week, including throughout the pandemic, the Daily Good delivers hundreds of snacks, desserts, non-perishable goods, and ingredients to the Student Center, where all students have immediate, free access to what they need and want."
"The Global Food Pantry model is unique in that students have agency over what items are stocked by co-creating weekly grocery lists. For some students, the food represents a taste of home, while for others it contributes to food security. The Daily Good has donated more than 25,000 food items across its pantry locations. The donations to Keene State help our students feel seen and welcomed, introduce them to new, culturally diverse tastes, and provide a means for connection – with one another, the community, and the world."
Sandra Neil Wallace and Rich Wallace are benefactors of the Global Food Pantry.
"With COVID-19 upending students' lives, we wanted them to know that we are always there for them and that the Global Food Pantry didn't have to go away during the pandemic," Sandra Wallace said earlier. "Being able to provide weekly deliveries of cultural food items that say 'home' is a great joy."
Related Stories