Let's Work It Out - Exhibition Installation by Peterborough Artist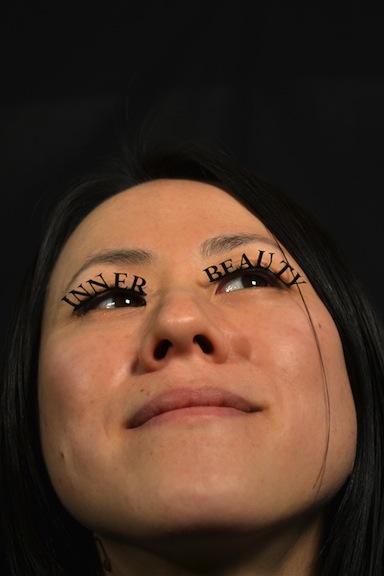 The Art Department at Keene State College is pleased to present a solo exhibition installation by artist Rachelle Beaudoin, in the Carroll House Galleries from January 31 – February 22 titled Let's Work It Out.
Opening Reception: Thursday, January 30, 4:30 – 6:30 pm
Artist Rachelle Beaudoin of Peterborough NH, will be on site at the Carroll House Gallery to install both photographic and video based works. Her artwork deals with the physical interactions, feats and failures of her bodily experience as a woman living in rural New Hampshire. Within two different bodies of work on display she explores the contrast in her day-to-day experience of the natural and outdoor environment and the mediated, glossy experience of the Internet, celebrity and popular culture. Through a combination of past performances, videos and wearable objects, she overlaps icons of female sexuality to create a new space of uncertainty and interest. Beaudoin states " I often use humor and sarcasm as an entry point into issues of gender, power and class".
Beaudoin earned a BA studio art degree from College of the Holy Cross and an MFA in Digital + Media from the Rhode Island School of Design in 2007. Since that time she has exhibited Nationally and Internationally in numerous galleries including exhibitions at Antena in Chicago IL, NUTUREArt in Brooklyn NY, Armory Center for the Arts in Pasadena CA, Crossing Art Gallery in Queens NY and internationally at the New Gallery in London UK, and Ex Teresa Arte Actual Museum in Mexico City, and at the University of Lapland, Finland. She has received NH State Council on the Arts Grants along with Faculty Research and Publication Grants. Beaudoin currently teaches Digital Photography and New Media, at College of the Holy Cross in Worcester MA, and at Saint Anselm College in Manchester, NH. Currently she is a Fulbright scholar and will be an artist-in-residence at quatier21 in Vienna, Austria. For more information and images go to www.rachellebeaudoin.com.
This event would not be possible without the support of Roberta F. Roos Annual Art and Theatre Arts Lecture Endowment.
The Carroll House Gallery at Keene State College is located on Main Street, beside the Alumni Center.
Hours: Wed thru Sat 12-5pm. All Carroll House Gallery events are free, open to the public and wheelchair accessible. Directions
Related Stories