Reunion Weekend 2023: Six Influential Alums Feted For Their Contributions And Successes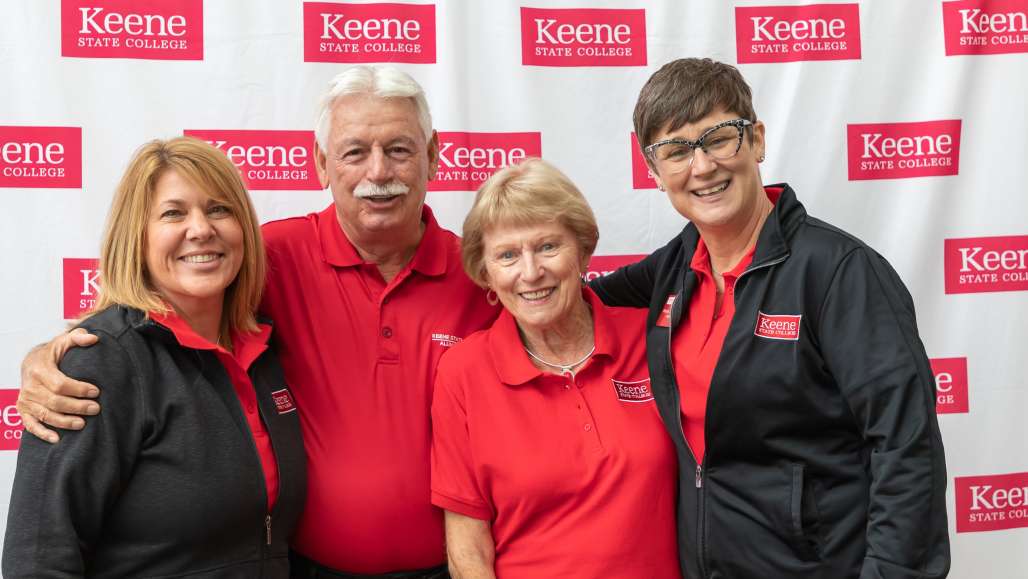 Reunion Weekend never disappoints. How could it, we have the best Alums!
Festivities included a recognition luncheon in which six former students, two of whom are married, were recognized for accomplishments and service to their alma mater.
The event also featured the induction of the Class of 1973 into the College's Golden Circle.
Alums recognized were Rick Scott '77, Outstanding Service Award; Amy Van Auken '15, Alumni Inspiration Award; Erin Black '98, Alumni Achievement Award; Betsy '67 and Bob Coll '68, Sprague Drenan Award; and Brandon Beck '05, Outstanding Alumni Teacher.
Rick Scott
Rick stepped down as head coach of the men's soccer team in the fall of 2022, ending a more-than-four-decade coaching career at Keene High and Keene State. This fall, Scott will be inducted into the Keene State Athletic Hall of Fame.
He began his Keene State career as a student-athlete, a standout on the men's soccer team in the 1970s. Fundamentals, team chemistry and work ethic were hallmarks of the teams Scott coached.
His Keene State coaching stint began as an assistant to Ron Butcher, who was among those who introduced Rick at the luncheon. In his remarks, Rick thanked some of the people in his orbit who made his journey possible, and said he is incredibly grateful for his Keene State years.
Andrea Vickers-Sivret, director of alumni relations, described Rick's impact as stretching far and wide, beyond Keene State. "Everything Rick did," she said, "was with principles of loyalty, passion and commitment."
A Vietnam veteran, Rick came to Keene State, he noted, on a GI bill.
"I came here with one family," Rick told the audience, "and I left with two."
Amy Van Auken
Amy is one of three crime victim advocates for the N.H. Attorney General's office. She has received several awards for her difference-making efforts and support for children exposed to violence and crime.
Amy was not able to attend the award ceremony.
In addition to recognized accomplishments, the recipient of this award must show promise for continued success and have graduated from Keene State College not more than 15 years prior to the year of the award.
Amy studied sociology, criminal justice and substance abuse at Keene State. Since then, she earned a master's degree in criminal justice with a concentration in violence prevention and advocacy. She aims to teach victimology at college campuses.
Earlier, Amy had victim-advocacy roles with AmeriCorps and a police department. She was previously recognized with a "Champion for Children" award by the Rockingham County Child Advocacy Center for her efforts to keep child victims safe.
In presenting the award, Kristin Brooks, Alumni Association president, said there is no downplaying the importance of Amy's role, which includes, in the case of a homicide, notifying the victim's family of the death of their loved one and for providing immediate crisis intervention and support to family members and witnesses to the crime.
Erin Black
Erin is vice president of sustainability and risk management for Coca-Cola Beverage and regarded professionally as a visionary leader and a coalition-builder. In her strategic executive role, Erin focuses on national and global risk management, sustainability, and safety and security over corporate offices, warehouse and delivery operations, and food manufacturing and processing plants.
With her mother, Sharon Walker, Erin traveled to Keene from her Florida home to receive her award. College President Dr. Melinda Treadwell introduced Erin, who is also a member of the Keene State Innovation Advisory Council, which offers guidance and partnership to Dr. Treadwell and her Cabinet.
Erin credits her Keene State education, family support, and passion for environmental stewardship as keys to her professional path and her desire to engage civically. In her work and volunteer roles, she said she can "focus on continuing her passion to create an environmentally literate society that understands why environmental stewardship is critical now and for the generations to come."
Vickers-Sivret said Erin's family-first approaches, at home and at work, shine through and define who she is. Erin serves on several boards in her community and is raising a growing family.
Betsy and Bob Coll
At Keene State, Betsy and Bob found career paths, and each other, at Keene State and they are among the college's most influential alumni. The Sprague Drenan Award recognizes participation in, and support of, alumni activities.
They are ambassadors for the college, for potential enrollees near and far; host and participate in numerous alumni-related events; and Betsy is a current member of the Keene State Alumni association. Their daughter, Jill Coll Gaumont, and son-in-law, Brian Gaumont, are Keene State graduates.
"Bob and Betsy are examples of giving back to Keene State their time, talent, and treasure … wherever they go," Vickers-Sivret said.
Betsy taught physical education for 34 years and retired in 2006. Bob transferred to Keene State from UNH, enrolled in the industrial arts program, played baseball, and was a director of intramural sports. He changed his major to history and he graduated with a double major in industrial arts and history. He taught history for five years and then transitioned into the construction business. Bob retired in 2007 after 35 years in the construction field.
They have been married for 52 years.
Presenter Veronica Rosa, Keene State's vice president of advancement, said passion and fun are and always will be part of the Coll's legacy as alums, noting that for many years the couple has annually hosted a gathering of Keene State graduates at their Florida home.
In a moment of levity Saturday, after Betsy began her acceptance remarks, and it became clear that she would not be using the 60-second version of her acceptance speech, Bob playfully walked to the front row of tables in the dining commons, grabbed a chair, brought it on stage and sat down, as if to suggest there would be no time for his words.
But he did have time to say: "The best thing that ever happened to me, was meeting Betsy and being married to her for 52 years."
Brandon Beck
Brandon has been in high gear since graduating from Keene State. He has been a 5th-grade teacher in New York for the past 18 years, just became a published author, is a national board-certified teacher, has an education-themed podcast with more than 75 episodes, is a motivational speaker, leadership coach and education consultant.
Oh, and he adopted a dog, Peaches, as part of an SEL curriculum through Yale's A School for the 21st Century initiative. He brings the dog to class every day and it is changing the lives of his students, his wife, Stephanie '04, said.
That resulted in a student-led program to teach others about animal emotions and animal homelessness. Peaches, Brandon and the students share that story on tour with other area elementary schools.
A one-time Keene State soccer goalie, Brandon speaks to the Owl men's players on occasion as a results coach.
Brandon's new book, Unlocking Unlimited Potential, is based on his lessons and wisdom as a teacher and coach, he said, noting that harnessing our potential requires looking within but that it is a switch in everyone that can be flipped on.
Ray Jobin, retired professor of education, delivered an emotional introduction of Brandon. His remarks were serendipitous in that Jobin painted a picture of a student with potential, if not seen outwardly, and how it was unlocked, to the good fortune of so many young students, he said.
Brandon's acceptance remarks include this excerpt:
"I never imagined that I would be standing here today receiving this award. A kid who had an IEP, received extra reading support, someone who hated school, someone who utilized all the student support services here at KSC and someone who needed a professor to wake him up to the limitless possibilities in front of them.
"This award is not only for me and it's not for the people who didn't believe I was good enough. It is for the people who told me I would amount to something and for every single person that has believed in me every step of the way."
Related Stories