Seat at Table Gives HGS Majors Window Into Holocaust History, Deeper Understanding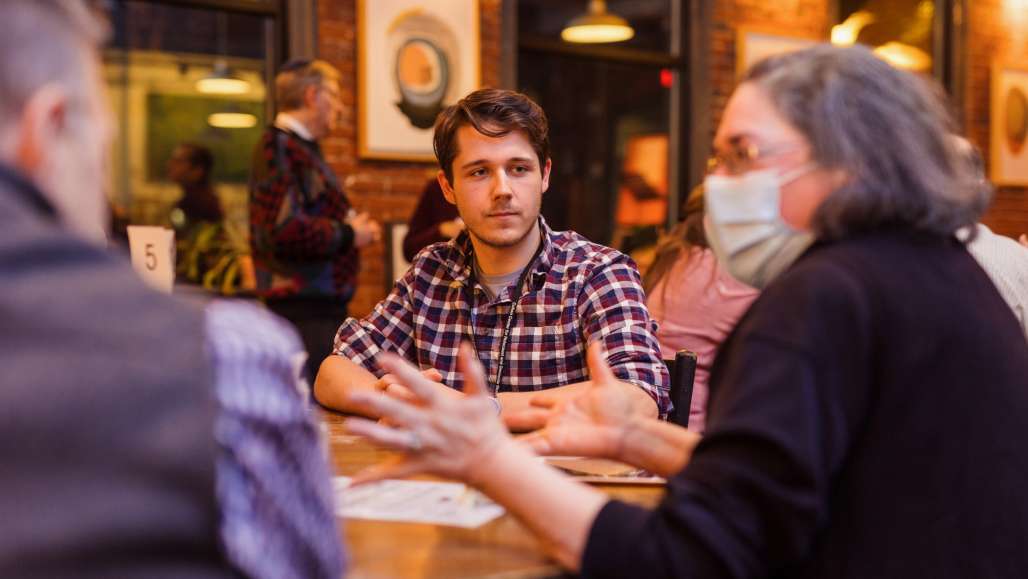 First-year student Erin Bennett came to Keene State College from Minneapolis, Minnesota, for one reason – its Holocaust & genocide studies (HGS) major.
Upperclass student Marcos Silveira chose the state's public liberal arts college at the urging of two high school English teachers, who said Keene State would "challenge and nurture his love for learning," which it has, he said.
Marcos came to study psychology, but he has since added HGS as a second degree.
Erin and Marcos' passion for this field of academic inquiry recently drew them to a unique community storytelling and bread-making event at Brewbakers, a popular downtown café. L'Dough V'Dough was in recognition of International Holocaust Remembrance Day, and it brought together more than 50 people – College staff and faculty, students, and guests, including at each of seven tables a storyteller with ties to the Holocaust.
Erin, Marcos, and the other eventgoers braided their own challah bread, a traditional enriched Jewish offering, typically plaited; ate a light meal of soup and bread; and conversed. Each storyteller — Elliot Eisenberg, Jay Kahn, Kati Preston, Lou Yeglin, Sherry Nassauer, David Kochman, and Martin Rumscheidt — spoke briefly to share their personal or family story.
"Being able to not only hear stories of survival from the Holocaust but also to ask questions and have dinner as a community was an experience I will cherish for the rest of my life." Erin said. "I would like to extend my gratitude to the Cohen Center for the experience of a lifetime."
"I found myself deep inside engaging discussions and transported to times in which I would never have experienced otherwise," Marcos said. "It is important to not only understand the bigger picture when it comes to crimes like the Holocaust but to understand the personal impact that an event like this has, not only on those who have experienced it but on those they tell their stories to and designate as the messengers of memory from one generation to the next."
Keene State's Department of Holocaust & Genocide Studies offers the only four-year BA degree of its kind in the United States with a major and a minor, as well as an MA in Genocide Prevention & Human Security and a graduate-level Certificate in Atrocity Prevention.
The undergraduate program prepares students to analyze contemporary political situations, think critically about ethical responsibility, and respond actively to injustice.
Keene State is also home to the Cohen Center for Holocaust & Genocide Studies, one of the nation's oldest Holocaust resource centers. The Center regularly attracts internationally renowned scholars who deliver public lectures and visit classes.
Kate DeConinck, director of the Cohen Center for Holocaust & Genocide Studies, organized the event as a means of "deepening relationships with our neighbors," she said in her welcome, noting that L'Dough V'Dough is a play on a Hebrew expression meaning generation to generation.
"That," she said later, "is one special aspect of this event, getting to see students building relationships with our storytellers. Their active listening, dialogue, and, at times, shared laughter showed me that our students are invested in understanding the Holocaust in a human-centered way."
Students like Marcos and Erin, she added, "are carrying the lessons they are learning in their classes out into the real world to better understand our community and world today. Many of the storytellers told me that getting to connect with the students was one of the most meaningful parts of the evening."
Since an early age, Erin has been drawn to the history of the Holocaust and someday hopes to work at the Holocaust Memorial Museum in Washington, DC, or a museum in Israel.
"My generation will be the last to hear first-person accounts of the Holocaust from the survivors themselves," Erin said, "and it is our job to continue to tell the stories of survival even after the last survivor dies."
Education, she added, "is the best weapon we have to combat future acts of state-sanctioned violence."
Sherry Nassauer was the storyteller at Marco's table. Sherry's mother's family (Jewish) lived in Germany during the early years of Nazi occupation and later immigrated to the U.S. This event was one of Sherry's first times sharing photos and history about her mother's experiences.
"To know one's history is to know what to expect when the same notes are starting to be played and a call to action is needed so that we don't risk having history repeating itself," Marcos said.
Marcos hopes to work with children on the Autism Spectrum to help them live fulfilling, independent lives and to advocate for their acceptance within society. With his HGS degree, he imagines counseling refugees of disaster-affected groups to help them cope and manage major disruptions in their lives.
He's looking forward to traveling to Rwanda for a peace-building workshop centered on how communities recover in the aftermath of mass atrocities, and to presenting his findings for Prof. Dana Smith's Art in the Holocaust course.
Most important to Erin, she said, "is that I know I am right where I'm supposed to be."
Related Stories