Sandglass Theater Explores Dementia with Puppetry at the Redfern Arts Center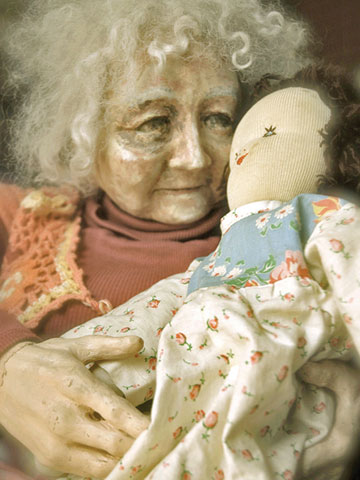 Sandglass Theater will perform D-Generation: An Exaltation of Larks, a widely acclaimed and deeply moving exploration of dementia using puppetry, on Tuesday, March 4, at 7:30 p.m. in the Redfern Arts Center at Keene State College. A post-show discussion and reception with the artists will follow the performance. Tickets are $25 to $13 and $5 for KSC students. Call the Redfern Box Office at 603-358-2168 or order online at www.keene.edu/racbp.
D-Generation: An Exaltation of Larks is a full-length theater piece based on stories written collaboratively by groups of people with late-stage dementia. The work features three puppeteers who portray the caregivers and five puppets who are the residents of a care-facility. It includes a compelling original score and striking animated video segments that attempt to illustrate the experience of a person with dementia. D-Generation takes audiences into a world that is both mysterious and all too familiar and heartbreaking for families that know it first-hand.
"The idea of sensitively portraying Alzheimer's patients with puppets proved inspired," said a critic with The Hub Review in Boston.
Sandglass Theater, the well-loved puppetry ensemble based in Putney, Vermont, gathered stories from people with dementia during numerous visits to care facilities including Holton House in Brattleboro, Vt. People with dementia were guided through a collective story–making method called Timeslips, designed to explore the creative aspects of their brain without worrying about reason or logic. In conjunction with their performance, Sandglass actors will explain the Timeslips process with students in the KSC Nursing Program during a Thursday, February 27 class.
Sandglass actors discovered that the debilitating ailment may affect a person's cognition, but not necessarily their imagination. Their stories reveal a humor, and playfulness, as well as the dark reality of the disease.
"…When we drop the questions, the painstakingly impossible demands to "Remember me" and just allow these people – and ourselves – to live in the moment, there can be joy amidst the sorrow that is dementia," wrote Danielle Thierry with the Burlington (Vt.) Writers Workshop in a blog following a recent D-Generation performance at The Flynn Theater in Burlington.
Sandglass Theater is an internationally-acclaimed ensemble theater company specializing in combining puppets with music, actors, and visual imagery. Since 1982, Sandglass has toured its broad repertoire of award-winning pieces to over 24 countries, performing in theaters, festivals, and cultural institutions. Sandglass also performs and teaches in its own 60-seat renovated barn theater in Putney.
The Redfern performance of D-Generation: An Exaltation of Larks was made possible with funding by the New England Foundation for the Arts' National Theater Project, with lead funding from The Andrew W. Mellon Foundation.
Related Stories