Safety in Numbers: At Career Fair, Interest and Opportunity Can Be Mutual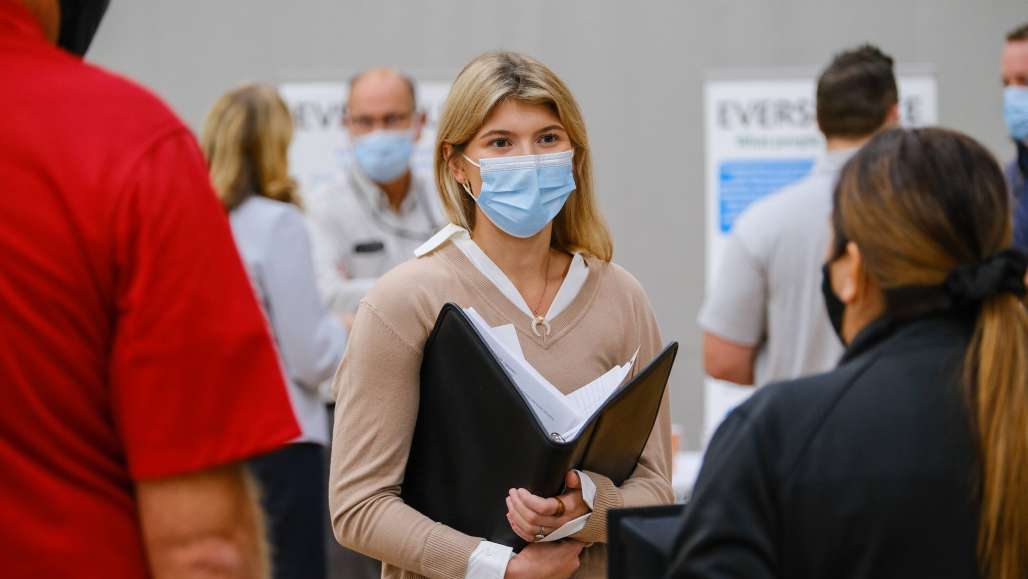 Employment good fortune is sometimes a product of who you know, but for most it's about connections…and who you see and meet.
At the annual Spring 2022 Safety Career and Internship Fair at Keene State College, it will be the latter as graduates-to-be and undergraduates mingle with recruiters representing more than 50 businesses. The recruiters list regularly includes dozens of Keene State alumni now working in the safety field, said Lauren Waterman, job fair coordinator.
It can be a mutually beneficial pathway, the beginning of a professional career, or the opportunity for students to experience their education in a practical, real workplace setting.
The scope of the fair – of which the college holds two each year, the other in the fall – speaks to the quality of the safety and sciences as an area of academic study, Chris Rennix, department chair for Safety and Occupational Health Applied Sciences at the college, said. It also speaks to the track record that these safety-themed programs have as it relates to graduates not only entering the workforce directly after college, but doing it prepared to hit the ground running.
Karrie Kalich, dean of Keene State's School of Sciences, Sustainability, and Health, said the college is always excited to welcome participating companies back to campus, noting the college's previous two fairs were online because of COVID-19.
"Over time, Kalich said, "an increasing number of the companies are represented by alumni of our programs looking to hire the next generation of safety and construction management leaders."
The fair is Thursday, March 3 from 9 a.m. to 1 p.m. at Spaulding Gymnasium. Snow date is March 4.
Safety professionals work with employees and employers to mitigate risks in the workplace, by effective assessment, prevention, and control of actual or anticipated hazards. These processes today are an integral part of all business operations.
Kalich said that a consequence of this recruiting event "is that our students and alumni will leave with multiple internship or job offers."
"The large number of employers attending the Safety Career Fair reflects the quality of our Keene State graduates and the tremendous career opportunities available to them," Kalich said.
The demand for safety professionals is high, Rennix pointed out, and that only makes the opportunity for students to get in front of prospective employees this way more important and so advantageous.
"I get two or three emails a week from companies looking for new hires and interns that already employ Keene State graduates or heard about our program from other companies," Rennix said. "Our students are highly valued in the environment, health, construction, and safety fields because of what they bring with them to the job – a practical approach to keeping people safe."
Three Keene State students share their stories about the role that internship and/or career fair experiences have played in their education and career pursuits:
Noah Jalbert '22
Noah will graduate in May with dual degrees, lucky, he said, to have some sense of job security. A week after graduation, he begins down his professional path as a field manager for Cianbro, a company that operates in 40 states but that has corporate headquarters in Pittsfield, Maine.
Noah is from Saco, Maine, so he's excited to begin his work journey not only in his home state, but for Cianbro, a company he interned for and that is one of the largest firms in the country owned fully by its employees.
"It's been a relief to come into my senior year with a job lined up," Noah said. "Field engineer, think of it as entry-level project management position."
Cianbro manages and self-performs civil, structural, mechanical, electrical, instrumentation, telecommunications, thermal, fabrication, and coating.
Noah was an architecture major when he enrolled at Keene State, but soon caught wind of construction management as an academic track.
"Now I'm going to be doing everything I want," he said. "I'll be doing something different every day … working with financials one day, next out in field making design changes with architecture. It's the culmination of so many things, and the best part is I'm not in cubicle every day."
He credits his academic advisers for pointing him to the career fair, which he went into with "basic, not extensive" interview experience, he said.
"I interviewed with a couple companies the first day (of the fair), just to get my feet wet. I was a little more ready when I interviewed with Cianbro, which resulted in getting an internship, and then a job offer."
Bottom line, he added: "When you apply for a job, you're hoping they get back to you. With the (job) fair, you're already starting at the interview level, and so you are putting your foot in the door that way. It's a big difference."
Helen Werner '22
A native of Trumbull, Connecticut, Helen in the fall will begin her professional career as a safety coordinator for Clark Construction working in the Washington, D.C. area. She couldn't be more ecstatic.
"I've been in New England all my life," Helen said, "so to be able to branch out this way and grow with a company as big and as successful and that cares about safety and its employees … I think this is going to be a fantastic opportunity."
It doesn't happen, she added, without the "foundation" of a Keene State's safety studies education. And, she quickly added, a seemingly innocuous career-fair-day moment that caught a recruiter's attention.
She had been going to the fairs, she said, since she was a freshman, mostly to stay connected. She had an environmental health and safety internship with a local company, Markem-Imaje, that was not a result of the fair, and an internship with Travelers Insurance in her home state that was.
As a senior, during the fall career fair, Helen was a safety ambassador, a role that included helping with event setup. As company recruiters were arriving and setting up, one overheard a small conversation Helen was having with an underclassman. She was dispensing some advice, and a regional director for Clark overheard it, mentioned being impressed…and the rest is history.
"You might call it an instant connection," she said. "I had an on-the-spot interview, and later that night I was invited to dinner with a team of 12. We talked about shared experiences. It was a great group. I had an unofficial job offer later that night."
It isn't always that spontaneous, but it can be, she said.
"My internships were invaluable. They gave me experiences I was able to write about that led to a scholarship from the National Safety Council. I went to an expo in Florida, I attended resume nights prior to the fairs, the college would bring in alums to talk about how they got to where they are. You have to take advantage of all that; it will set you up for success. I am so thankful for the program and what everyone does there."
Ethan Russell '25
A freshman from Keene, Ethan received a safety internship in just his third week of college, at the fall career fair. That is the exception to the rule but speaks to the confidence that Holder Construction saw in him, department staff said.
"You could say I was shocked, but it's awesome," said Ethan, who will begin a paid internship in Huntsville, Alabama, May 23 as a safety coordinator.
Ethan said thanks first and foremost goes to professor Lito Amit, who required his students to attend the career fair, even freshmen. Ethan is majoring in safety and occupational health, but may switch to construction safety, he said.
"I don't really care for the general industry side of safety," he said, "like the warehouse or environmental health safety. I grew up working in construction during summers and I like that environment much more."
It didn't hurt, he said, that two other Keene State grads are working for Holder, including Hunter Arnold '18, with whom he connected at the fair.
It all happened quickly, Ethan said. "Hunter asked me for my resume, texted my phone an hour later, asked when we could do and interview, which was later in afternoon. I'd say about month later he called me and offered the internship."
When I was contemplating going to college, I didn't want to go to a different town or city," Ethan said. "I only applied to Keene State and to Southern Maine Community College because I was thinking about maybe being a firefighter. (Admissions Director) Peg Richmond told me more about safety program. That's what I declared as my major.
"I'm a workaholic, so I didn't mind going to the career fair. Get my name out there as soon as I can. If nothing comes of it, you understand. Now, to have this on my resume as a freshman, that could be a big deal."
More than three dozen Keene State alumni typically return to the fair, to meet student prospects. Many of those alums will gather on campus a day prior to the fair, Rennix said.
He noted that more than a dozen companies are on a wait list to be a part of the career fair.
WorkWISE NH, which has an on-campus office, will be on site, as will some 10 state-based companies, Rennix said. The OSHA On-Site Consultation Program provides free, voluntary and confidential workplace safety and health assistance to eligible small businesses in New Hampshire.
It's a web of potential connections, a full-immersion opportunity, Werner said of the safety studies program.
"I saw so many stories of success, read so many stories of women having success in this field," she added. "But it comes down to what you want to make of it. Everything and everyone here is there to help you succeed."
Related Stories