Rwandan Ambassador to Offer Genocide Awareness Lecture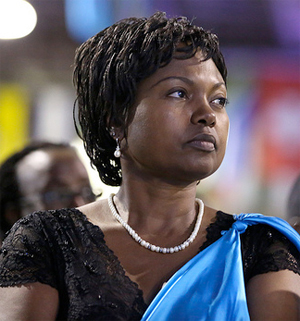 Mathilde Mukantabana–Ambassador Extraordinary and Plenipotentiary of the Republic of Rwanda to the United States and non-resident Ambassador to Mexico, Brazil, and Argentina—will deliver the Cohen Center's annual Genocide Awareness Lecture in the Mabel Brown Room on Monday, March 3, at 7 p.m. This year marks the 20th anniversary of the 1994 Rwandan genocide, and Ambassador Mukantabana's talk is titled "Remember, Unite, Renew: Retracing Milestones in Country Building after the 1994 Genocide against the Tutsi in Rwanda." The Ambassador will also be on campus the following day, Tuesday, March 4, to introduce the Cohen Center's 2014 Professional Development-Public Workshop, "Interrupting Genocide: Protecting Civilians from Mass Atrocity," with Dr. James Waller.
Ambassador Mukantabana was born and raised in Rwanda before she moved to the United States to pursue her studies. In 1994, she was hired to teach history at Cosumnes River College, in Sacramento, Calif., just as she learned that her entire family had been butchered in the genocide that has come to define her native Rwanda to the rest of the world.
"If we Tutsis survived, it was by a miracle," Mukantabana recalled. "A million people died in three months. It started in April and ended in July 1994. My father, my mother, and my four younger brothers and sisters were killed along with six aunts, four uncles, and all my nieces and nephews. From my father's side alone 70 are gone."
While teaching at Cosumnes River, Ambassador Mukantabana threw herself into Rwanda's resurrection and helped create the non-profit Friends of Rwanda Association (FORA), a non-profit American relief association to expand the circle of friends of Rwanda and to support survivors of 1994 Genocide through a variety of initiatives and relief efforts. In addition, under the aegis of United Nations for Development Programs (UNDP), the Ambassador started the academic program of Social Work at the National University of Rwanda in 1999, and taught a variety of subjects in their summer program until recently.
Ambassador Mukantabana has been a passionate community organizer for several decades and was a co-founder of many associations and organizations whose main purpose was to promote a positive engagement and collaboration of the Rwandan communities in the United States with other groups and organizations for the benefit of their respective countries. She is an active Board Member of the Alliance for the Study of Holocaust and Genocide Studies at Sonoma State University in California and belongs to many local and international organizations including the International Association of Genocide Scholars (IAGS) and the Organization of African Leaders in Diaspora (OALD) that she co-founded and for which she is currently acting as Chair of the Board.
Related Stories