Redfern Arts Center Kicks Off 35th Season with Free Party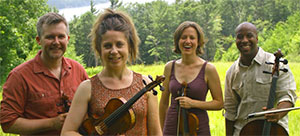 KEENE, N.H., 9/6/2016 – The Redfern Arts Center at Keene State College invites everyone to a Season Kick Off Party to celebrate the start of its 35th season of presenting dynamic performing arts on Thursday, September 15, from 4:30 to 6:30 p.m. You'll be able to mingle with your fellow arts fans, enjoy delicious food, check out art exhibits, and get a taste of all the Redfern shows this season. And best of it's all free and open to all ages!
This year the Arts Center continues to shake things up with an inside/outside celebration and fun offerings designed to get everyone in the spirit of enjoying all the arts have to offer. The festivities begin with a reception in the Redfern lobby coupled by an interactive art exhibit and optional tours of the building.
Then we'll move into the Alumni Recital Hall for performances by visiting artists Apple Hill String Quartet, and KSC faculty member Matthew Leese leads Music Department's Opera Workshop students through a scene from the children's opera Brundibar, all of whom will perform together in November in the semester-long Voices of Terezín Project dedicated to the legacy of Jewish composers and artist held in the Terezín Nazi camp. The Theatre and Dance Department gets in on the Kick Off Party action staging a scene from the musical Little Women.
Everyone who becomes a Redfern Circle member during the Kick Off Party will receive a gift certificate to Prime Roast in Keene. Redfern membership provides many benefits including ticket discounts, preferred seating, and invitations to special events. The Redfern also offers a student membership option, which is a great way for students to attend performances together.
The Redfern's upcoming season promises to delight, entertain and entice you to explore new horizons. The fall season opens with the political satire of Capitol Steps in their side-splitting election year revue What to Expect When You're Electing followed by the international street dance sensation Charles "Lil Buck" Reilly dancing in sneakers en pointe to music performed by dynamic cellist Ashley Bathgate. There's an international flavor to the season with Canadian composer Benoît Charest conducting his musical score with an 8-piece orchestra during the animated film The Triplets of Belleville. There's also a free concert by the popular United States Army Field Band Jazz Ambassadors. The Voices of Terezín Project featuring Apple Hill String Quartet, KSC students and faculty, and local children performing the opera Brundibar will close out the fall season.
The spring season opens with Walnut Street Theatre's production of the Neil Simon comedy Last of the Red Hot Lovers, followed by a dance installation and series of performances by choreographer Dahlia Nayar called 2125 Stanley Street which reflects on notions of home.
The popular Redfern Saturday morning family show returns this year with Puppet Showplace Theater, a performance by puppeteer Brad Shur and musician Chris Monti called Tall Tales! Stories and Songs from New England. A widely different comedic puppet musical by Wakka Wakka Productions called Made in China is a fantastical exploration of human rights, consumerism and morality as told through the unlikely love story between an odd middle-aged American woman and her Chinese ex-pat neighbor.
The season ends with the Doppelgänger Dance Collective's duet project by Shura Baryshnikov and Danielle Davidson.
For further information about the Season Kick Off Party, call the Redfern Box Office at 603-358-2168 or email boxoffice@keene.edu.
Related Stories