Rebecca Stenn Premieres Dance January 27 at the Redfern Arts Center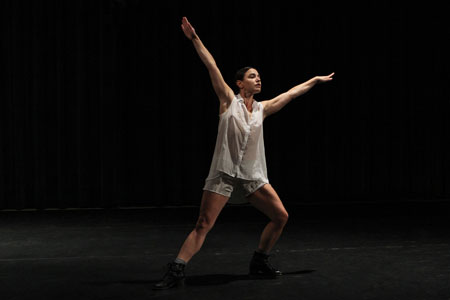 New York Choreographer Rebecca Stenn Performs Stunning and Captivating Array of Solos in New England Premiere of "Time I Know"
Rebecca Stenn, the Redfern Arts Center's 2013-14 choreographer-in-residence, will perform a solo dance concert accompanied by composer Jay Weissman, bass, on Monday, January 27, at 7:30 p.m. in the Redfern's Alumni Recital Hall on the Keene State College campus. The performance is part of a new solo series entitled "The Power of One." Tickets are $20 for the general public, $15 for seniors and children, and $5 for Keene State students. Call the Box Office at 603-358-2168 or order online at www.keene.edu/racbp.
Stenn will stay after the performance for a discussion of her new work with audience members. Weissman will present a workshop on composing music for dance at a time and place to be announced.
Stenn will perform the New England premiere of Time I Know, a new evening length solo that explores the idea of looking at time and the often mysterious and puzzling ways time moves.
"We have time. We spend time. We kill time. We've been told since we were children, that time is money. But it's not," said Stenn. "Time is a blurry continuum that speeds and slows according to our attention to it."
The dance, which tells a personal, intimate story of moving backwards in time to see where you are going, is a collaboration with the brilliant lighting designer Kathy Kaufmann and the always surprising composer/bassist Jay Weissman.
Weissman's music is extremely varied, sometimes intense, sometimes whisper silent and provides a live musical conversation throughout Time I Know. He has a long music and dance collaboration with Stenn's modern dance company and has composed for and performed with diverse artists such as Pilobolus Dance Theatre, The Flux Quartet, Rabbi Schlomo Carlebach, and Perry Farrell. His compositions have been featured at Lincoln Center, The Joyce Theatre, Merkin Concert Hall, Jacobs Pillow Dance Festival, and the Andy Warhol Museum in Pittsburgh.
Stenn, who has long been fascinated by the solo form, has danced numerous solo concerts over the last 20 years. She has performed and toured throughout the world as a principal dancer with Momix and Pilobolus. A dancer, choreographer, writer, and teacher, Stenn formed Rebecca Stenn Company in 1996, which has since performed to critical and popular acclaim in over 19 states nationally and internationally. Stenn is currently Assistant Professor in the Dance Program at Eugene Lang College in New York City.
The New York Times' Jennifer Dunning writes, "Rebecca Stenn is larger than life … a rubber bodied, take charge creature … Wildly connected yet free to fly … ingenious … darkly imaginative."
While a choreographer-in-residence at the Redfern, Stenn presented an Improvisation Movement Workshop in November and auditioned Keene State student dancers to perform in a newly commissioned work to premiere during An Evening of Dance 2014, the KSC's Theatre and Dance Department's annual spring modern dance concert to be performed April 23 to 26.
Stenn's residency and performance is a collaboration with the KSC Theatre and Dance Department.
About the Redfern Arts Center at Keene State College
The Arts Center is named in honor of Dr. Leo F. Redfern, Keene State College President from 1969 to 1979 for his vision, commitment, and eloquence on behalf of the arts that made funding and construction of the facility a reality. In 1981, KSC inaugurated this new performing arts center, with the goal of providing unforgettable artistic encounters for the campus and community. Since then, the Redfern stage has hosted hundreds of amazing shows, from internationally renowned artists to emerging young talents to KSC's own student performers. Over the years, the Redfern has expanded its outreach programs, curricular and community partnerships, becoming an indispensable resource for the Keene community and beyond.
Related Stories