Rani Arbo and Daisy Mayhem Bring Family Music Show to the Redfern Arts Center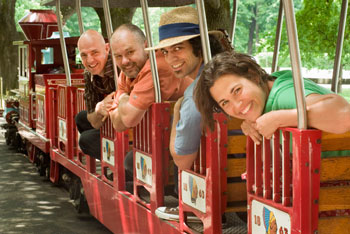 Rani Arbo and daisy mayhem will bring their toe-tapping, hand-clapping, sing-a-long family music show to the Redfern Arts Center at Keene State College on Saturday, February 22, at 11 a.m. in the Alumni Recital Hall, where front row seats will be removed so children and parents can move to the music. To encourage everyone in the family to attend, all tickets are only $5 each. This family show is best suited to children aged pre-K through 6th grade. Call the Redfern Box Office at 603-358-2168 or order online at www.keene.edu/racbp.
The show takes a rollicking ride through 200 years of American roots music. Based on Rani Arbo and daisy mayhem's award-winning 2010 CD, Ranky Tanky, this musical journey stops at the Georgia Sea Islands, the Appalachians, a Mississippi blues joint, a Texas dance hall, and a New Orleans parade, as children soak up the sounds of fiddle, guitar, bass, percussion, and four voices in harmony. Songs include "The Green Grass Grows All Around," "Audubon Zoo" by the Meters, and the 1950s rock n' roll classic, "Purple People Eater."
"Rani Arbo & daisy mayhem's Ranky Tanky is barefoot, front-porch, tap-your-feet folk music for families!" according to USA Today.
On stage, the band includes fiddle, acoustic and electric guitars, ukulele, banjo, standup bass, and a drum set made of boxes, tin cans, and an old suitcase. During the show, children will be invited to sing, clap, dance, suggest ideas, and answer questions about what they see on stage. Between songs, Rani Arbo & daisy mayhem talk about the songs, instruments, and styles they play, but it's no lecture — it's more like four cooks crowing over ingredients for a favorite musical stew. Even with a pile of instruments on stage, this band likes to prove that it doesn't take fancy stuff to make music — they can make great sound with voices and hands, a recycled percussion rig, and even a water-powered turkey-baster whistle.
To extend the children's experience, a post-show meet and greet reception with the musicians will include a Make Your Own Harmonica activity. This performance is a collaboration with the Keene State College Child Development Center, where percussionist and veteran teacher Scott Kessel of Rani Arbo and daisy mayhem will lead a recycled instruments show-and-tell workshop on Friday, February 21.
Touted as "one of America's most inventive string bands" (The Boston Herald), Rani Arbo & daisy mayhem hail from New England's Connecticut River Valley. They have performed across North America for more than 13 years, bringing their playful and profound performances to audiences of all ages. In 2010, their debut family recording — Ranky Tanky — earned top awards from Parents Choice Foundation, NAPPA, Oppenheim, and the American Library Association.
Related Stories