Pro Snowboard Announcer Wormstead Setting Sights on Sochi Olympics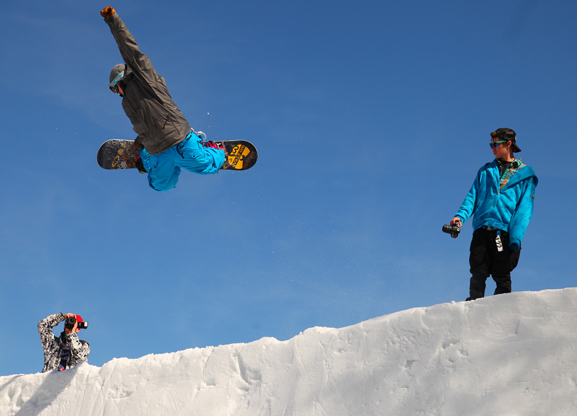 Like many winter sports aficionados, Nelson Wormstead will set his sights next week on Sochi, Russia, where the 2014 Winter Olympics will be held.
While Wormstead, a 2005 Keene State grad who lives in Portsmouth, plans to peruse a plethora of the televised Olympic offerings. He will be keeping close tabs on a special event – the snowboarding competition.
"I can't wait," said Wormstead. "I think snowboarding gives a lot to the Olympics. The TV ratings for the events are off the charts."
Wormstead has a special sentiment toward the sport. Although snowboarding made its Olympic debut at the 1998 Winter Games in Nagano, Japan, Wormstead, who was born in Saugus, Mass., and moved to Rumney, N.H., at the age of 11, was ahead of the curve when it came to promoting the sport.
Long before Shaun White – considered the Wayne Gretzky of the sport – was launching himself off the edge of a 22-foot wall of ice and amazing onlookers with his vast array of harrowing halfpipe tricks, Wormstead was in New Hampshire trying his hand at the fledgling sport. "When I moved up to New Hampshire everybody was snowboarding, so I took it up at that point," he said. "It was similar to skate boarding as far as the actual tricks, and all of my friends were really good. So I picked it up quickly."
Snowboading fans will double their pleasure watching the competitors at Sochi. Not only will they see the popular halfpipe competition, but they'll also witness a new discipline: the slopestyle event. Unlike the halfpipe, where tricks are performed on side-by-side ramps, the slope racers will negotiate a terrain park filled with jumps, rails, and a variety of different features. The idea is to have a flawless run without any mishaps or falling.
The affable White is the only athlete to qualify for both the halfpipe and slopestyle events at Sochi.
Although Wormstead dabbled in team sports, competing for his Plymouth Regional High School track team, he found his niche hitting the amateur snowboarding circuit and taking part in some of the bigger competitions. Wormstead wasn't the most proficient in the field, but that didn't deter his enthusiasm. "It was rough because I was a middle-of-the-pack guy, but that never stopped me," he said. "I always tried to give the people a show."
Wanting to stay close to the slopes, Wormstead narrowed his college choices down to Keene State and nearby Plymouth State.
"Plymouth was essentially 13th grade at that point, so I decided to get away from the house a little bit and go to Keene State," he said.
Wormstead didn't go to Keene State alone. He began dating Crystal Moriarty his senior year at Plymouth Regional and the two packed up their skis and boards and headed to Keene.
Both Wormstead and Moriarty enjoyed their days at Keene State, and still remain in contact with many of their college friends. Joining the school's ski and snowboard club, the two spent their winter weekends on the slopes. "We had sold out trips every week and always did a big overnight, going to Vermont or Canada for a couple of days," said Wormstead, who served as the club's president his last three years. "It was a lot of fun."
Wormstead and Moriarty, who was the treasurer of the club as a junior and senior, graduated in 2005. It wasn't too long after college that Wormstead hooked up with Oakley, a world-wide company based in California that manufactures sports performance equipment, including sunglasses, visors, goggles, and other accessories.
Constantly on the road servicing his 200 accounts in New England, including a couple of dealers in Keene, Wormstead continued to be a weekend warrior on the slopes, accompanied by Moriarty, whom he married in 2007.While Moriarty favors skiing, Wormstead's preference for snowboarding never wavered – sometimes to the dismay of his wife. "I sometimes get nervous watching him, but he's definitely more careful now," she said. "He knows he's a little bit older and he's not 17 anymore."
Moriarty tried snowboarding with little success. "I tried it a handful of times a few years ago and I didn't make it through a single day without crying," she said. "I decided to stick with my skies."
Ironically, a small accident led Wormstead to a new opportunity on the slopes. Before heading to Keene State, he got hurt competing in a rail event at Waterville Valley. Not one to miss out on all the action, he grabbed a megaphone and started heckling his friends in the contest.
Little did he know it would lead to an announcing career. Wormstead got his big break when his old snowboard coach Bill Enos, a longtime coach at Waterville Valley and former World Cup snowboarding racer in the 1990s, who was named coach of the US slopestyle team, got him a job announcing at the US Open of Snowboarding taking place at Stratton in 2001. After doing live venues for several years, Wormstead went global, traveling around the world hosting the webcast of the global open series as well as commentating for ESPN at the X Games.
These days, Wormstead is still on the go. In addition to his work with Oakley, he is announcing for the Burton US Open of Snowboarding and the Rob Dyrdek's Street League Skateboarding series that takes place at several major arenas around the country during the summer.
A 9 to 5 job was never in the cards for the energetic Wormstead. "I've been very fortunate in both of my jobs," said Wormstead, who still laces up his boots and competes in several "old-guy" snowboarding contests. "I have been able to travel all over the world hosting events for thousands of people. There have been countless highlights on all of those trips," he said.
"It's unreal how far the sport has come," Wormstead added. "For me it's not really a sport, but a lifestyle that I've been involved with for so long. I put my heart and soul into it."
Related Stories