Pianist/Composer Donal Fox Performs Classical Jazz Rhythms at the Redfern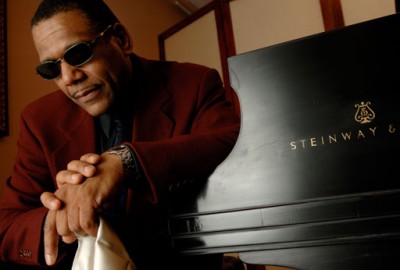 Critically acclaimed pianist and composer Donal Fox and his Inventions Trio will open Keene State College's Redfern Arts Center 2013-14 season with their unique amalgam of jazz, Latin, and classical music on Friday, September 20. The Donal Fox Inventions Trio will meld jazz and classical music with Afro-Cuban rhythms in a concert that starts at 7:30 p.m. in the Alumni Recital Hall. Tickets are $25 for adults; $20 for senior citizens, children, and Keene State alumni; and $5 for KSC students. For tickets, call the Box Office at 603-358-2168 or order online.
There are two free community programs scheduled around the September 20 performance. Donal Fox will present an Art of Improvisation Workshop at 2 p.m. that day in the Alumni Recital Hall. He and his trio will participate in a post-show meet-and-greet reception in the Redfern lobby. The performance coincides with KSC's Parent/Family Weekend.
Fox comes to the Redfern following several performances this summer at Tanglewood, the Boston Pops summer home in Lenox, Mass., where Labor Day weekend he closed the Tanglewood Jazz Festival with his Scarlatti Jazz Suite Project. Earlier in the Tanglewood season Fox premiered his Piazzolla to Bach Project.
Fox is known for his innovative musical style. "This is definitely as far from rote – or "groove" – jazz as you can get…" according to an August 28 review in The (Greenfield, Mass.) Recorder.
Jazz Hot magazine says "Fox's music is unlike that of anyone else, while at the same time it evokes McCoy Tyner, Art Tatum, the intensity of Coltrane and of the blues, shades of Bach and Cuban music."
Fox is an internationally acclaimed composer, pianist, and improviser in both jazz and classical music. Fox recently premiered his Monk and Bach Project at Jazz at Lincoln Center, his orchestra piece, "Hear De Lambs A-Cryin," commissioned by the Albany Symphony Orchestra for The Spiritual Project, his Scarlatti Jazz Suite Project at Tanglewood, and the world premiere of his piano concerto Peace Out for Improvised Piano and Orchestra at Carnegie Hall with the American Composers Orchestra.
Fox, a Steinway Artist at Steinway & Sons, is the Martin Luther King Visiting Scholar Emeritus at Massachusetts Institute of Technology (MIT).
Donal Fox Inventions Trio performance at the Redfern is presented in collaboration with the Keene State College Music Department, and funded in part by the New England States Touring program of the New England Foundation for the Arts, made possible with funding from the National Endowment for the Arts Regional Touring Program and the six New England state arts agencies.
About Redfern Arts Center on Brickyard Pond
The Arts Center is named in honor of Dr. Leo F. Redfern, Keene State College President from 1969 to 1979 for his vision, commitment, and eloquence on behalf of the arts that made funding and construction of the facility a reality. In 1981, KSC inaugurated this new performing arts center, with the goal of providing unforgettable artistic encounters for the campus and community. Since then, the Redfern stage has hosted hundreds of amazing shows, from internationally renowned artists to emerging young talents to KSC's own student performers. Over the years, the Redfern has expanded its outreach programs, curricular and community partnerships, becoming an indispensable resource for the Keene community and beyond.