Owls capture Little East Title in Thrilling Style; MVP Hunter, unshakable guard Siow lead way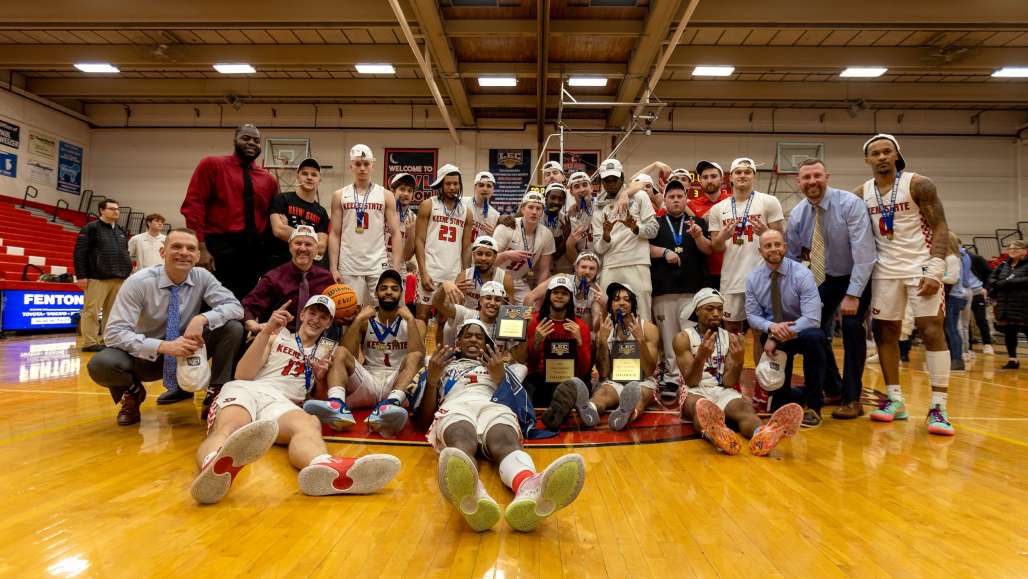 Keene State College's record-setting season continued ablaze Saturday, as the Owls tripped up Western Connecticut 83-79 in overtime to defend their Little East Conference championship and claim their sixth title in 15 finals appearances.
Playing on their home floor, in front of a full red-and-white-clad crowd, the Owls defeated Western Connecticut for the third time this season to earn the conference's automatic bid to the NCAA Division III National Tournament and run their near-perfect overall mark to 25-1.
Ranked No. 5 in the latest D3hoops.com poll, Keene State has rattled off 11 wins in a row since suffering its lone defeat of the season to then 11th-ranked Middlebury.
The NCAA tournament bracket will be released later Monday. Keene State did apply to be a host site for next week's first and second-round contests. Regional sites will also be announced Monday.
Coach Ryan Cain's Keene State team reached the second round of the NCAA Tournament a year ago.
Western Connecticut had lost only to Keene State twice before dropping its final two LEC regular-season games, to Eastern Connecticut (81-75) and Southern Maine (91-84, OT) last week. It vented Thursday, however, as six Western players scored in double figures as the Wolves scorched UMass-Dartmouth 94-75 in their semifinal.
Saturday was a different story. The Owls, who claimed sole possession of the LEC regular-season title after winning each of their 16 league games, gutted out another extra-session win over the visiting Wolves, in a spirited, big-game setting and despite not having their best stuff.
Tournament most valuable player Jeff Hunter had another par-for-the-course double-double and grabbed 20 rebounds for the second time in the series against Western Connecticut this season. Point guard Nate Siow, a junior, was clutch all game against the Wolves' pressure defense and came up big offensively when the game was on the line.
His runner off the glass from 10 feet pushed the Owls' lead to 76-71 with 55 seconds left in overtime, and he drained a pair of huge free throws with 31 ticks remaining to give his team a three-possession advantage, 78-71, with 31 seconds left.
Western did not go away. Jaheim Young swished a deep corner three-pointer but was forced to foul and Western could only hope the Owls stumbled at the free-throw line. Siow didn't, making two more for his 18th and 19th points of the contest, and Mason John Baptiste added two more with 16 seconds to play.
Ryan Alkins canned a long three-pointer to make it 82-79 with 6 seconds left, and Baptiste missed both of two free-throw tries, but Jeric Cichon snuck inside for a surprise rebound of the second miss and was quickly fouled. He made the second of two tries with 2.9 seconds left to push the Owls' lead back to four.
Kendall Robinson's desperation three fell short, though it would not have been enough. It was about the only thing Robinson, an athletic 6-foot-6 senior swingman, missed all game. He led all players with 29 points, but did not score over the final 1:40 of the contest.
"We already knew the kind of kids we had, and we know that we are a player-driven team," Keene State Coach Ryan Cain said following the frenetic finish. "Our guys don't quit; they don't stop. They verified in this game everything that we knew about them. I could not be prouder."
The Owls secured the conference hardware despite an off performance by their leading scorer, sophomore Octavio Brito, who was held scoreless in the first half and never broke out of his shooting slump fully. Yet, he scored arguably the biggest basket of the contest, grabbing an offensive rebound off a missed Hunter free throw and dropping a short, tough-angle jumper off the glass to knot the game at 64 with 39 seconds left in regulation.
Baptiste, a cool-under-pressure junior guard, and Tahmeen Dupree, a sophomore, picked up a chunk of the scoring slack, teaming to knock down several clutch three-pointers.
Unflappable, Siow figured prominently in all three wins against Western Connecticut this season, including a combined 15 assists and seven steals in the first two meetings. Saturday, he was steady against the Wolves' full-court pressure, played tough defense on Jalen Jackson, his smooth Western Connecticut counterpart, and delivered the big points down the stretch.
Cain said Siow's calm demeanor, no matter the moment, is his personality. "But," the coach added, "there is not a more competitive young man than Nate. He's our heart and soul. We call him the head of the snake. He starts our defense, and he starts our offense."
Hunter was coming off a 24-point, 15-rebound win in the semifinals, against Eastern Connecticut, and he put the Owls on his back Saturday with his 10th consecutive double-double.
Saturday's game marked the second head-to-head LEC final between the two programs, with Western Connecticut winning the title in 2002, 86-83.
Keene State's 26 victories surpass the single-season bests posted by the 2003-2004 squad that finished 25-6 and reached the NCAA tournament Elite Eight, and the 2006-2007 team that finished with the same mark and made an NCAA Sweet 16 run.
Related Stories