Allegra '14 and Nate Bisson '14 MEd'16 Found Their Futures at Keene State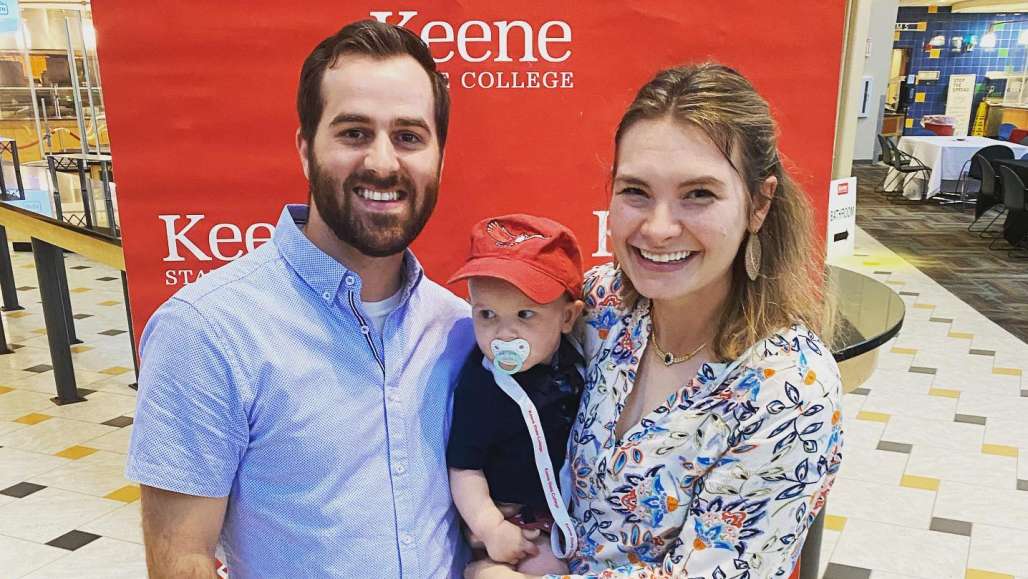 Many students attend college to further their education in a specialized field and gain experiences to last a lifetime. For Keene State alumni Allegra (née Pickering) Bisson '14 and Nate Bisson '14 MEd'16, their college years also brought love and happiness.
Allegra and Nate came to Keene State in 2010 both as elementary education and psychology majors. They met through a psychology class they had together their senior year and began to become friends.
Allegra knew she wanted to come to Keene State since she was a child. Her father, Brian Pickering '90 M07, was the assistant coach of the men's basketball team in the early 2000s where she attended many games. As a senior in high school, she took a tour of the full campus and knew this is where she wanted to be. Allegra was so sure that Keene State was the right college for her that it was the only college she applied to.
Nate's story is a little different. He always knew that he wanted to be a school counselor when he finished school. He was looking into other colleges' programs and realized that Keene State had everything he was looking for.
"I always wanted to be a school counselor and Keene State had a well-recognized education program with the option to continue on to get my master's degree. It was also a beautiful campus and the most affordable option," Nate stated.
After Allegra and Nate graduated from Keene State in 2014, they began their lives with each other and put their degrees to good use. Nate received his master's in education with a specialization in school counseling from Keene State in 2016, knowing after getting his bachelor's degree that he didn't want to complete his master's anywhere else.
"I loved my time as an undergrad at Keene State and saw myself getting my master's degree nowhere other than KSC," Nate said.
Nate has been working as a high school counselor for Fall Mountain Regional School District for the past five years after working at Walpole Elementary School. Allegra is using her Keene State degree as a kindergarten teacher for Walpole Primary School where she has been teaching for the past eight years.
Through the years and busy careers, their love and appreciation for Keene State never faded. When they were married in August 2018, Nate and Allegra decided to have their wedding reception in the Zorn Dining Commons. They later had their son in 2020 and decided to name him Keenan, after Keene State College. As alumni, Allegra and Nate stay involved and attend events like Alumni Weekend, keeping Keene State as part of their lives and journey.
Reflecting on their time at Keene State, Nate and Allegra want current and future students to know that it is okay to step outside of your comfort zone.
"Enjoy each moment at Keene State College. The time there is simply the best."
Written by Lauren Pearce '22
Related Stories