Molly Jae Chase '10, Swing Dresser on Broadway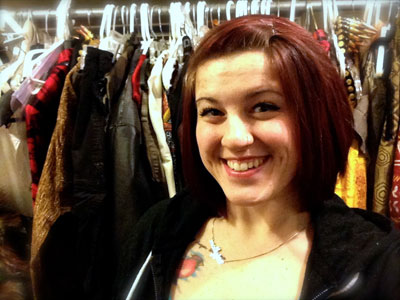 What's a swing dresser? It's a stagehand who maintains the quality of the costumes worn in a theatrical performance, each time it's performed. Dressers are responsible for assisting cast members with backstage costume changes, when necessary, and they often assist with quick costume changes. As a swing dresser with The Book of Mormon on Broadway, Molly Jae Chase '10 had to learn six of the dressing tracks for the show so she can handle one of them at any time. "At The Book of Mormon they are all extremely fast paced and heavy loads with around 30 quick changes each," Molly explained. "It is extremely hard work, but the most fun I've ever had at work."
Though she originally wanted to be onstage, Molly fell in love with dressing when she filled an empty dresser's slot for the production of Fat Men in Skirts during her junior year. "From that moment I spent more and more time in the costume shop during my time at Keene State, and with the guidance of the incredible professors in the KSC TAD program I have been dressing fairly steadily ever since," Molly said.
It seems that Molly acquired more than just technical skills as a Theatre and Dance major at KSC. "I learned how to be confident in both myself and my craft," she said. "I learned about the importance of professionalism, and community. I learned how to think outside the box and not be afraid to take risks. I learned about hard work and versatility and drive, just to name a few."
"Our program has something every school should be jealous of, and that is teachers who inspire," Molly remembered. "The professors make sure that they reach out to every student in every class and somehow make the students crave learning about their craft. We have an extremely driven department that makes sure we not only have the skills we need to do the things we want, but also the skills in crafts that affect what we want to do. As someone who focused on costumes, I also had to take carpentry, acting, and scene painting, etc. Some students took a directing or a stage-managing class. And students studying to be actors or dancers had to have one credit that had them participate as part of the backstage crew, and vice versa. We were constantly inspired by our mentors and they taught us that hard work is the only way to really get where you want to go, and that you can do it without being cutthroat."
Related Stories