Mini Drones, Field Trips, Guest Speakers, Pizza; Oh My! GoSTEM Camp Has it All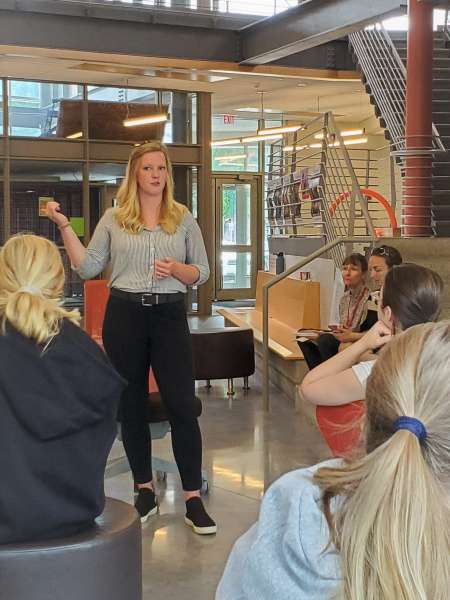 Mini drones buzzed the TDS Center atrium on Day 4 of this year's GoSTEM camp at Keene State.
One ascended to 8 feet, made a controlled descent on the same path, and landed softly in the hands of its operator, Abby. Another drone flew higher, to 10 feet, before its pilot, Gaetana, both hands on her small wireless controller, lowered the drone to a hovering position just above her forehead, where she watched it, eyes tilted up, with nonchalant pride.
Another student, Elice, attached a band to her drone to transport a pencil on a short journey out in front of her and back, low-altitude style.
This day of the weeklong camp, part of the college's annual Kids on Campus series, called for students to generate coding sequences on laptops for their mini drones. The program controls the robotic device's motions; one of the assignments was a flight-path sequence that included overcoming a predetermined and pre-programmed obstacle and returning the mini drone successfully to its landing pad.
Not all flights went smoothly, but that was the point, said Lisa Hix, a camp instructor.
"They were testing and troubleshooting (the mini drone and the program) and making corrections to their code," explained Hix, a professor in Sustainable Product Design and Innovation (SPDI) at the college.
The "Go" in GoSTEM stands for girls only, said Susan Silk, who launched the camp in 2016 upon her retirement from a 21-year career as counselor and co-op/internship coordinator at The Cheshire Career Center and Keene High School. STEM, of course, is short for science, technology, engineering, and mathematics.
Silk envisioned a program geared toward middle and rising high school girls to inspire them to consider taking more STEM-based classes as part of their education. Classes such as computer science, information technology, drafting and design, and computer repair, noting that work in those areas can lead to lucrative careers.
The popular SPDI program at Keene State, a major, is about designing products with an eye toward a sustainable world.
Hix co-created the SPDI curriculum to use leading methodologies and technologies and project-based, engaging learning experiences. Seniors consolidate their SPDI and liberal arts studies into a formal portfolio, and benefit from a high job-placement rate in their field of study.
"Creating engaging learning experiences has been shown to be the best way for students to learn and build their confidence," Hix said. "Camp is fun, and the girls use their creativity and enjoy each other's company. Young women need to see that they can succeed in STEM education and careers. Their amazing minds and talents are needed and wanted by our society."
Built in 2012, the TDS Center is home to three of Keene State's flagship programs – Safety and Occupational Health Science, Architecture, and Sustainable Product Design and Innovation.
This year's camp about the physics of flight included students assembling their own mini drones using hand and power tools, designing a flight-path obstacle, and learning to fly the drones. Each student earned her FAA mini drone pilot's license, Hix said.
Beyond that, students toured a Keene business, Corning, to learn about optical systems design, engineering and manufacturing, and optical systems applications in drones, and they heard from professional women, including Keene State graduate Julia McDonough '20, about their careers in STEM fields.
The visit marked the third time back to speak at this camp for Julia, a graduate of the SPDI program and today a successful sales associate for the Robert E. Morris Company, a leading machine tool distributor in the Northeast.
Her message was about possibilities. About finding one's passion. About the value of an education and future working in science, technology, engineering, and math as a female.
"I've found success in a field traditionally dominated by male workers," Julia, 24, told the students during break for a pizza-filled lunch. She said the full-immersion, multifaceted nature of her education was elemental to everything that would, and will, follow. She wants to inspire others to see the benefits that preparation, strong connections, and project-based learning can yield.
"At Keene State, they teach things that are credible in the real world," Julia said. "Other kinds of education are more behind a desk, more theoretical. Setting you up for a hands-on work environment … that is such a special part of the SPDI program. I want these girls to know that."
"Start at the ground floor, get those internships, and in tandem with studying for your degree and learning in the classroom, you are left with knowledge that you can apply right away and every day on the job," Julia added. "Lisa (Hix) would say, 'I want to see a prototype by next week. She is a Pitbull. She will push you to see that you are fulfilling your potential."
Enroute to her bachelor's, Julia earned internships, her first with Corning as an 18-year-old high school senior, acting as machinist, electro-mechanical assembler, manufacturing engineer, and in safety and compliance.
"Julia is exceptional," Silk, who has bachelor's and master's degrees from Keene State, said. "And she is a real success story. My hope is that these girls love coming to the college during the summer and will then stay after graduation to attend Keene State."
"From the start, my idea was to ask for no funding from college other than the use of its facility, which was plenty," Silk said. "I would fundraise mostly from local industries and civic organizations. For the first few years, I went into local classrooms to market the event, but word of mouth has worked sufficiently."
Learn more about SPDI at Keene State.(https://www.keene.edu/academics/programs/spdi/)
Visit the Keene State campus and tour the Technology, Design, and Safety (TDS) Center, home to the SPDI program. (https://www.keene.edu/admissions/tours/)
Related Stories