We're Coming to Keene State
A fantastic batch of first-year students and transfers are heading to Keene State College for the fall semester. Who are they? Here's a sampling.
If you're a new student coming to Keene State, tell us a little bit about yourself – your name, hometown, high school, and your activities in and out of school – and email them to Jane at jeklund@keene.edu. We'll add you to the story!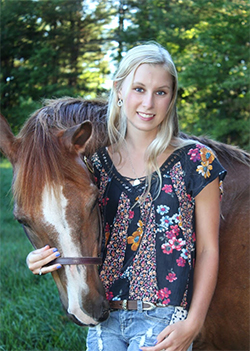 Breanna Lester, from Hancock, New Hampshire, graduated from ConVal High School, and will be studying mathematics at Keene State. She has horses and competes in events during the summer and fall. "I was the Captain of ConVal's Equestrian team for the last two years. This season, the team earned its 5th district championship!" she reported.
Isaac Bacon, a graduate of ConVal High School in Peterborough, New Hampshire, plans to go into politics. He'll study political science at Keene State.
Hannah Gagnon, from Berlin, New Hampshire, graduated from Berlin High School in 2012 as a New Hampshire Scholar. Shortly before graduation, she became a licensed EMT and has worked for the local ambulance service since. In her free time, she loves to be outside – usually snowboarding, hiking, camping, and fishing.
"I am coming to Keene State as a transfer student from White Mountains Community College in Berlin, where I recently graduated with my associate's degree in medical assisting with high honors," she reported. "A member of the Phi Theta Kappa honor society, I am the first person in my family to have earned a college degree. Completing a bachelor's degree has always been a dream of mine, and I am delighted to be a biology major at KSC! I'm also considering a minor in environmental studies, as I'm contemplating a career in either conservation biology or clean energy."
Marnie Anair, from Royalston, Mass., says, "I'm a recent graduate of Monty Tech's Early Childhood Education program in Fitchburg, Mass. Within the school I was in the National Honor Society, secretary for the SkillsUSA Leadership Team, and the Student Council. I was also in the the drama club, and was a student director for our spring plays! At Keene I will be majoring in history, with a minor in information studies, and will be in the Global Explorers LLC!"
Tommy Townsend, a 2017 graduate of Longmeadow High School in Massachusetts, writes: "I'm excited to major in history and political science, and minor in French, at Keene State College. I played trombone in high school, and was first chair of the trombone section of the honors Wind Ensemble and am the recipient of the Academic Achievement Award in English. I will spend a month in Poland to learn more about European history. I went last summer, too, and visited Kraków, Gdańsk, Warsaw, and Łódź. I am also interested in politics. Last summer I was an intern and field manager for Massachusetts State Senator Eric Lesser (former special assistant to David Axelrod and a member of President Obama's Council on Economic Advisors). This summer I am working as an intern for the Northwestern District Attorney's Office in Northampton, Massachusetts. I am a big fan of baseball, basketball, and football."
Katelyn Hill of Loudon, New Hampshire, is one of 18 New England high school seniors who were awarded $5,000 Hood Milk Sportsmanship Scholarships. Katelyn and the other winners were honored at a ceremony at Gillette Stadium, where they were praised for their character and sportsmanship on and off the field. She played softball at Merrimack Valley High School, and will play for Keene State as well.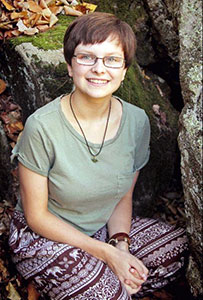 Lydia Ahlstrom of Madbury, New Hampshire, is one of the top 10 students in the class of 2017 at Oyster River High School in Durham. At Oyster River, Lydia was a member of the National Honor Society and the National Spanish Honor Society, and was a New Hampshire Scholar with an emphasis in both STEM and fine arts. During her junior year, she was awarded both the Smith Book Award, which recognized her academic excellence, leadership, and concern for others, and the Society of Women Engineers Honors Award, which goes to female students who have high achievement in both math and science. She has worked for the New Hampshire Renaissance Faire as the Fiddler of Shire and plays the fiddle for a variety of community events. Lydia plans to become a math teacher and an artist.
Braeden Huot of Swanzey, New Hampshire, a top graduating senior at Monadnock High School, plans to major in computer science and minor in Spanish and management. At Monadnock, he was a member of the National Honor Society, Spanish Honor Society, Superintendent's Club, and Interact Club. He participated in diving, swimming, cross-country, and track. Braeden won the AP Physics Award, the US Marine Corps Scholarship of Excellence Award, the Superintendent's Club Award, and the Eleanor West Scholarship. A New Hampshire Scholar, he received a Diploma of Distinction from Monadnock. At Keene State, he will join the swim team.
Olivia Smith of Amherst, New Hampshire, a 2017 graduate of Souhegan High School, has a strong interest in meditation, the mind-body connection, and the chakras – in Eastern thought, the centers of spiritual power in the human body. For her senior project, she researched the benefits of balancing the seven chakras, and gave a 20-minute public presentation on the topic. She loves children and nature, and plans to major in elementary education, with a possible double major in environmental science.
Logan Galanes, a 2017 graduate of Keene (New Hampshire) High School and a star player for the Blackbirds' basketball team, will play for the Keene State Owls team. "I've always wanted to go to Keene State," Logan told the Keene Sentinel. "There were other schools I was weighing, but in the end, this is what I have always wanted to do." Galanes reached the 1,000-career points mark in February.
Moses Seba, who is originally from Zambia and now lives in Concord, New Hampshire, plans to study biotechnology and chemical engineering at Keene State. He told his local paper, the Concord Monitor, that he was inspired by Concord High School's former principal, who had ALS, to focus on work to benefit people with certain genetic disabilities.
Claire Umurutasate, another 2017 graduate of Concord High School, plans to study nursing at Keene State. A native of the Democratic Republic of the Congo, Claire spent time in refugee camps in Rwanda before moving to the United States. She would like one day to build a hospital in Rwanda to help people there.
Related Stories