KSC Student Film Festival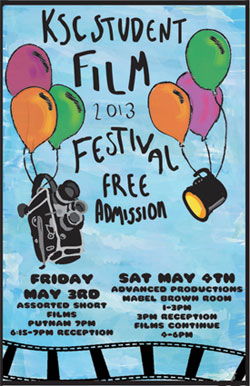 KSC's annual student film festival, showcasing selected student film, takes place this Friday and Saturday. The festival is free and open to the public.
Join student filmmakers and Film faculty for the opening reception at 6:15 p.m. in the Putnam. The Friday films start at 7 and feature shorts created for the introductory and intermediate film production classes, including Production 1, Production 2, First Person Filmmaking, Sound and Editing, Creative Non-Fiction, Experimental Filmmaking, and Cinematography and Lighting.
Student films from the advanced production classes will screen on Saturday in the Mabel Brown Room. This year's productions include multiple perspectives on storytelling, from an ode to youthful imagination to dark comedy to dark adventure to aging and Alzheimer's to interviews with police officers to psychological horror.
Friday, May 3rd – Assorted Short Films
Putnam Theater
Reception at 6:15pm – Films start at 7pm
Saturday, May 4th – Advanced Productions
Mabel Brown Room
1–3 p.m. – Films include Childhood, I Love You, A Matter of Elevators, Endeavor, A Matching Set
3–4 p.m. – Reception
4–6 p.m. – Films include The Annex trailer, Behind the Badge, St. Osmunds