Keene State Alums Create an Employment Pipeline to Wediko School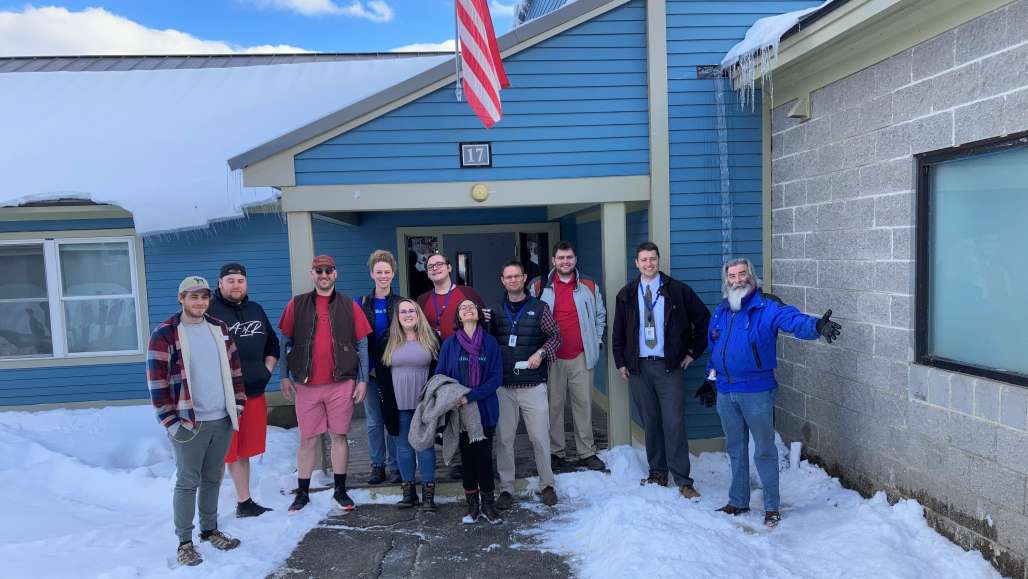 With a graduate of Keene State's psychology and school counseling programs as its principal, the Wediko School is staying connected to the college's programs and graduates. Principal Tobias (Toby) Iselin '07 M'12 regularly returns to campus classrooms to network and recruit staff for Wediko and its unique services. Eleven alumni are employed by Wediko.
Wediko is a therapeutic residential school for adolescent boys in grades 6-12 who experience social, emotional, behavioral and academic challenges. The lakefront campus is on 450 acres in Windsor, NH; students live in home-like cabin groups and have access to outdoor and community activities.
The school's therapeutic approach focuses on students' strengths – building relationships, honing communication skills for pro-social coping strategies, and incorporating alternative experiences into the curriculum. Toby describes students as "going through a range of difficult transitions so they need wraparound care, which includes family therapy, medical providers, and school all in one place. Our job is to rewrite their narrative – I can be a student, I can get along with my family, I can make a friend."
Connection to Keene State's programs is an important source of staffing for the school.
Betsy Oswalt M'15 is also a graduate of the college's counseling program. Wediko, she said, is a career option for graduates of education and psychology who are not seeking a traditional education or clinical setting.
KSC alumni employed at Wediko come from a range of academic disciplines:
Tobias Iselin '07 M'12 – Psychology and School Counseling
Betsy Oswalt M'15 – School Counseling
Robert Parker '15 – Elementary Education and Communication
Brian Kenney '07 – Safety Studies
Tory Baulier '18 – Women & Gender Studies
Jami Daigle '18 – Psychology; Criminal Justice minor
Kenneth Wilber '91 – Education
Audrey Bethel M '09 – School Counseling
Jason Dawson M '11 – Education
Alex Dubois '18 – History
Jacob Howard '18 – Studio Art
Zachary Rioux '20 – Film Production and Critical Studies; History minor
Aiyana Crary '03 – Theater and Dance
Occupational Therapy Consultant Aiyana Crary '03 said her Keene State education was foundational to steering her toward career-specific graduate programs.
Said Lead Teacher Alex Dubois '18: "KSC gave me ample opportunities to serve the community, most notably the Alternative Break Program or Relay for Life with my fraternity. This service-oriented attitude inspired me to work with this vulnerable and needy population of young men.
"I often find myself thinking back to KSC's motto: 'Enter to learn and go forth to serve.' "
Related Stories