Commencement a return to tradition; "You will be unstoppable," graduates told
Keene State College Commencement for the Class of 2022 was a welcome return to familiar traditions.
Thousands of people – more than eight hundred undergraduate and graduate students receiving degrees, their family and friends, and college faculty and staff – filled Fiske Quad on the center of campus Saturday. Color; pageantry; a sea of smiles and mortarboards, decorated and not; and a sense of excitement rose from the grounds.
Commencement 2022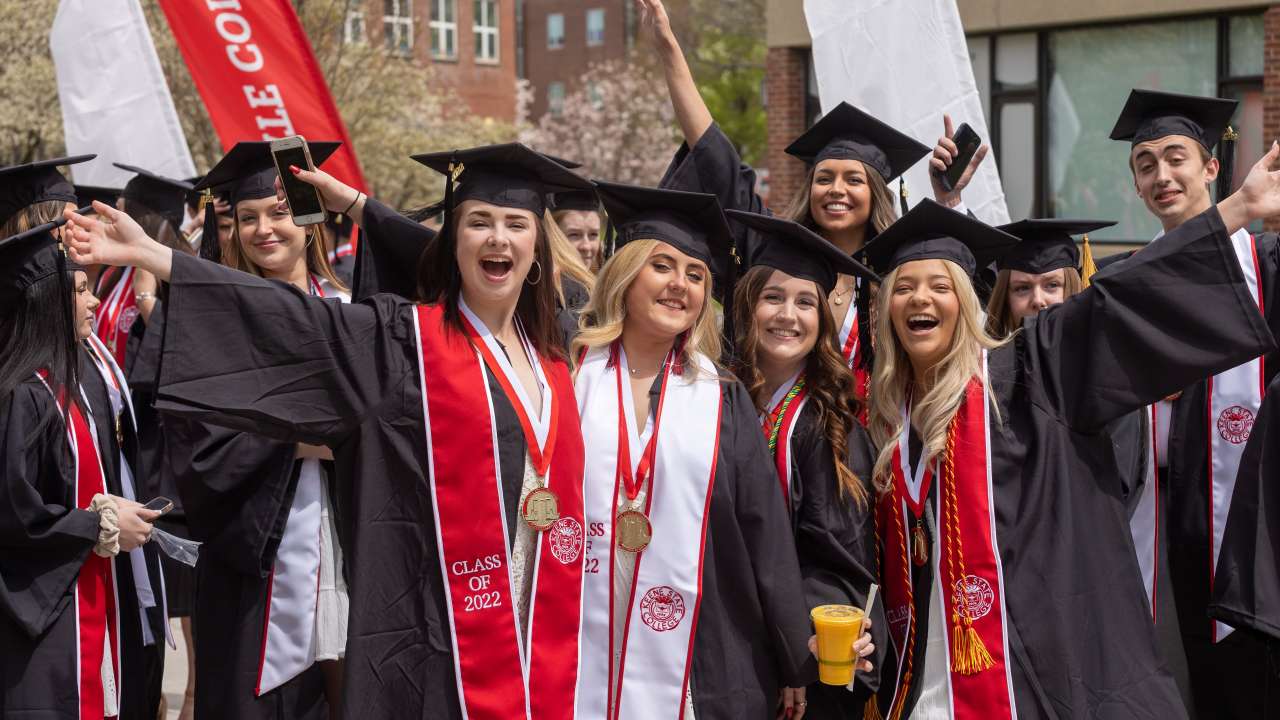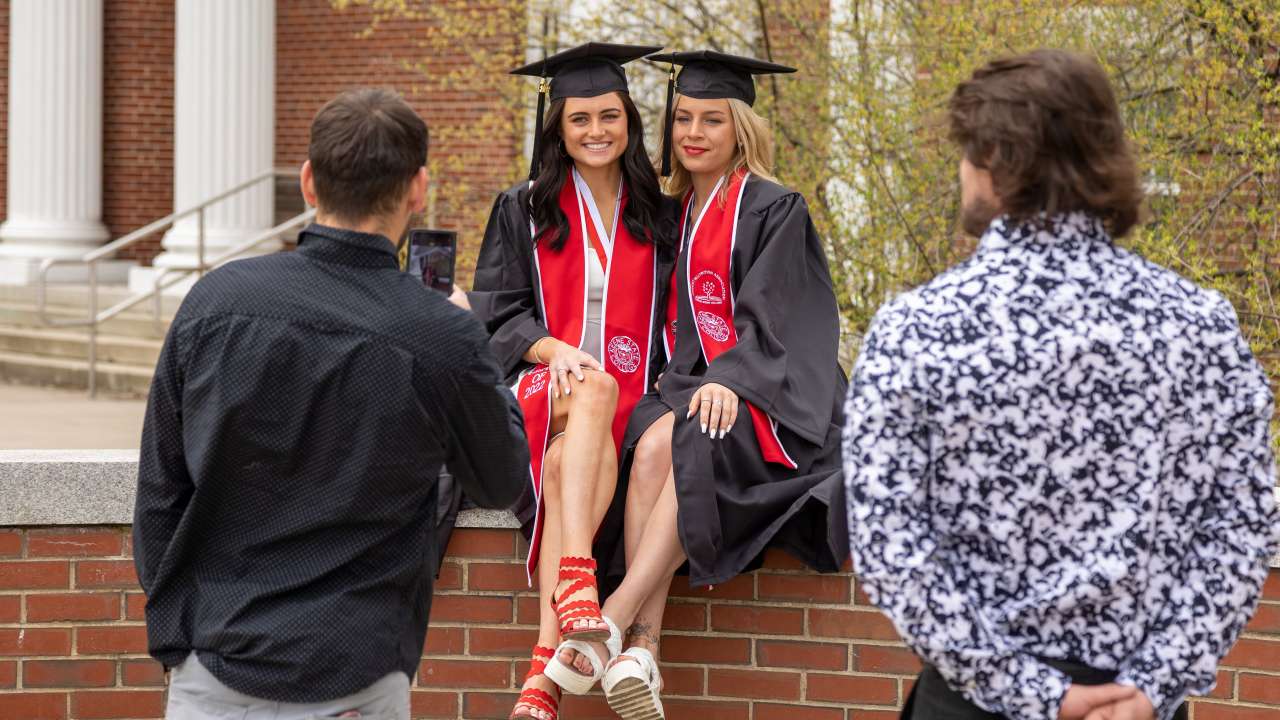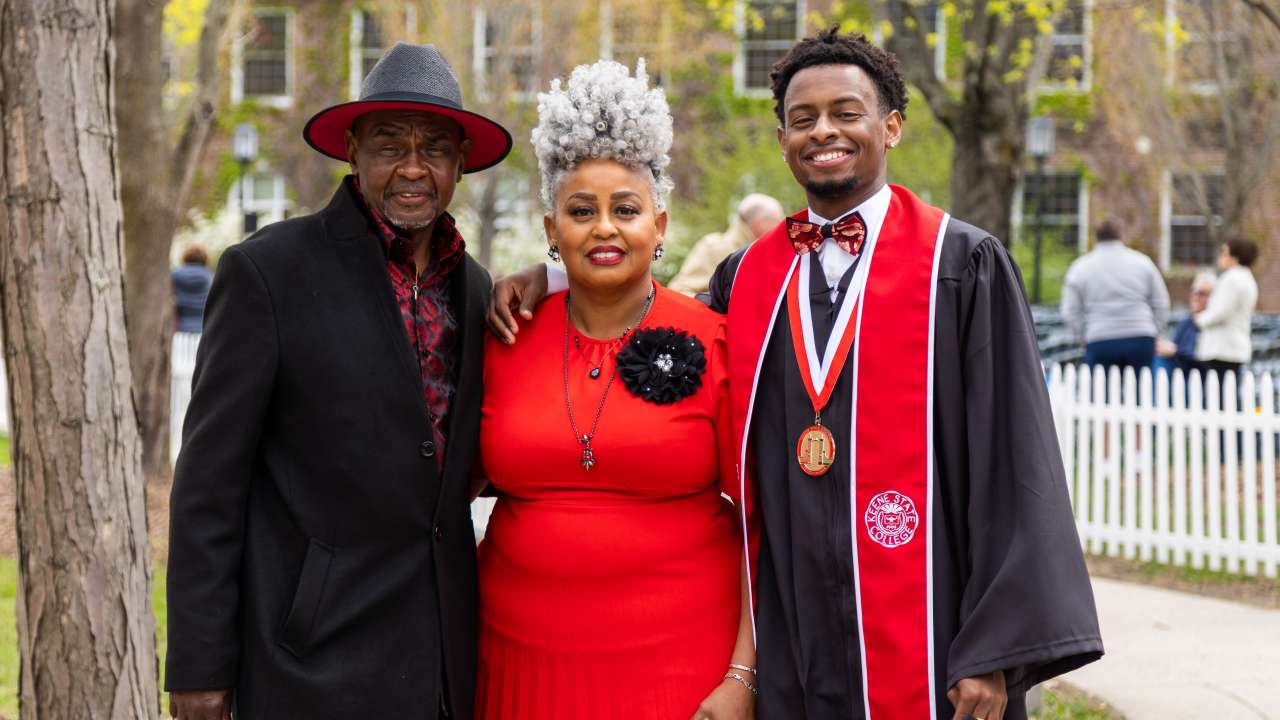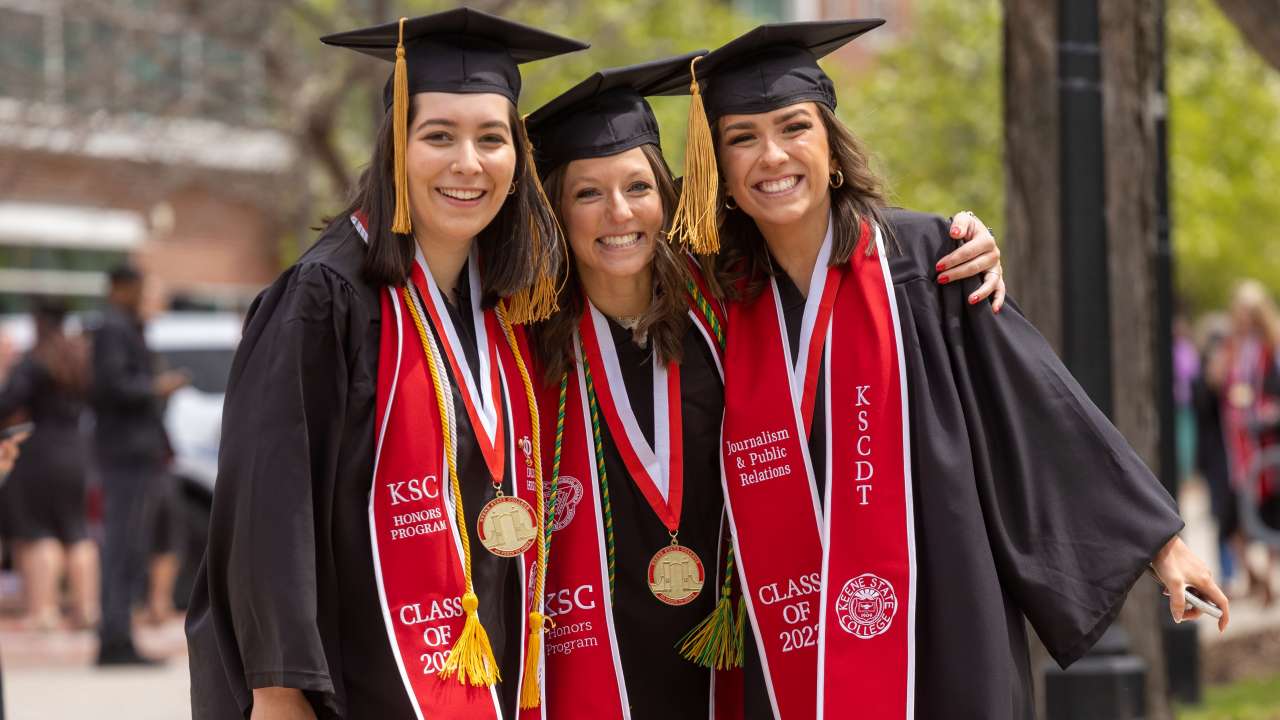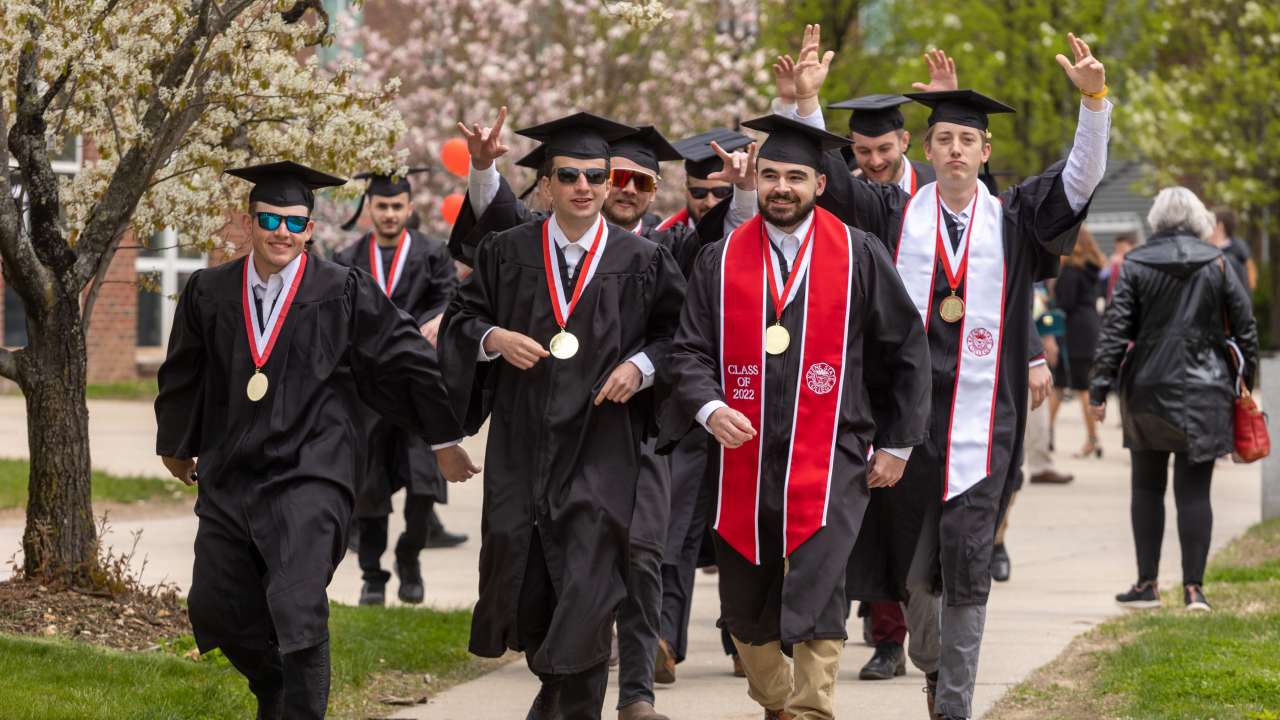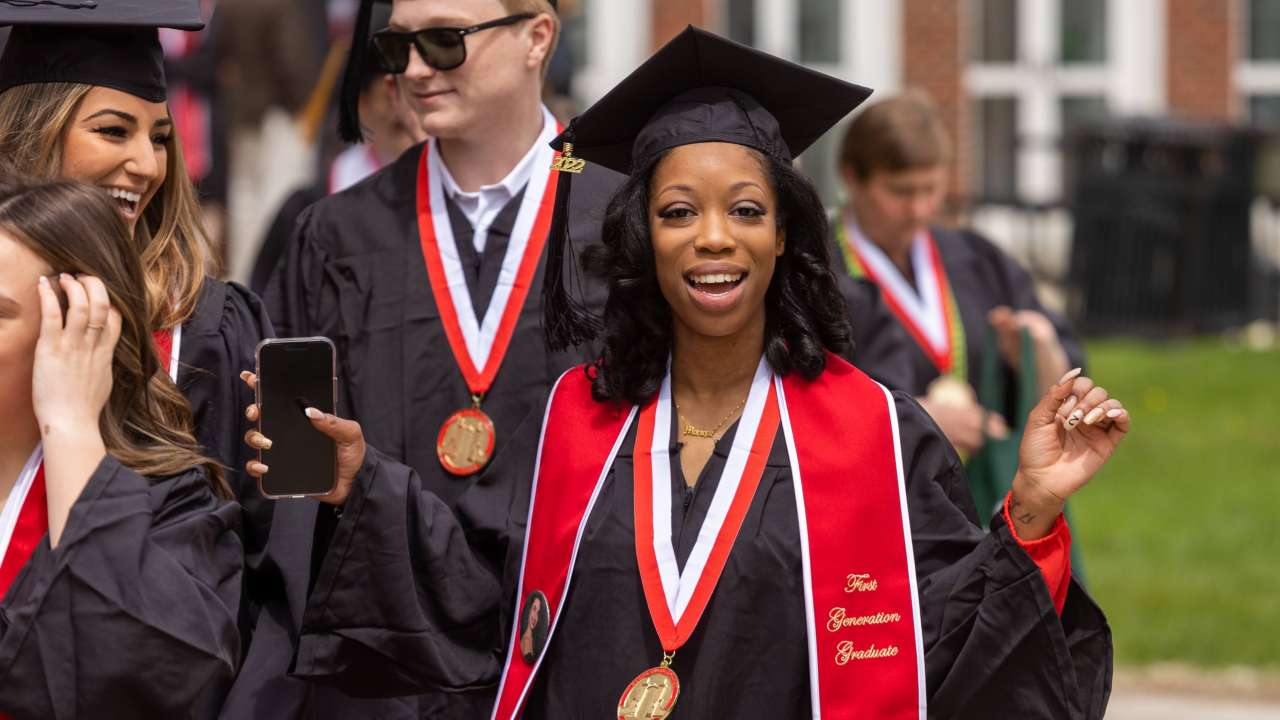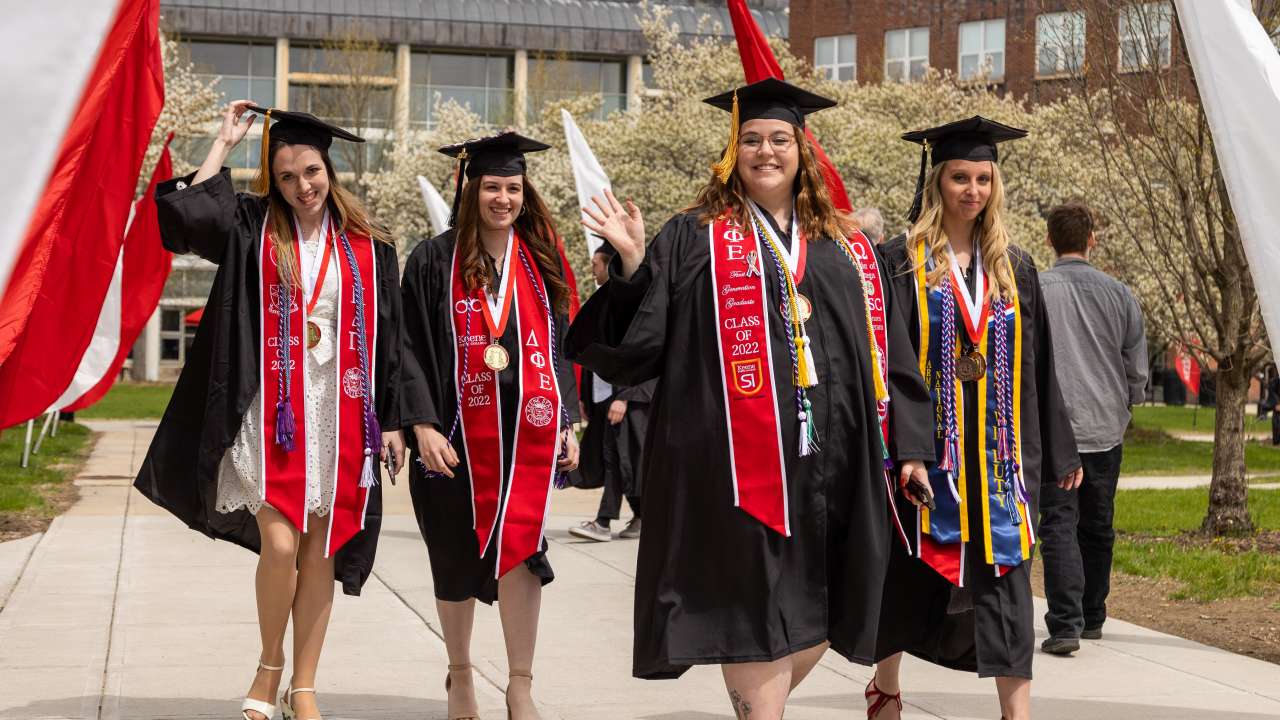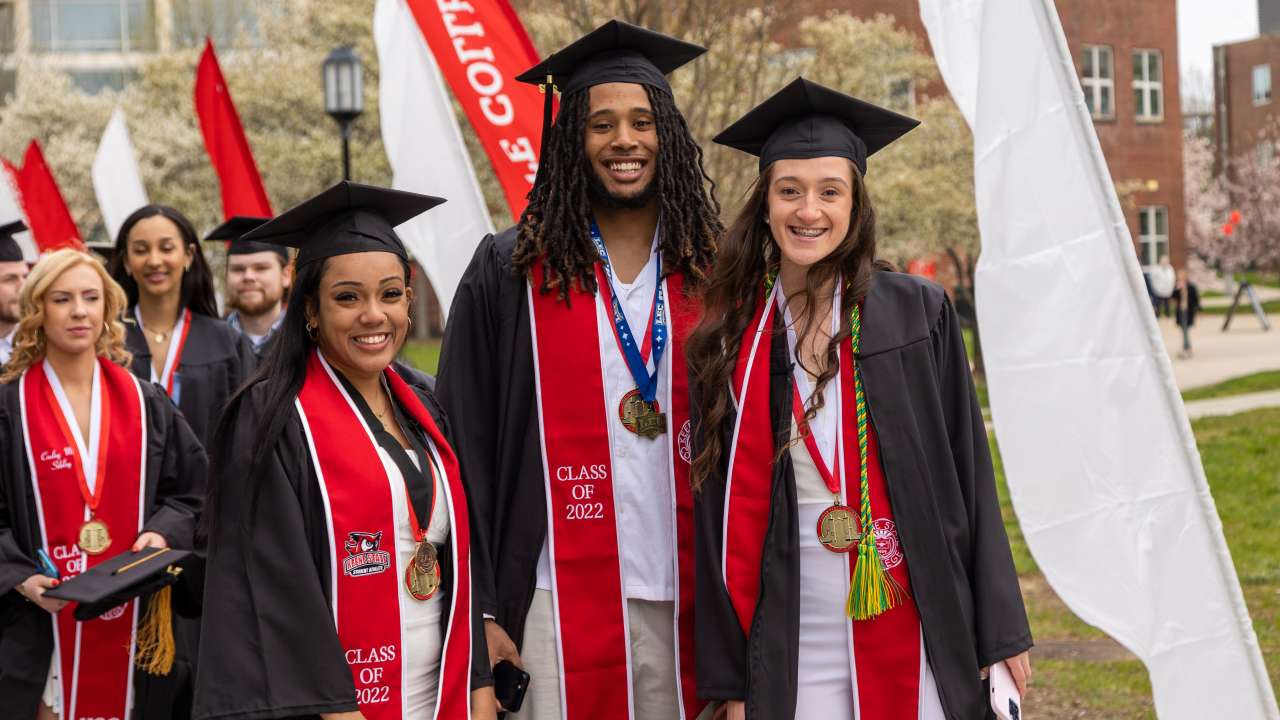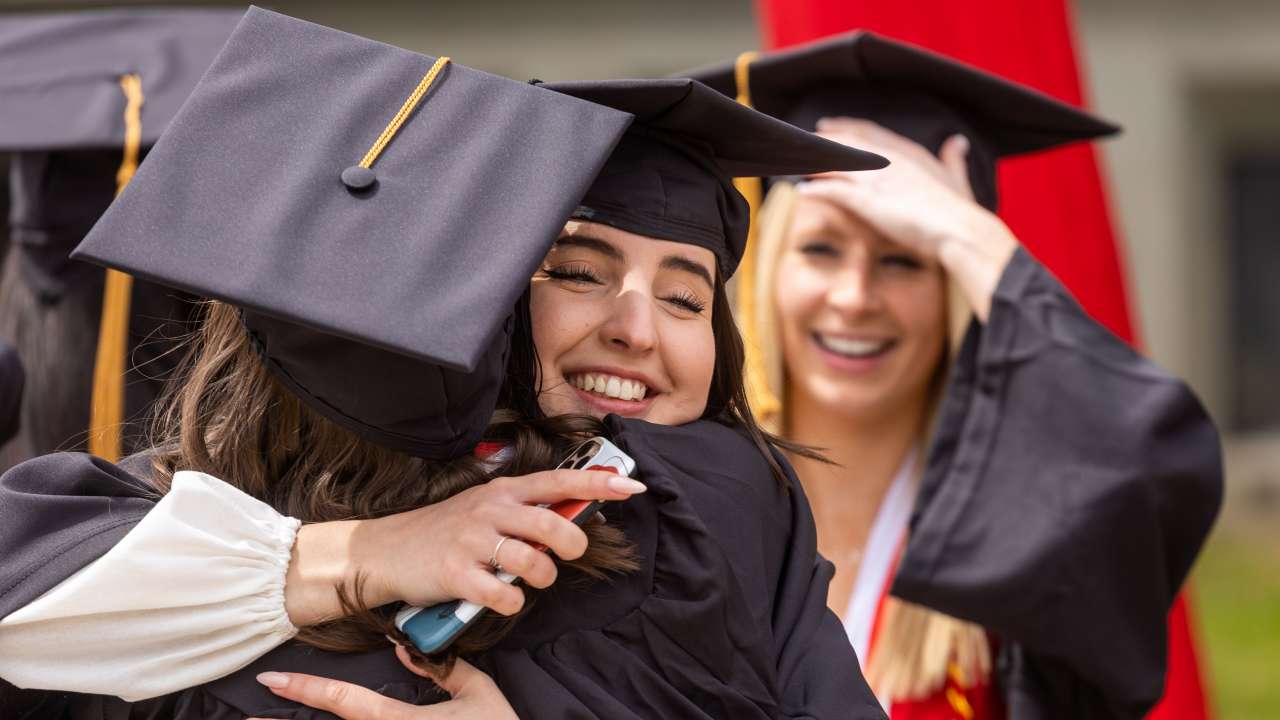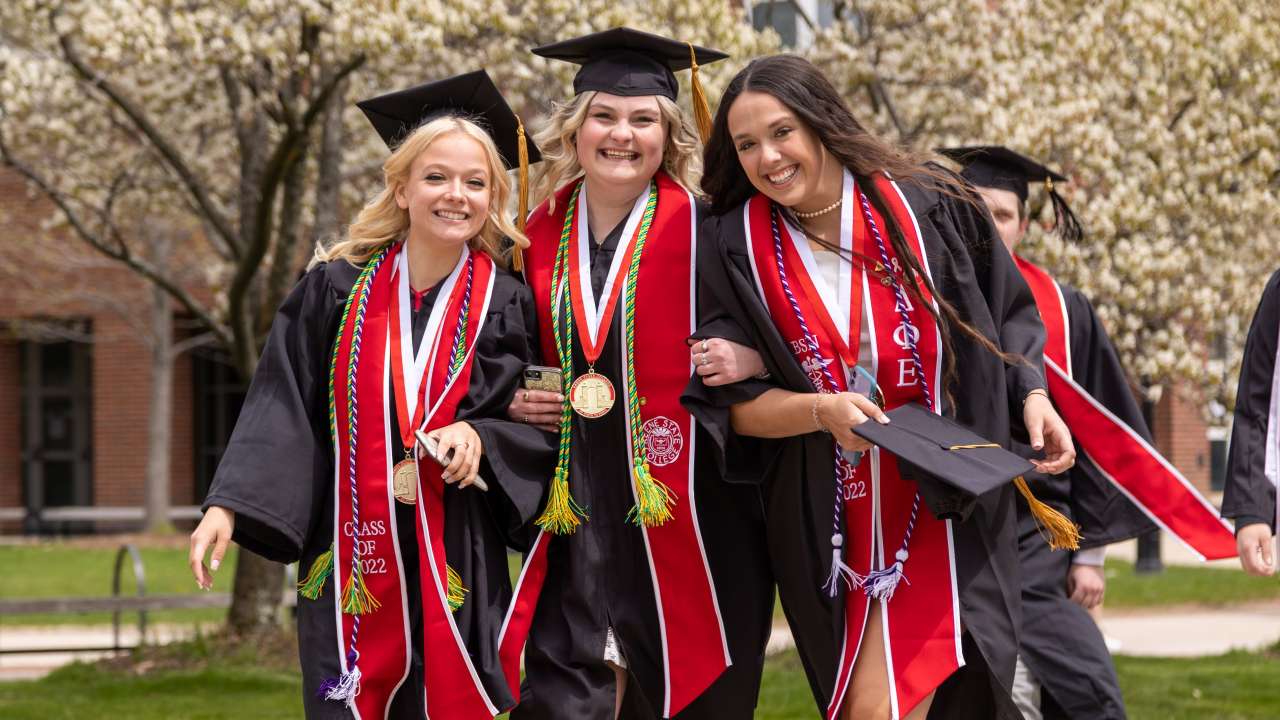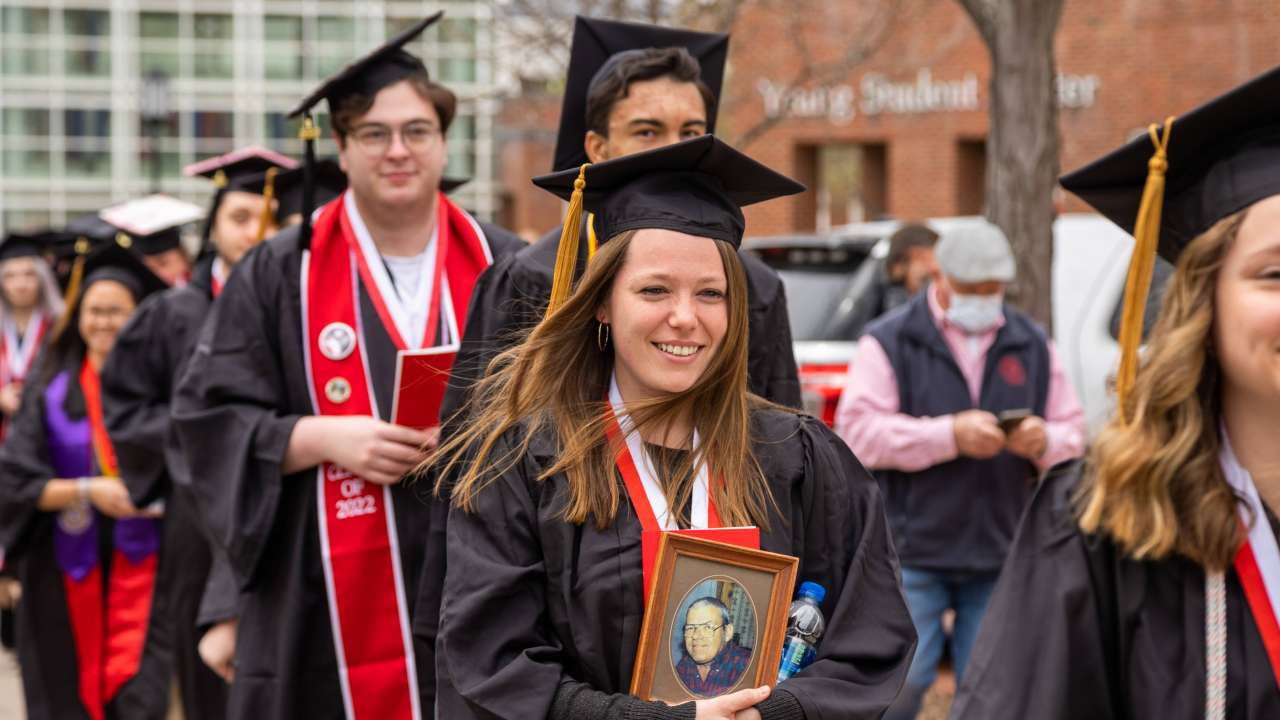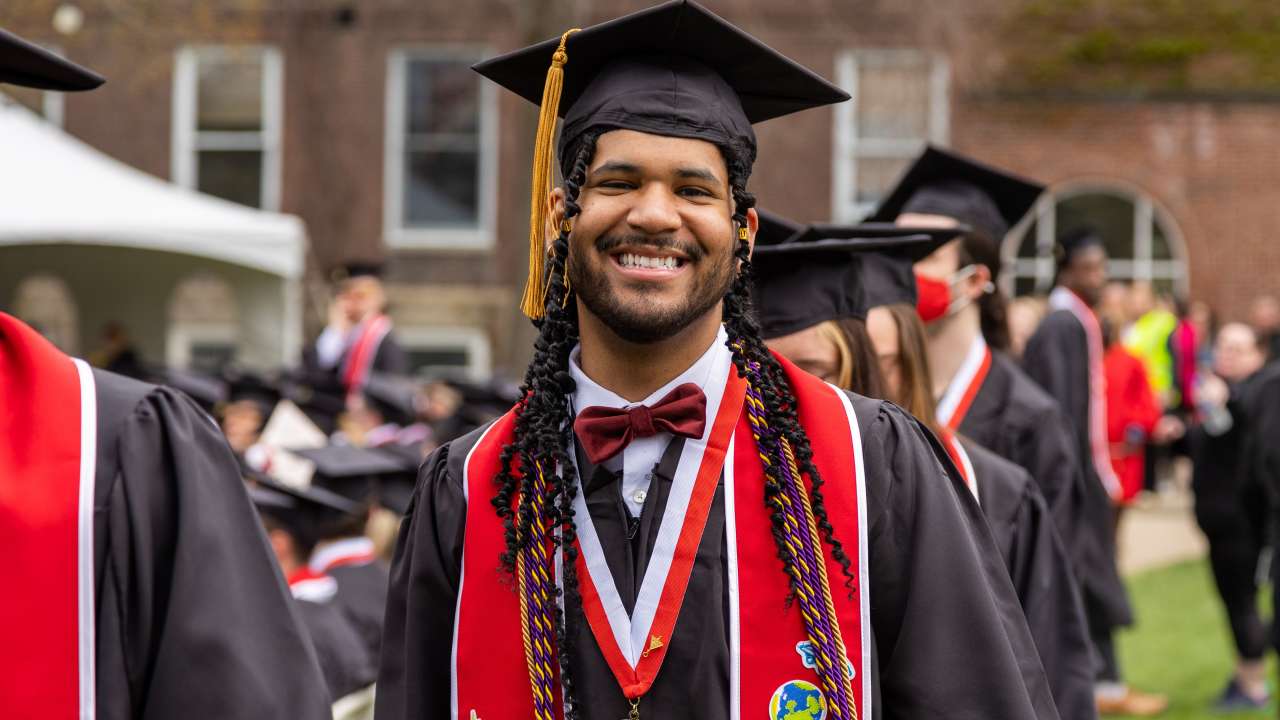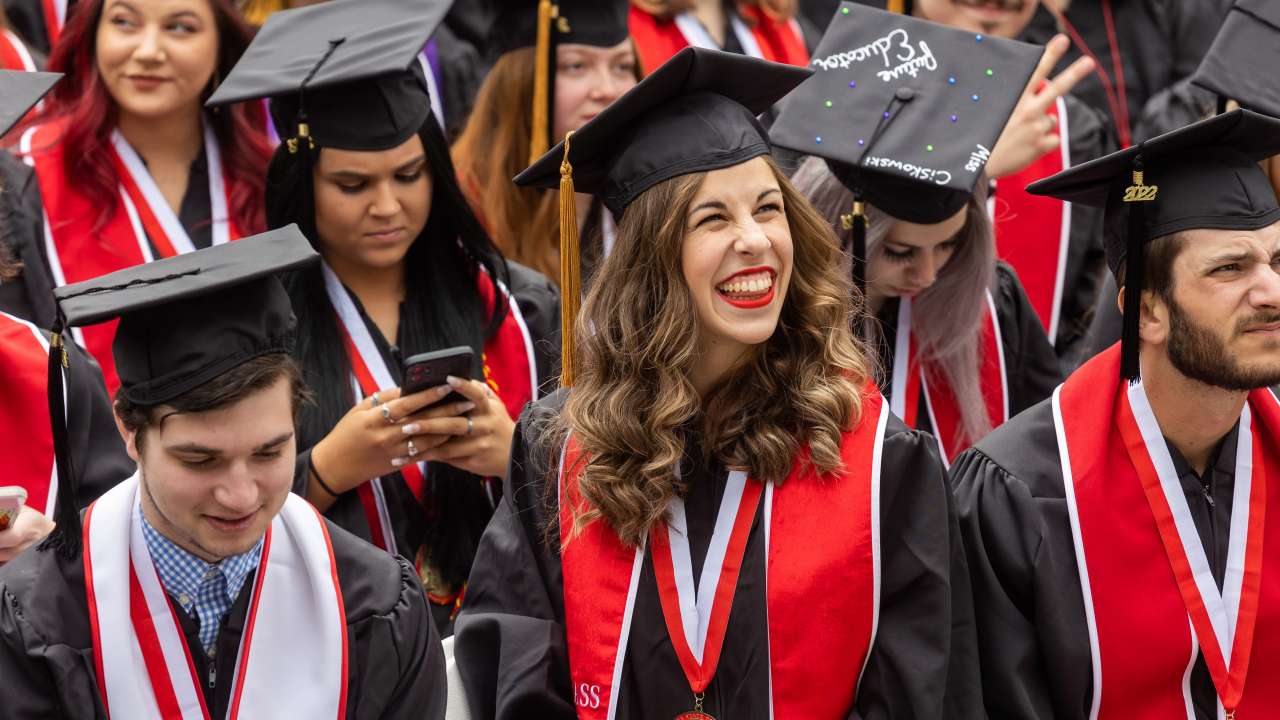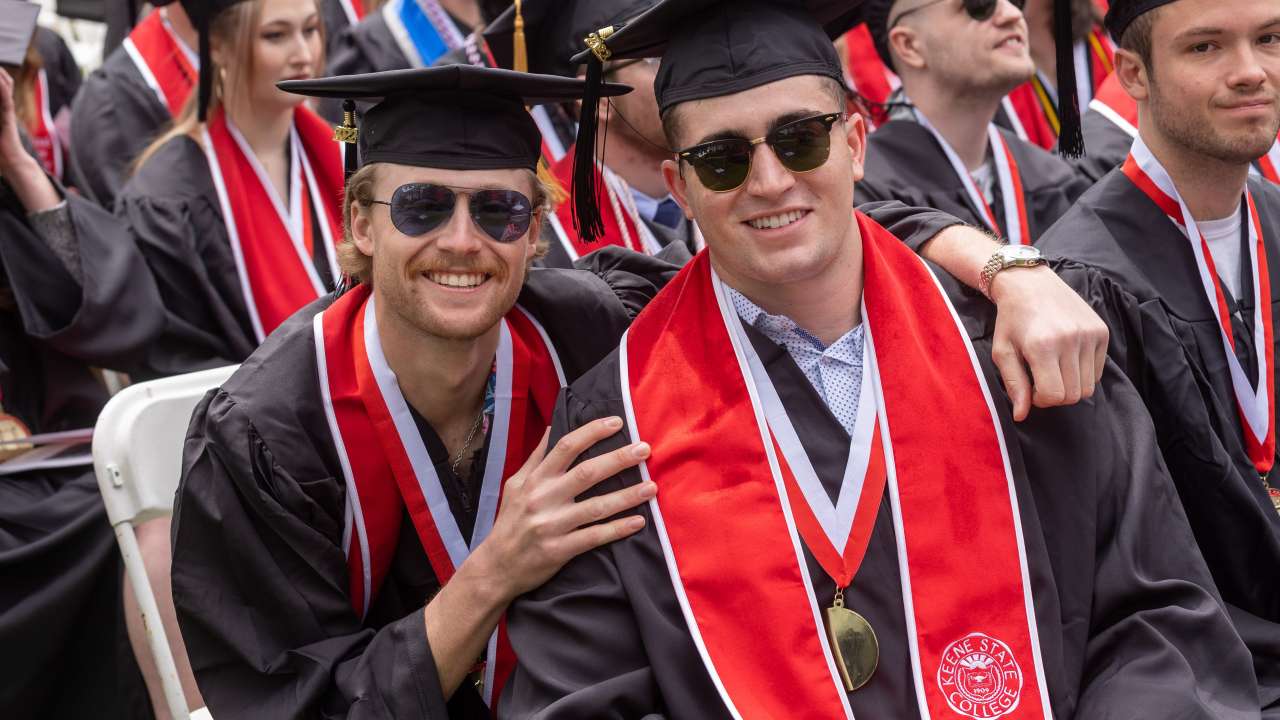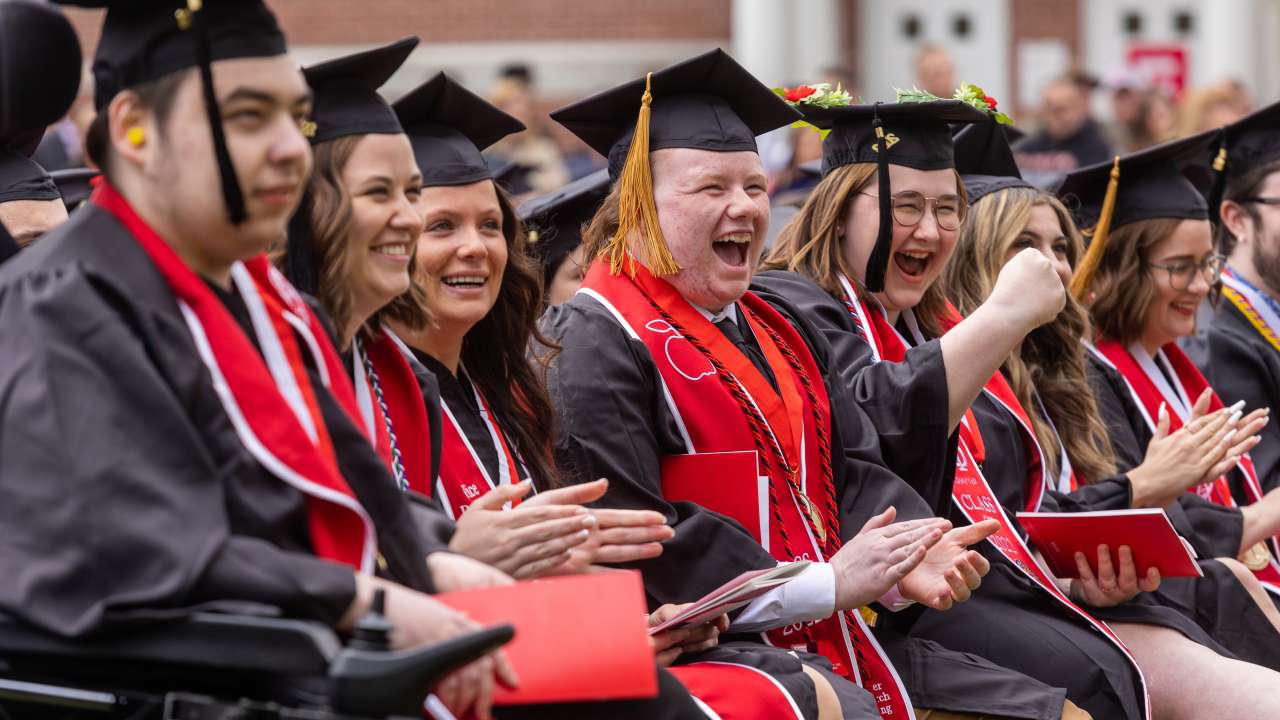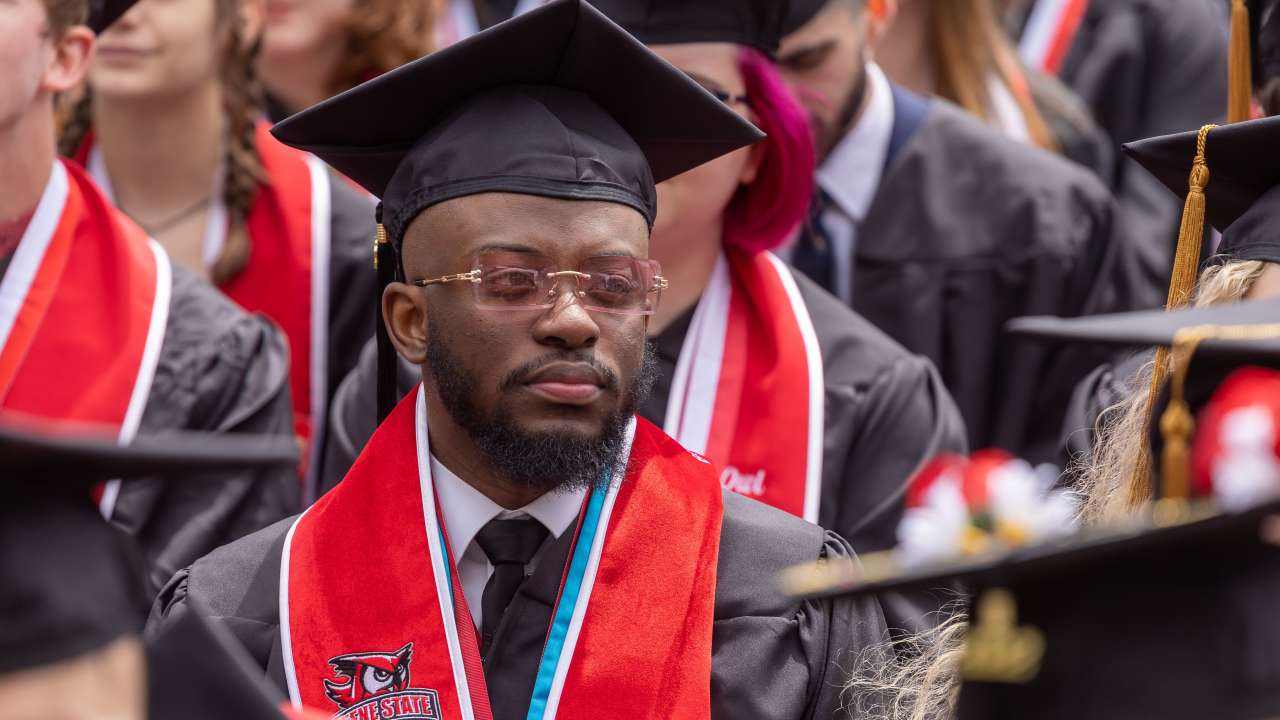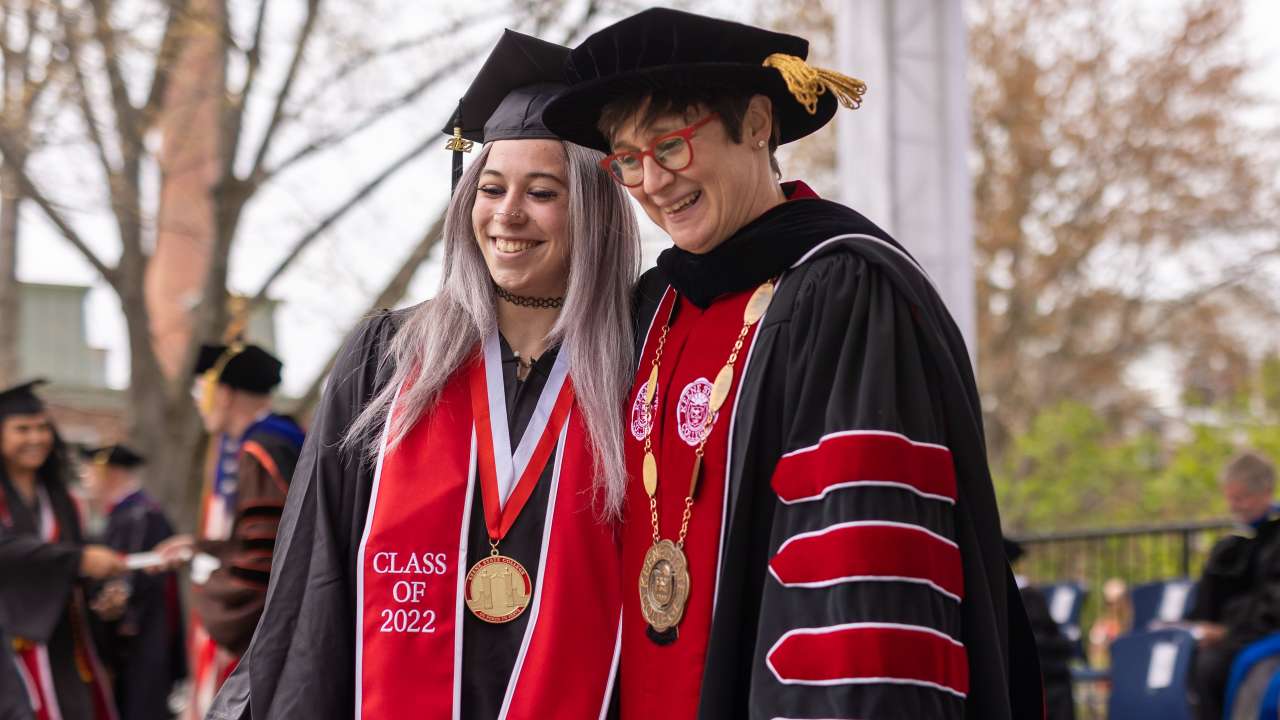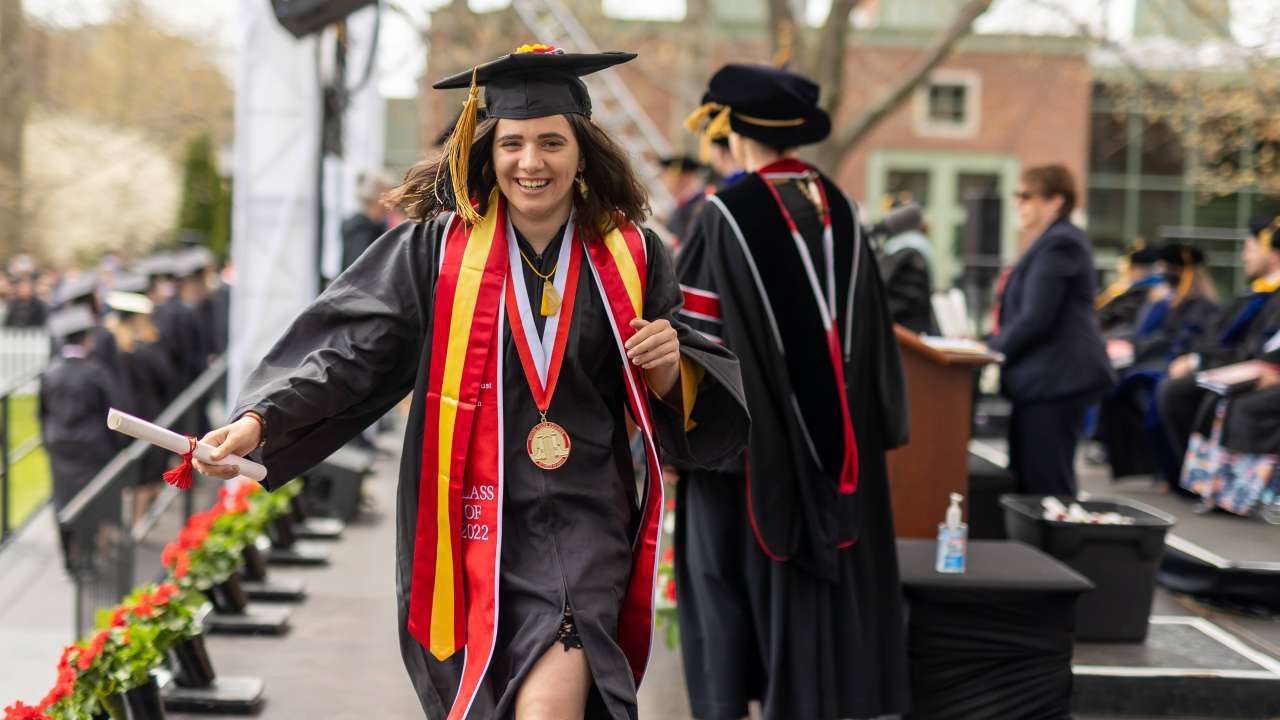 On Friday, in separate events, graduating nursing students were recognized during a pinning ceremony, an Honors Convocation was held to acknowledge and congratulate graduates who performed with academic distinction in the college's Honors Program, and 41 students who earned master's degrees were presented and feted.
Students representing 19 states and five countries comprised the graduating class.
Keene State, part of the University System of New Hampshire, is one of twenty-nine public liberal arts colleges and universities in the U.S. It offers undergraduate degrees across more than forty areas of study, three master's degree programs, and post-master's certification programs – all in the liberal arts.
Expressing gratitude and admiration, President Melinda Treadwell '90, praised graduates for enduring on top of normal college-related challenges, a global pandemic, and doing so with grace and flexibility.
"You weathered a unique and challenging time in our history and in your lives," she said her remarks. "A time that challenged your willpower, your discipline, your patience.
"Today reminds us – simply – that we are everyday people trying to figure things out, and that we are better when we are together. But make no mistake, it is You who persevered. You who figured things out. You who today are graduating."
In nearly every respect, it was a day defined not only by pomp and circumstance, but by a prevailing spirit of accomplishment and optimism.
Kaitlyn Wilson, Senior Class President, reminded classmates that they had "gained a profound sense of empathy and a renewed sense of compassion" for all they had weathered in four years. "Nothing," she said, "stopped us from pursuing our passions and our dreams. … Keep your focus firmly on the road ahead of you, and I promise that you will be unstoppable."
Keene State honored Alice Wairimu Nderitu, special adviser on the prevention of genocide to United Nations Secretary General Antonio Guterres, with an Honorary Doctor of Humane Letters degree. Nderitu, called by the college an "individual of international importance," has a full and ranging resume of life-changing work and advocacy aimed at mitigating atrocity crimes, protecting vulnerable and at-risk minority groups around the world, and building pathways to peaceful conflict transformation.
Dr. Nderitu asked graduates to embrace their natural curiosity as part of their continued education, and to engage in the collective assignment required to build and strengthen the full "capacity of community."
Dr. Yvonne Goldsberry was the recipient of the college's Granite State Award. Goldsberry, of Walpole, is president of the Endowment for Health in Concord. The award honors a long, distinguished career focused improving the health and well-being of the state's citizens.
She has "been a voice, an advocate, a leader, a coalition-builder and a compassionate executive," Treadwell said, reading from the award citation.
"You have the skills and talent to carry us through to a brighter future," Goldsberry told graduates. "You are the change that we seek."
Senior Maggie Cahoon was honored with the Leo F. Redfern Outstanding Citizenship Award, the highest honored bestowed to a Keene State College student.
Maggie earned degrees in Safety & Occupational Health Applied Sciences and Management, was a student-athlete, and was perhaps best known as a tireless volunteer and advocate for Keene State and for so many peers, students, parents and families.
Said Treadwell: "Maggie has volunteered more than three hundred hours to the college's recruitment efforts the past three years. Her passion comes through in everything she does."
Katherine "Kate" Tirabassi was the Distinguished Teacher recipient. Tirabassi is the director of the college's center for research and writing, and an affiliated faculty in English.
She reminded students not to forget those people in their lives who have shared in their college journey and who helped to get them to this day. Then she praised them for all they have modeled. "Your imagination and creativity have changed the college and the local community forever," she said.
Julia Messinger of Harwich, MA, was chosen by the English Department to receive its Award for Excellence in Writing at this year's Honors Convocation.
By Saturday, amid the celebratory graduation setting, she had already shifted from student status to alumni status.
She said she will never forget Keene State's unique sense of community, which she called "strong and true."
"I am so proud to be a KSC Alum," the English major added. "I remember when I was clapped onto campus by O-Leaders working the Admitted Student Day I attended. I decided in that moment that Keene State was where I wanted to spend my time for the next four years, and it did not disappoint … not in the slightest.
"I'm looking forward to using all the skills I've acquired in a job that will allow me to write to my heart's content."
Student-athlete Victoria Reynolds of Keene graduated as part of the honors program, and summa cum laude with a B.S. in Biology and minors in Statistics and Chemistry.
"I am most looking forward to starting my new job as an environmental laboratory analyst. I am excited to move and explore my new surroundings." A member of the soccer team, she said her time at Keene State helped her to become more outgoing and more confident, as a student and a person.
"I had amazing professors and peers," Victoria said. "Keene State was a good fit for me because of smaller class sizes and professors that really care. I feel like I have accomplished a lot."
Victoria earned the Senior Scholar Athlete of the Year Award and shared the Aubrey Thomas Biology Proficiency Award.
Cameron Giordano of Glens Falls, NY, said he "wouldn't trade one minute of his time" at Keene State. A cross country and track standout, Cameron will step straight into the workforce, he said, as an EHS Specialist ensuring safety compliance for Enfield Enterprises in Burnt Hills, NY.
"Leaving Keene State is bittersweet," said graduate Emily Hill of Fitchburg, MA, "but I have built relationships with Keene faculty and staff to whom I know I can always reach out. I was able to pursue my love for professional and creative writing, and my major (English) was so discussion-based that I always felt comfortable to voice my opinions and discuss touchy topics."
Kaitlyn said she came to Keene State thinking "every day of college would feel like a warm summer day." It did not turn out that way entirely, she acknowledged, but Commencement Saturday was going a long way toward making the cloudy days feel more distant.
Congratulations to all the graduates and best wishes for future success!
Honors Convocation and Nursing Pinning 2022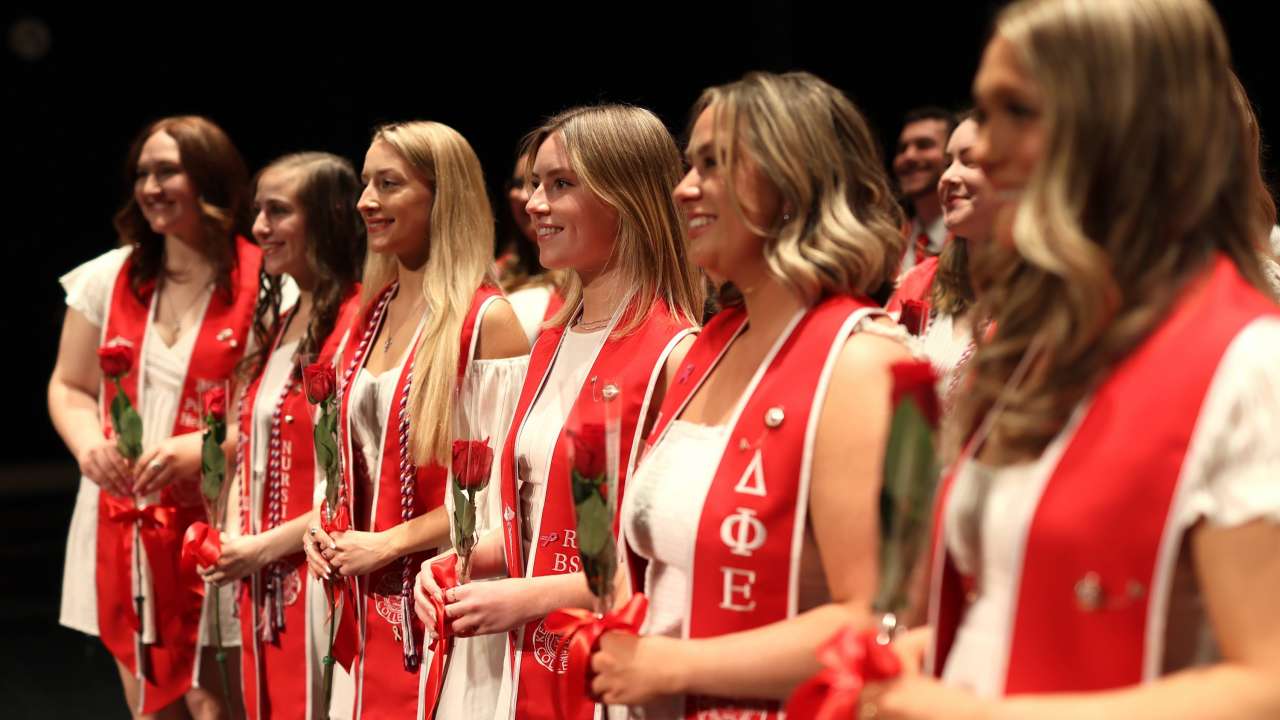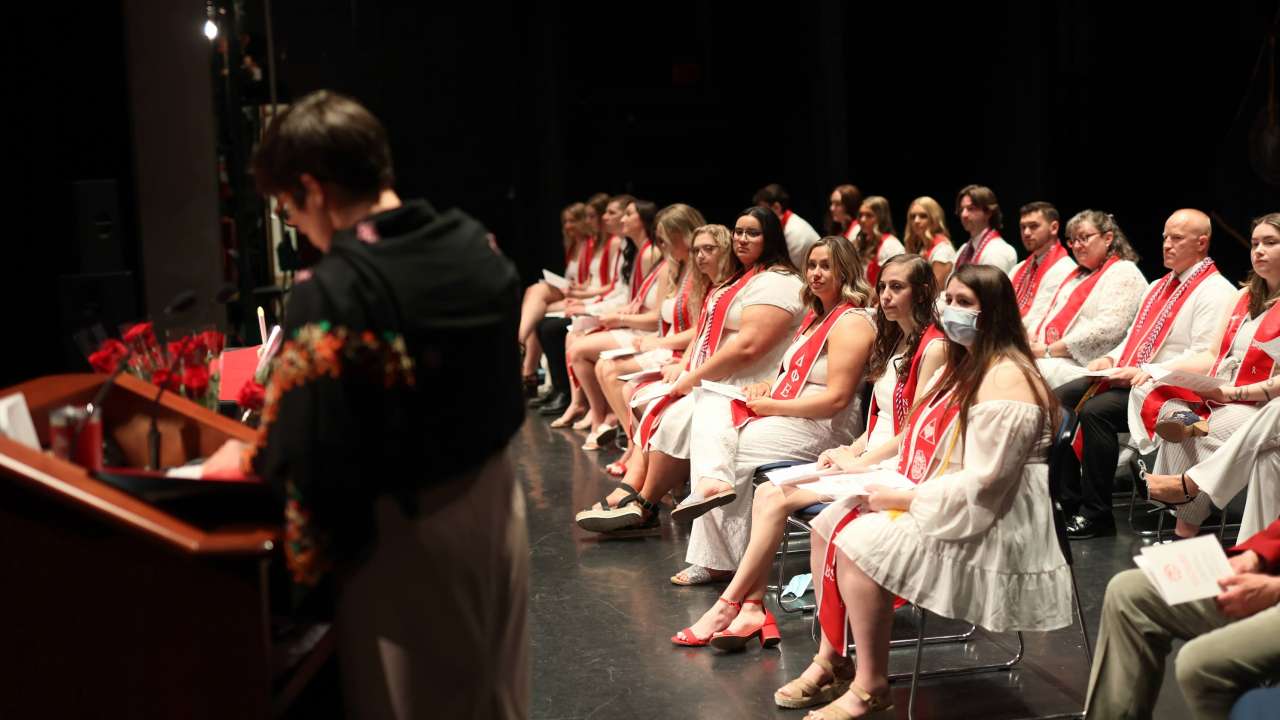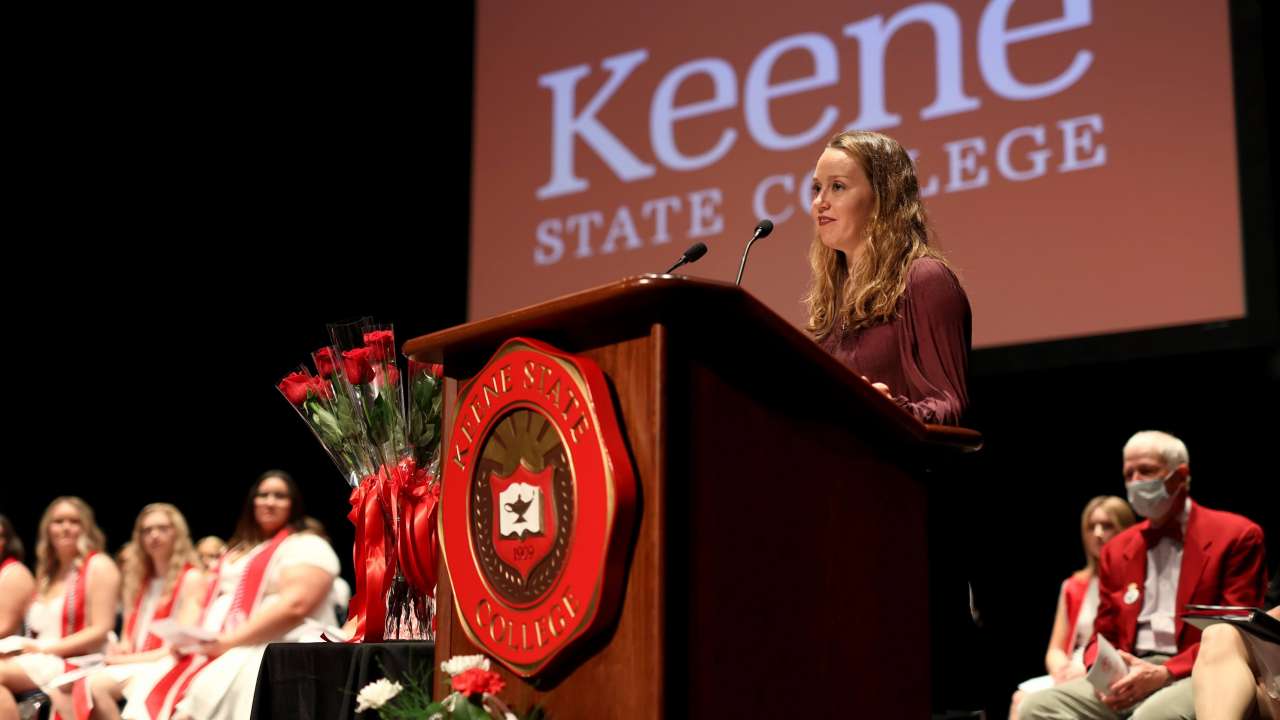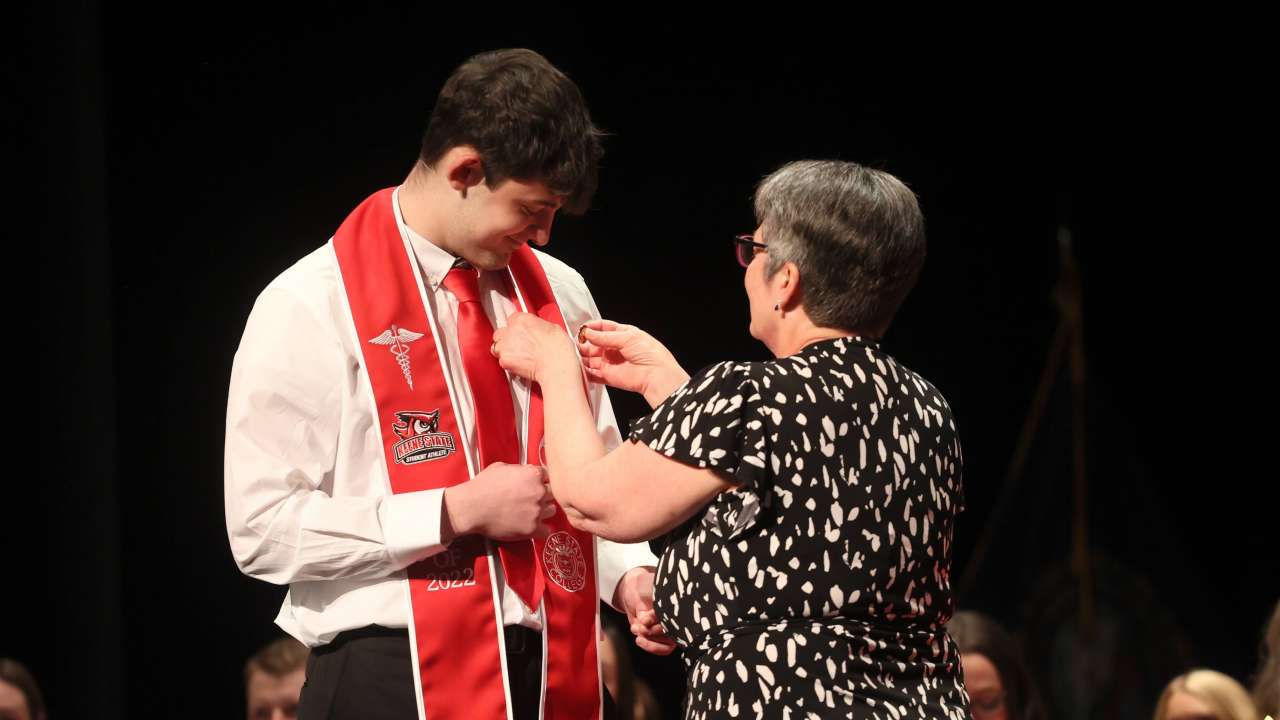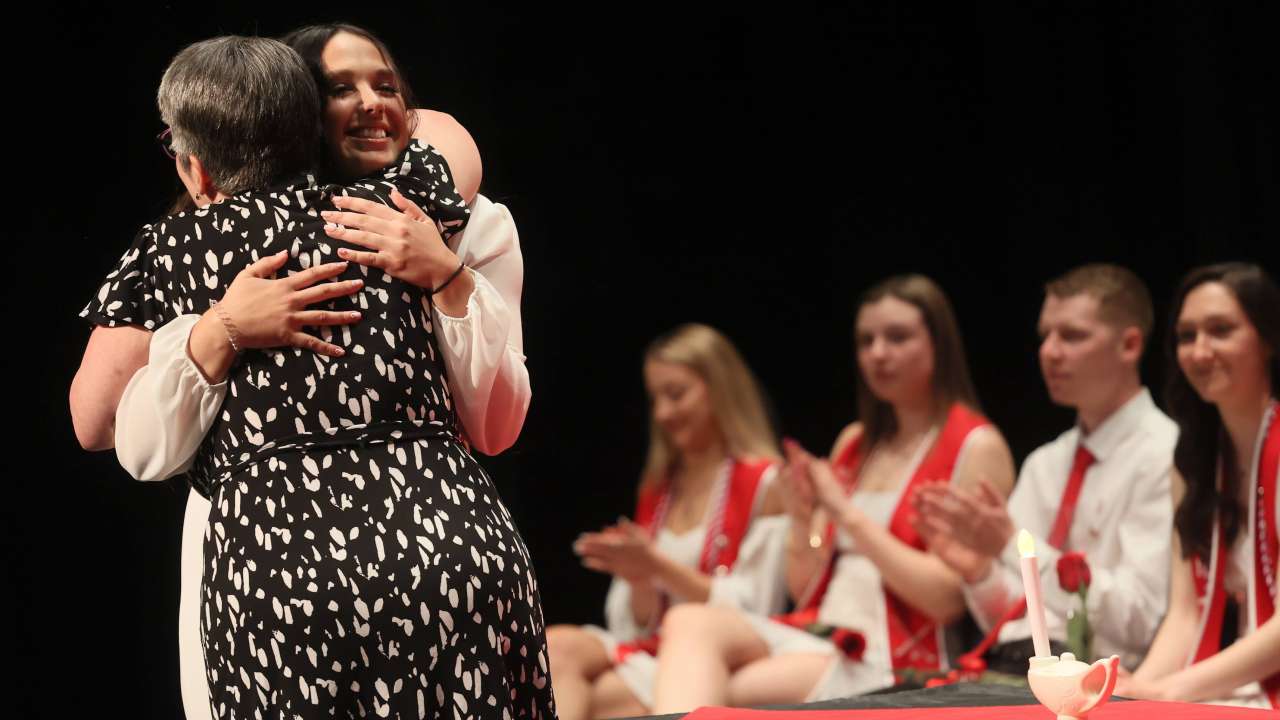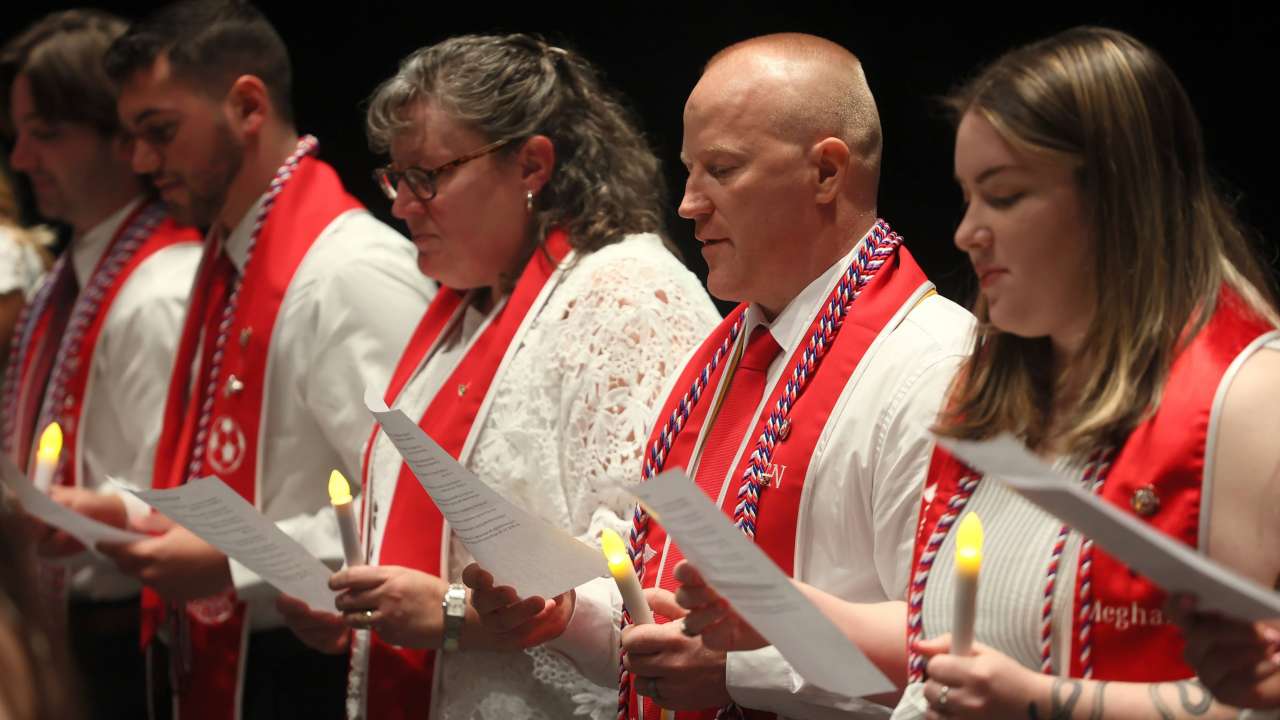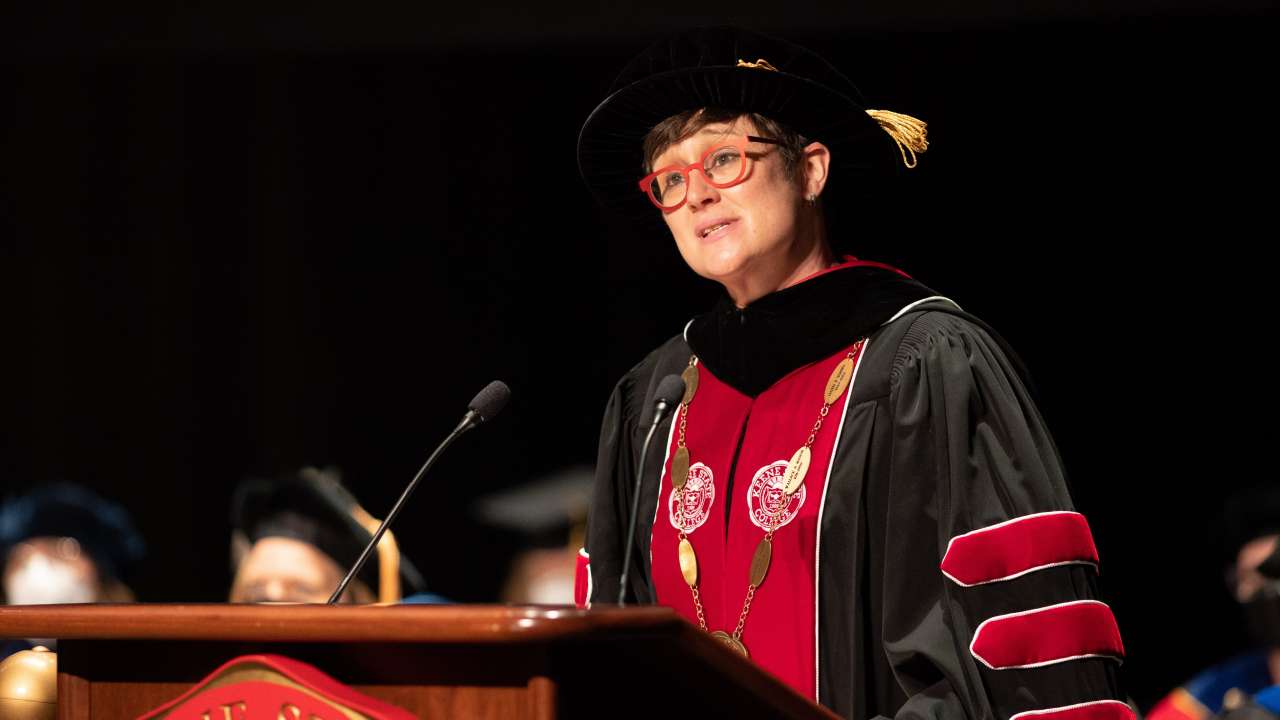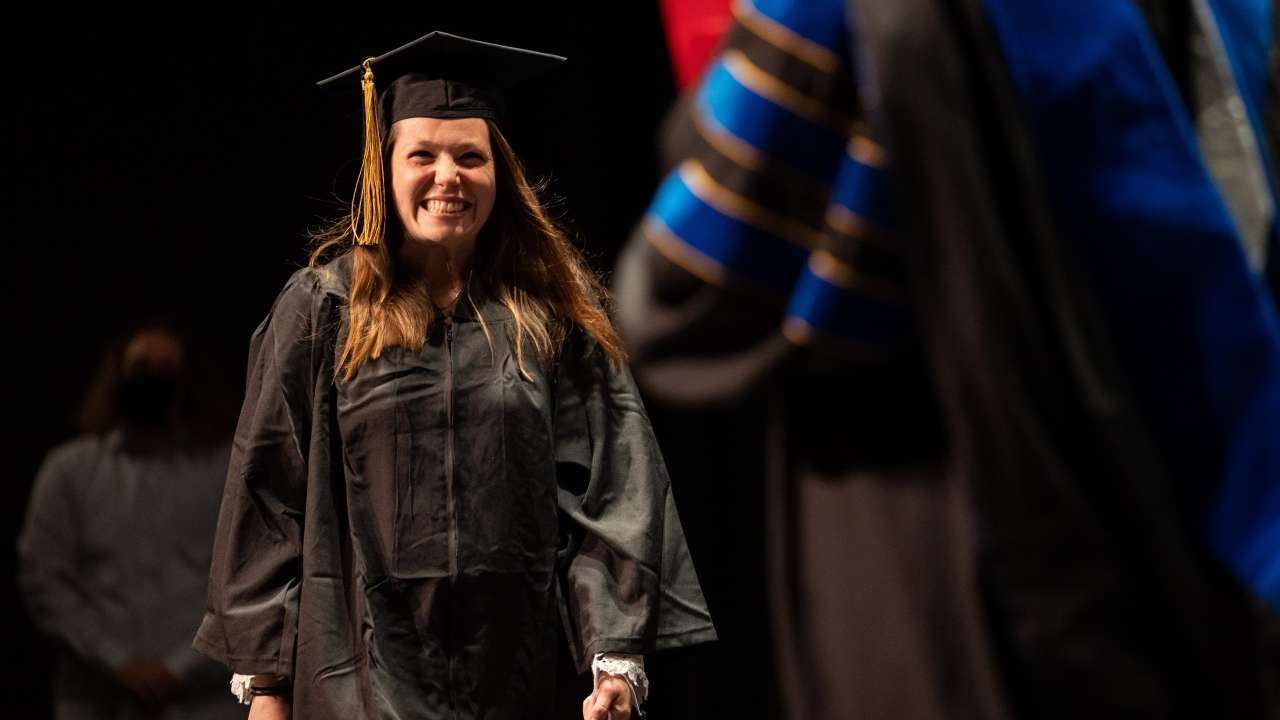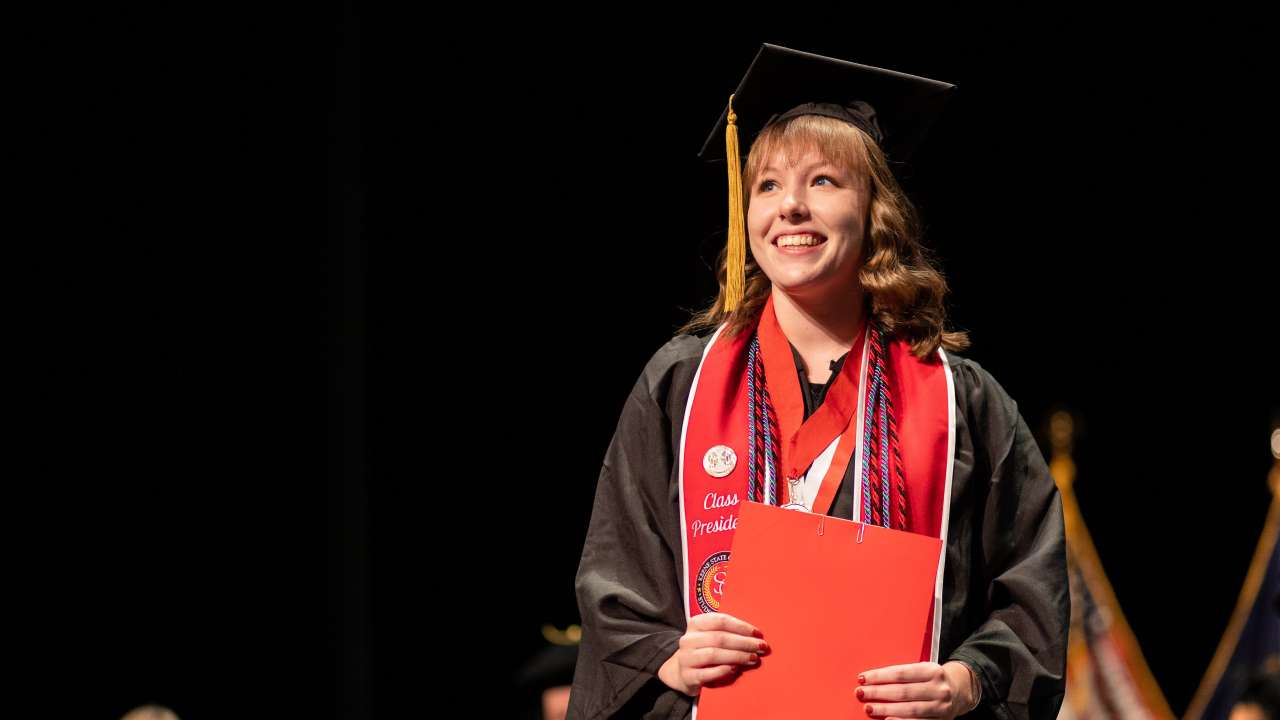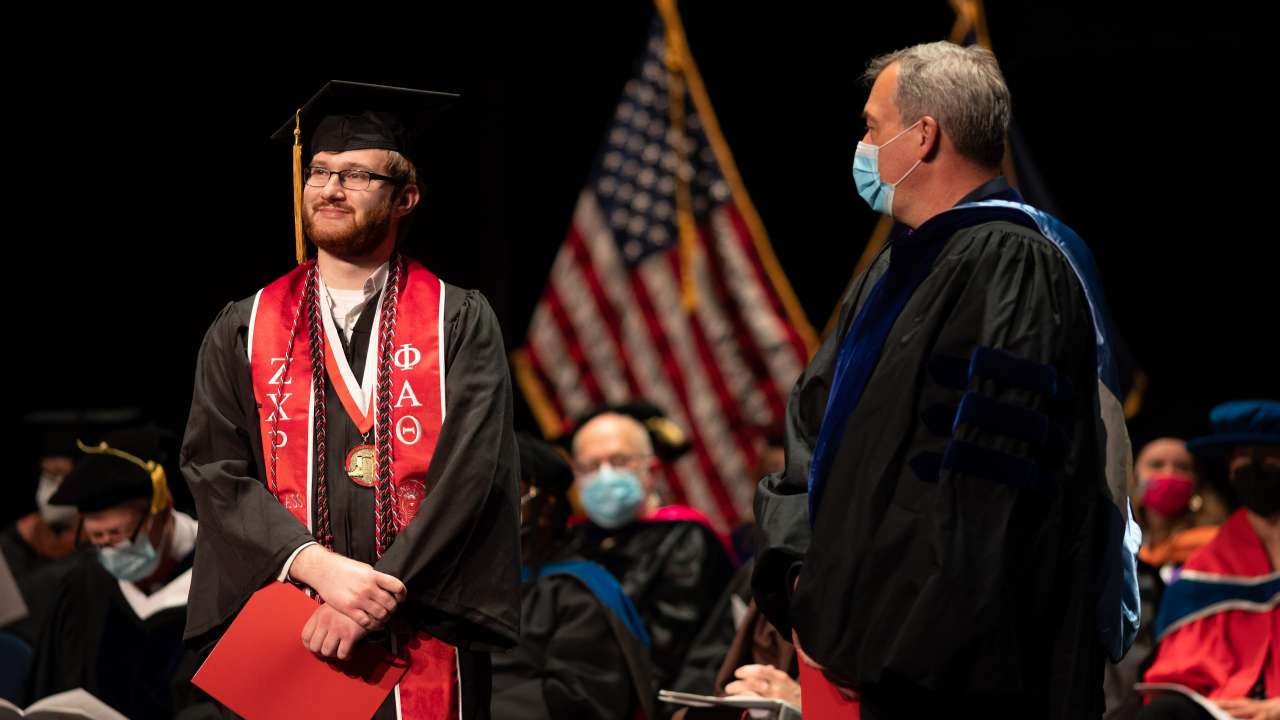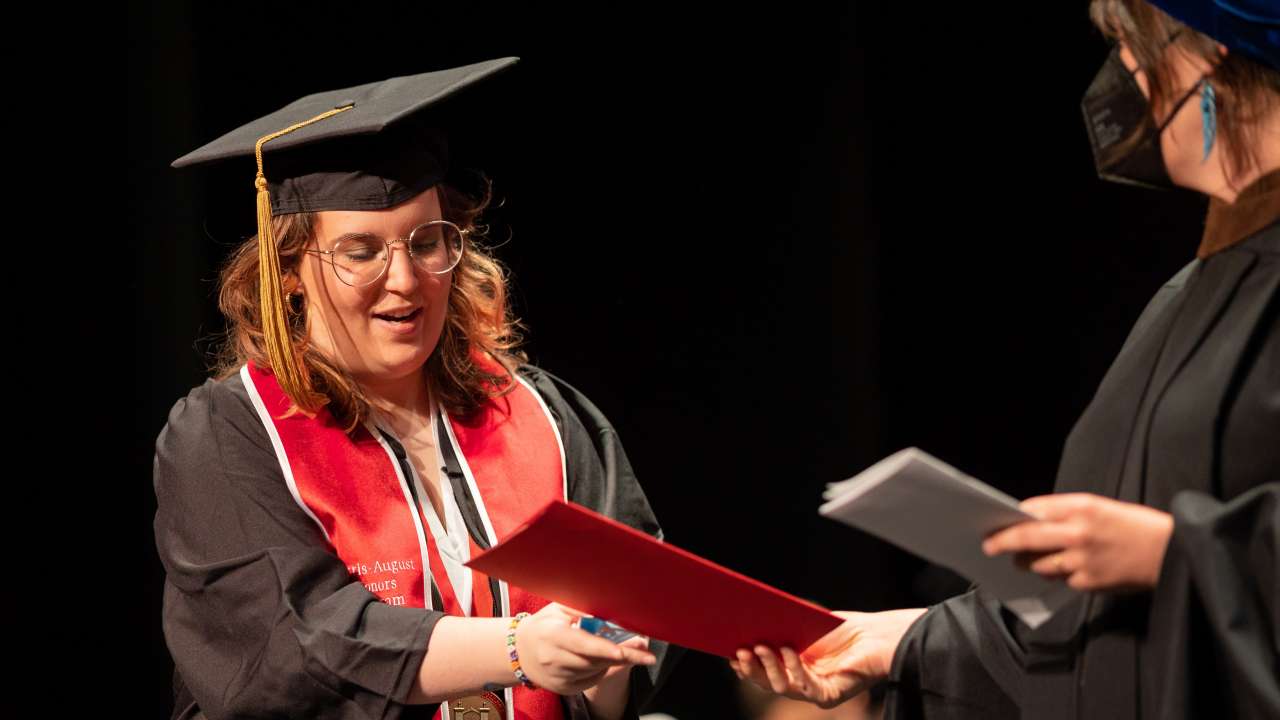 Related Stories