Keene State Basketball Team To Host NCAA Games For First And Second Rounds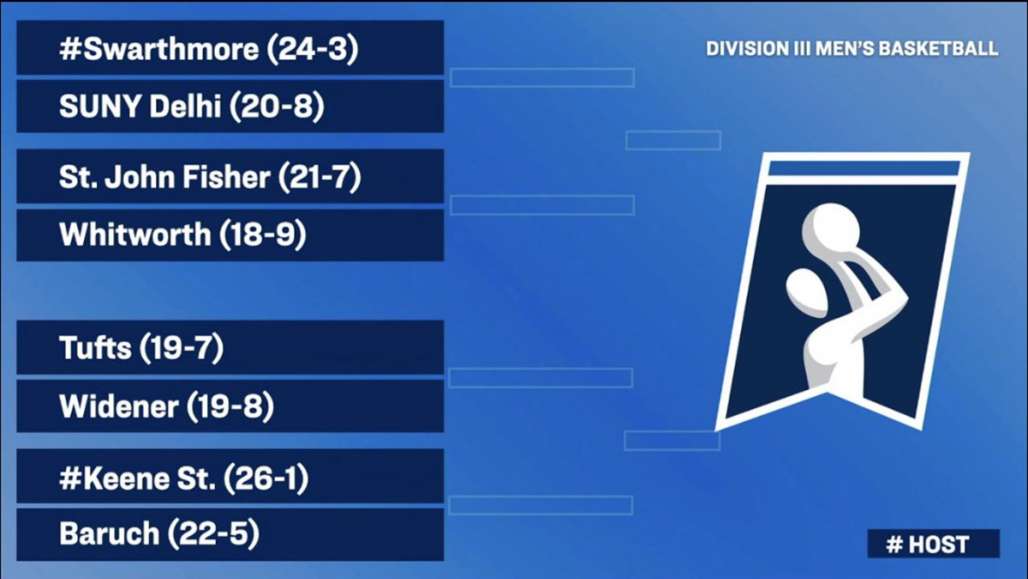 Keene State College players have not been shy about using the phrase national championship this season. Jeff Hunter, the Owls' goal-driven, rebound-machine, uses it conversationally. Junior guard Mason Jean Baptiste wasted no time Monday, after learning along with his teammates that they would host first- and second-round NCAA tournament games, tilting his comments toward the big picture.
"What a shout out to our fans to be able to play in front of them," Baptiste said during a bracket-viewing event at Spaulding Gym. "This is what we've worked toward – to win a national championship. We will give it everything we've got; we will play together. To be able to take the first step in this new season at home is special."
Ryan Cain's No. 5 nationally ranked squad will host Baruch College out of New York City in a first-round matchup Friday. Tip is at 5:30 p.m. In the other game in the four-team pod, part of the 64-team bracket, Tufts University takes on Widener University of Chester, Pa. Tip is at 3 p.m.
Tickets go on sale starting Wednesday, the college's athletic department announced.
The national tournament features staggered starts across the full bracket, so start times can range, and be interesting, Cain said.
The Owls are returning to the NCAA Tournament after winning a first-round game last season. This year they won an automatic bid after claiming their sixth Little East Conference title Saturday, beating Western Connecticut for a third time this season, in overtime.
"Obviously, this is a geographically diverse bracket," said Cain, who paced the Spaulding Gym floor for the entire unveiling of the field, streamed on a large screen at one end of the team's gym. "And the committee obviously valued winning."
"It's special for our community and our campus," Cain added. "Our guys truly care about the support they get; from that standpoint, this (host bid) means the world."
Keene State fashioned a program-best 26-1 season, that included its first unbeaten run through the Little East regular season, when it went 15-0. The team's lone blemish came at home against Middlebury, which also earned a host-site bid Monday.
Middlebury draws Worcester State in the first round and is in the same 16-team bracket as Keene State, as are the other host teams, Swarthmore College from Swarthmore, Pa., and Stockton University from Galloway Township, N.J.
Keene State's season last year ended at Swarthmore.
"It's a busy time now getting ready for three different opponents," Cain said. "You have to play to win and still stay in your routine while playing back-to-back days. The only way to get to the second day is to win on the first day. But for us, this is another exclamation mark on our season."
The Owls come into Friday's game with a 19.4-point scoring margin over their competition, and a 5.6 per-game rebounding advantage. Sophomore Octavio Brito and Hunter average 20.7 and 18.6 points per game, respectively, and Baptiste is the team's third player averaging double figures, at 10.9. The Owls put up 86.6 points a contest through their 27 games.
Hunter is among the leading rebounders in the nation, averaging 14 a game, and his 22 double-doubles is good for a share of the national lead. On Saturday, following another 20-rebound effort, he became the sixth Keene State player to win the LEC Tournament MVP.
Baruch competes in the City University of New York Athletic Conference, where it went 12-2 this season. The team was 22-5 overall and 9-2 in road contests.
The Bearcats are led by a pair of 6-foot-2 senior guards, Devin Nicholson and Jehmehl Fair, who average 13.9 and 10.8 points, respectively.
Keene State shooting guard Spencer Aronson's brother, Tyler, is a starting guard for the Tufts team that will play in Friday's other contest at Keene State. The two could face off Saturday, with a Sweet 16 berth on the line.
Related Stories