Keene State Men's Rugby Club Claims Title, Extends Season; Program Celebrating 50 Years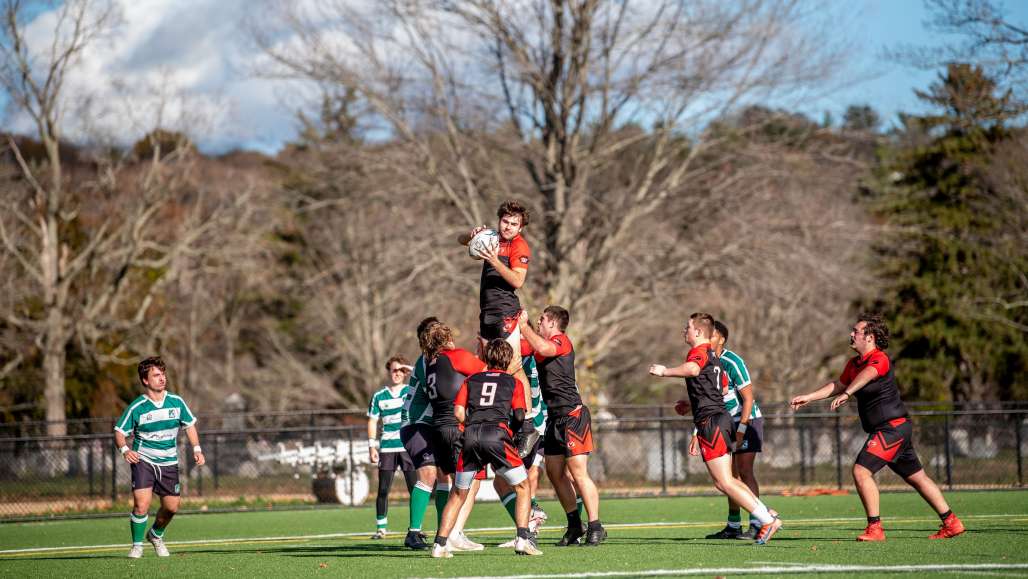 But for one blemish, which was blunted in large measure Saturday, it has been a perfect season for the Keene State College Men's Rugby Club.
The Owls defeated Nichols College, 33-28, on Saturday, Nov. 12, avenging a shutout loss at Nichols in late October, to capture the Challenge Cup Championship at Pine Banks in Malden, MA., and extend their scrapbook season.
Keene State improves to 7-1 overall with its division-title win and will represent its governing body, the New England Rugby Football Union (NERFU), this weekend at the National Collegiate Rugby Northeast Challenge Bowl Series back in Malden.
On Saturday, Keene State, a club team celebrating its 50th anniversary, bolted to a convincing 26-7 first-half lead and never trailed, but they did have to weather a second-half surge by Nichols. Joey Marra, playing the fly-half position and the Owls' designated kicker for the contest, converted on four of five conversion tries, and field captain Owen Pica "did a great job of leading our guys," KSC Coach Ely Thayer, in his fourth season, said.
"We did a good job of holding back the comeback," Thayer said. "Joey's kicks were eight huge points. In the first half, our guys played with a ton of energy and excitement. In the first game (against Nichols) we realized what it was like to lose. The guys didn't like that taste. They went back, worked hard on improving the things that cost us in the loss — dropped balls and turnovers — the things we knew we couldn't afford again if we were going to change the result."
What the Owls also saw thid season, Thayer said, was a handful of freshman players that instilled a lot of energy as starters, and key sub-ins. Thayer also commended the seniors and veteran players for staying committed to practicing and getting better despite a 2020 season without play because of the pandemic. That focus, the coach said, "laid the groundwork for this successful season to happen."
"At the end of day, what we won, our overall division championship, is what we set out to accomplish," Thayer said. "This weekend, for us, is about getting some second-string guys some starting time, getting all our returning guys reinvigorated for the spring and next fall. And to test ourselves against higher-ranked teams. Just to replicate the way we played in the first half against Nichols last weekend would be huge, and another way we will gauge success this weekend."
At the Challenge Bowl, the Owls will face all upper division small-college foes in a six-team field that includes the likes of Bryant, Mass Maritime and Clarkson. Saturday will consist of pool play and the semifinals and finals will be Sunday.
College rugby is all club-based and aligned differently than NCAA-sanctioned sports. Rugby features Division I, D-1AA, D-II and Small College. The Owls will go into the weekend healthy, Thayer said, but for the loss of Marra, who suffered a broken thumb in Saturday's match.
NERFU features a North and South Division. The title the Owls celebrated this past Saturday was for the combined divisions.
In handing out credit for the Owls' strong campaign, Thayer singled out the club's student board members: Owen Pica, president; Cooper Mattiello, vice president; Jonathon Podlaha, treasurer; and Evan Davidson, secretary for making sure things were smooth going into the school year. Also, he said, club adviser John Johannensen, a former Keene State player and coach.
He also thanked the college for allowing the team to come back a week before classes started to dedicate time to training and practice.
"That had not happened before, and that was massive. We accomplished so much in what was really a rugby boot camp for us. It allowed us to build a strong, early base. It lifted the guys' spirits up so much, and I cannot say enough about all those people at the college – Lynne Andrews, Janet Stevenson and Jessica Gagne-Cloutier – that helped to make that happen."
Interested in learning more about Keene State rugby, or playing? Visit the club's OwlNet page at https://keene.presence.io/organization/mens-rugby.
Prior rugby experience is not required to join the team.
Related Stories