Keene State Men's Basketball Coach Leaving After 8 Seasons to Lead Johns Hopkins Program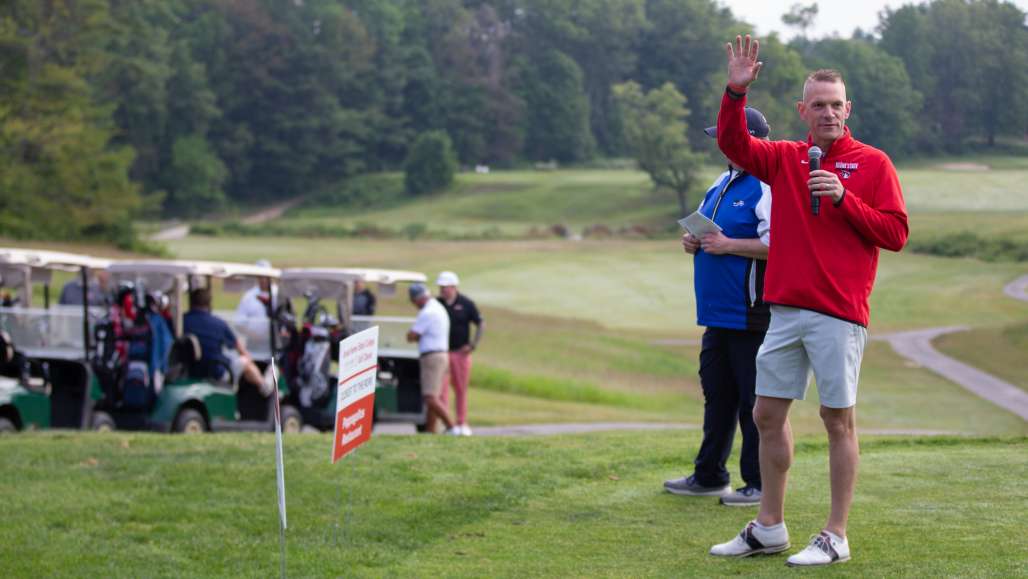 Ryan Cain, who led the Keene State College men's basketball team to the NCAA tournament five times in the past eight years and a top-five national ranking and Sweet 16 appearance in 2022-2023, has resigned to pursue another professional opportunity.
The College announced Wednesday that Cain, a two-time Little East Conference (LEC) coach of the year in his eight seasons with the Owls, has accepted the head coaching position at Johns Hopkins University in Baltimore, Maryland.
Cain will replace Josh Loeffler, who stepped down earlier this month to accept an assistant coaching role with the University of Cincinnati men's basketball team. Loeffler held the Johns Hopkins role for six seasons, winning 114 games.
Johns Hopkins, like Keene State, is an NCAA Division III program.
The 14th coach in program history, Cain was hired as the Owls head coach in August of 2015.
Describing the decision to leave a community, a program and a workplace that has been "like family" as extremely difficult, Cain said the opportunity to be a part of one of the nation's top Division III athletic programs was one of a kind.
"As much as I am excited for the new opportunity, I am saddened to leave Keene State College and the Keene community," Cain said. "Being the head men's basketball coach plays a prominent role on our campus and in our community, and the support that I have received over my time has been overwhelming. I cannot put my appreciation for that support into words. The environment in Spaulding Gymnasium is unique and the relationships that I built in Keene are special."
Keene State President Dr. Melinda Treadwell said it is hard already to imagine the Owls without Cain at the helm.
"It is an understatement to say that this is a huge loss for Keene State and for the Keene community," Treadwell said. "Wins, losses, titles and records aside, Ryan embodied the very best in what a coach should be, on and off the court. He led and developed his players, was an ambassador for our basketball program and the College, demanded excellence, and his success speaks for itself. He will be missed, and we wish him only further successes in his new and exciting coaching venture."
Cain departs Keene State with the best winning percentage in program history for a coach with at least 200 games under their belt, and the fourth most wins in Keene State history. He fashioned a record of 146-66 (.688) and earned his 100th victory with an 86-77 win over Middlebury College on November 16, 2021. His teams garnered LEC regular-season championships in 2019 and 2023 and LEC tournament championships in 2015, 2016, 2019, 2022, and 2023.
This past season, Cain and the Owls soared to new heights, boasting a school-record 28 wins and a 16-0 mark in the LEC. Keene State won its first 15 games, the second longest winning streak in program history, and won the LEC tournament title with an 83-79 overtime triumph over Western Connecticut State.
KSC was selected as a host site for the opening two rounds of the NCAA Division III tournament, the first time for the program since 2007. The Owls were ranked as high as No. 4 in the D3hoops.com national poll, the highest ranking in program history. Keene State beat Baruch College (N.Y.) and Tufts University to reach the Sweet 16 for the fifth time in Keene State history.
Cain was initially hired on an interim basis ahead of the 2015-16 season and took over a program that had won the LEC title the previous year. He had immediate success, leading the Owls to their second straight LEC tournament title, then to NCAA tournament victories over Stockton University (N.J.) and Middlebury College to reach the Sweet 16 of the NCAA Division III Men's Basketball Championship.
Awarded the job permanently that summer, Cain and the Owls came up short in their quest for a three-peat of Little East Conference championships but were awarded an at-large bid to the NCAA tournament. In the first round, the Owls beat Amherst College on a last-second three pointer by Ty Nichols, followed by an overtime win over No. 5 Ramapo College (N.J.) and a four-point triumph over No. 2 Christopher Newport University (Va.) in the round of 16 to reach the Elite 8, a feat achieved only one other time in Keene State men's basketball history.
After a one-year absence from the NCAA tournament, Cain and the Owls returned to the top of the heap in 2018-19. The Owls were sitting at 8-7 after 15 games, but rattled off wins in the final 10 contests, including a dramatic 81-76 win over Eastern Connecticut State in the regular-season finale to clinch the top seed in the conference tournament. A week later, the Owls and Warriors faced off in a rematch that the Owls took 72-69 to win the LEC title for the third time in the previous five years. Cain was named the LEC Coach of the Year for the first time that season.
After a majority of the 2020-21 season was lost due to the COVID-19 pandemic, the Owls were champions yet again in 2021-22, toppling No. 24 UMass-Dartmouth 71-69 in overtime on a last-second alley-oop basket by Jeff Hunter. Keene State would upset No. 20 Swarthmore College (Pa.) in the opening round of the NCAA tournament to set the stage for 2022-23.
Cain's players earned a host of honors, including All-American nods for Ty Nichols, Hunter, and Octavio Brito, the latter two of whom both return this season.
All-Conference awardees during Cain's Keene State tenure are Matt Ozzella (2015-16, 2016-17), Nichols (2016-17, 2017-18, 2018-19), James Anozie (2017-18, 2018-19), Nate Howard (2015-16), Hunter (2021-22, 2022-23), and Brito (2022-23).
Nichols left as the Owls' all-time leading scorer with 2,316 points and was the LEC Player of the Year in 2018-19. Hunter, who will be a fifth-year senior this year, earned the award in 2022-23. Brito was named the LEC Rookie of the Year in 2021-22.
Before Keene State, Cain spent 12 years as both a player and a coach at Worcester Polytechnic Institute. He remains the programs all-time leading scorer. At Johns Hopkins Cain will inherit a team that returns several key starters and performers from a team that won 25 games and, like Keene State, reached the Sweet 16.
Cain said all the pieces are in place for Keene State to contend again for a national championship with a highly experienced returning team. The Owls lost one starter from last year's record-breaking squad.
"These players are a veteran group and are more impressive men off the court than they are on it," Cain said. "And they are in good hands with a top-notch coaching staff. I can't wait to follow the success of this group as it moves forward."
Treadwell concurred.
"I'm excited for the season," she said. "We have exceptional players and an exceptional coaching staff that Ryan made sure to surround himself with. The careful work that they have all done in creating a sense of togetherness has paid off and I am confident it will continue to pay off."
Treadwell said more details about a search for Cain's replacement will be announced when they are determined.
Related Stories