Keene State College and Community Commemorates 50 Years of "I Have a Dream"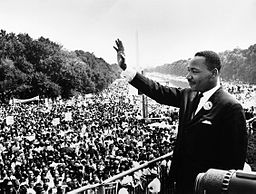 College Community Participated in International Event Organized by King Center for Nonviolence
Keene State College and the surrounding community commemorated 50 years of "I Have a Dream" on August 28. On this day in 1963 in Washington, DC, hundreds of thousands of people participated in the March on Washington to stand for civil rights. During the march, Dr. Martin Luther King, Jr. delivered his famous "I Have a Dream" speech on the steps of the Lincoln Memorial.
"This is a momentous occasion – one that we should celebrate and use as a point of reflection. It is critical that we remember our past in order to continue to make progress in our present and future," said Dr. Dottie Morris, Keene State College Chief Officer of Diversity and Multiculturalism. "I am proud of the College community and the larger surrounding community, for their dedication to kindness and acceptance of people. I am thrilled to share this day with this particular community."
To commemorate the anniversary, Keene State held the following events:
Rev. Tracye Ruffin of Houston, Texas, facilitated a discussion about the civil rights movement, as a way for the entire community to express views and reflections.
Keene State President Anne Huot welcomed the community on the steps of Mason Library in Appian Way for a reading of Dr. King's "I Have a Dream Speech". Readers included New Hampshire Senator Molly Kelly '83, Dr. Jay Kahn, and author Ernie Hebert '69.
Keene joined communities around the world participating in "Let Freedom Ring," in which church bells and the campus carillon rang in commemoration.
President Huot opened a panel discussion on the past, present, and future of civil rights. The panel was moderated by student Emily Amoche, and featured Rev. Tracye Ruffin of Texas, former New Hampshire Representative Harvey Keye, Keene State College Professor Dr. James Waller, student Fernando Osorio, activist Dr. Paki Wieland and alum Charles Owusu '99.
Mason Library and the Young Student Center displayed materials to commemorate the event.
On August 29, Keene State held a screening of the film "Brother Outsider: The life of Bayard Rustin." Following the screening, Rev. Tracye Ruffin and staff member Lucy Webb facilitated a discussion.
All events are a joint effort of Office of Diversity and Multiculturalism, American Democracy Project, and the 2013 Symposium committee.