Keene State Celebrates First-Generation Students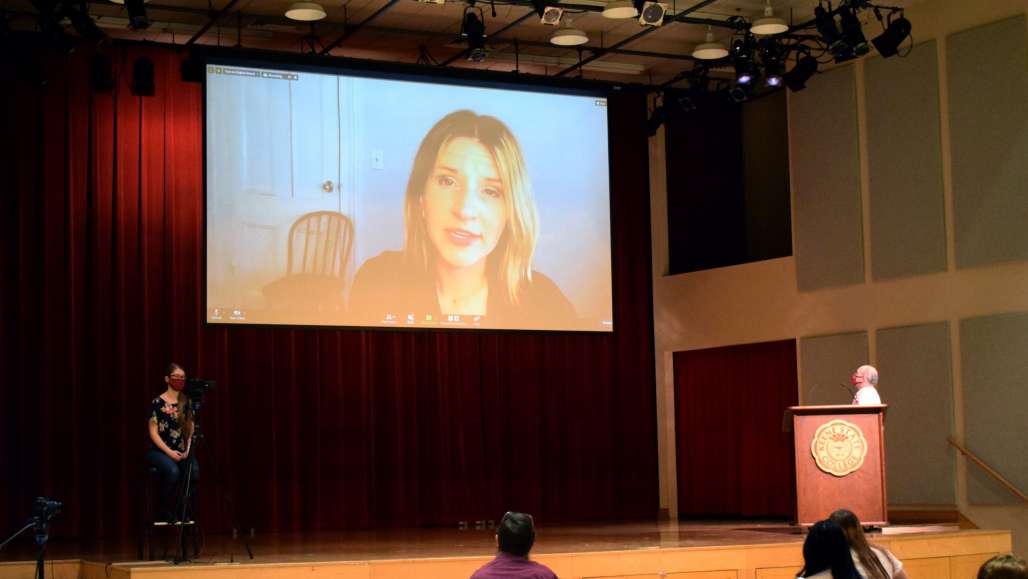 Students who are the first in their family to attend college are called first-generation students. At Keene State, 49% of our undergraduate students are among the first generation in their families to pursue a college education. Keene State's TRIO Aspire Program specializes in supporting these students through proactive advising, building student skills, and guiding students in connecting daily actions to long-term goals.
This past week, Aspire held a series of events to celebrate Keene State's first-generation students in observance of First-Generation Day on November 8. There was a study skills workshop, study night, a special table in the student center highlighting first-generation members of our community, and a virtual presentation by Tara Westover, author of the best-selling memoir Educated. This book is also taught in College 102, a two-credit course designed for first-year first-generation students as they adjust to college life.
"It was really cool to read the book and now connect it to the real person; you imagine what a character looks like as you're reading the story and being able to see, hear, and talk to her makes the whole thing more impactful. Her story helps you realize you too can reach your goals with hard work and determination," said Dilyn McColligan '23.
The celebration event with Tara Westover was held virtually on Zoom with a small in-person gathering in the Mabel Brown Room for Aspire students and staff. College 102 students and other attendees were able to ask Tara questions. In addition, President Melinda Treadwell '90 spoke about her experience as a first-generation student at Keene State.
"It was so great seeing Tara and getting the opportunity to listen to her and see how she is doing now," said Rebecca Fagga '23. "Making those connections back to the book was really cool. Also, hearing Melinda speak to us afterward about her experiences being first-gen made me cry. One of my absolute favorite parts of Keene State is how involved and caring our president is."
Those sentiments were echoed by other students who attended the event. "Hearing Tara speak was very inspirational. Hearing about all her hardships and making the best of it, I really connected to that on a personal level. Just because someone doesn't agree with what you're doing to better yourself doesn't mean you can't go for it. It was really powerful to hear someone say almost exactly how I feel," said Sergio Pritchett '23.
"I'm a first-year student and because of Covid-19 school has looked so different, but I feel like Keene State has done a great job communicating with me and making me feel welcome. I don't think there are many other schools where you can have dinner with the college president. Tara Westover and President Treadwell speaking about their first-gen experiences really validated me. The whole experience makes me feel seen and wanted," shared Smriti Gurung '24.
President Treadwell's support and involvement in this year's first-generation celebrations were a highlight for students. As a first-generation student herself, sharing her stories helps students feel validated and heard; she has a shared experience with many Keene State students.
If you missed Tara Westover's presentation, a recording will be available until January 8, 2021. Please watch it here.
Related Stories