Keene State Announces Faculty Distinction in Research and Scholarship Honoree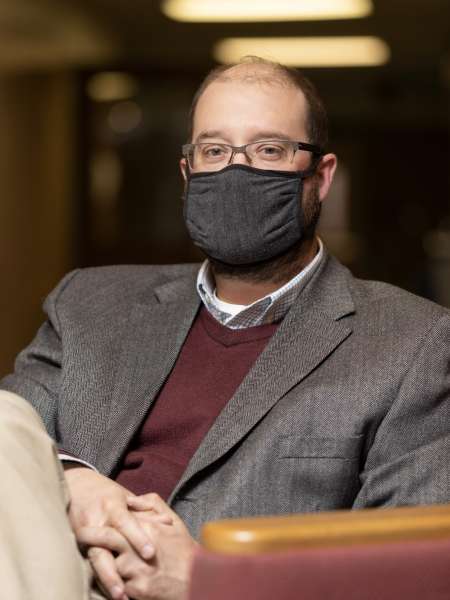 Each year, Keene State honors one faculty member with the Faculty Distinction in Research and Scholarship Award. Research and scholarly work, such as published articles, essays, and studies, raise the quality of education that students gain at Keene State, and these works are important contributions to colleagues and peers in the faculty member's field.
This year, Dr. Nicholas Germana, professor of history, was selected for this distinction based on a thorough nomination process. One contributor to his nomination said, "Dr. Germana is a skilled and rigorous scholar doing important work that will have an impact well beyond his own discipline. Aside from History, Philosophy, and Critical Race Studies, his book has much to say about art and aesthetics."
Dr. Germana received his Ph.D. from Boston College in 2006. His scholarly work to date has focused on German nationalism and German orientalism. He teaches various courses on European intellectual history and the history of women in Europe. His first book, The Orient of Europe: The Mythical Image of India and Competing Images of German National Identity, was published in 2009 by Cambridge Scholars Publishing.
His second book, The Anxiety of Autonomy and the Aesthetics of German Orientalism (Camden House, 2017), explores the reception of Indian and Chinese philosophies and religions in the tradition of German thought from Immanuel Kant to G.W.F. Hegel, and locates the origins of this orientalist discourse in the problem of anxiety that pervades Kant's and Hegel's constructions of modern, Western, male rationality. In his review of the book, Joachim Whaley, professor of history at Cambridge University, has written that it is "an important book" that "break[s] new ground by illuminating the buried history of orientalism in German philosophy between Kant and Hegel."
Dr. Germana will make a presentation at Keene State's Academic Excellence Conference on Saturday, April 17, 2021.
Related Stories