Keene State Alumna Emily Watts Drouin Found Work That Is Child's Play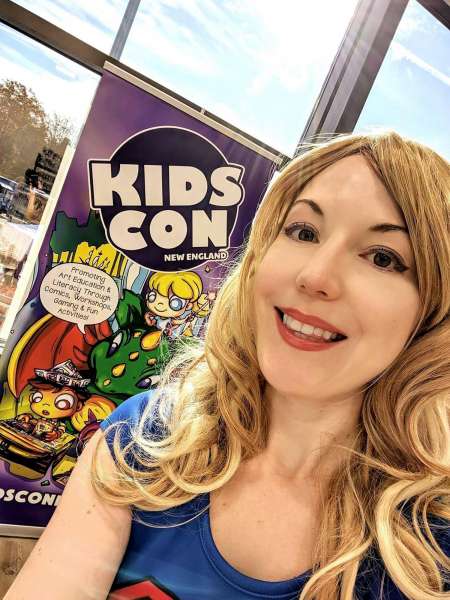 To Emily Watts Drouin, Keene State Graphic Design 2004 grad, her work is play, and play is her work. The talented illustrator, cartoonist, and all-around creative thinker has dozens of children's books, comics, animated films, and other projects to her credit. It all started long before Keene State, when Emily was the only kid in first grade who could draw full figures instead of stick figures. She had a knack for illustration and a love for cartoons and comics, gravitating to Garfield, Calvin and Hobbes, and other favorite characters at the library in her hometown of Manchester, NH.
At Keene State, she thrived. "I loved the environment at Keene State and felt at home there," she said. "I took a wide variety of art classes – printmaking, figure drawing, painting, sculpture – anything to refine my skills. I also took programming, thinking it was a good idea to know more about the technical side." After graduation, she met her husband, Jeremy Drouin (Keene State '03) online and they realized that not only had they gone to the same college at the same time, but they might have been in the same computer science classes.
Eager to learn more about the publishing industry after she graduated, Emily worked at packaging design and pre-press production at a graphic design company. Oh yes – she also became a certified ophthalmic assistant, and taught art to kids at the Currier Art Center, where she had taken classes herself as a child. Her love of comics and cartooning couldn't be denied, and in 2013 she published her first comic series, EPLIS, a sci-fi adventure series co-written with her husband and illustrated by Emily. She also illustrated and helped develop a children's book series with an anti-bullying theme, called The Pumpkin Wizard, written by Derek Dextraze and Caitlin Crowley, and taught herself animation along the way.
Emily believes comics are a great learning tool for kids – they make reading fun, and can be a good way to learn about relationships. She loves teaching comic art to children for the same reason – to develop a sense of story, to help kids find their passion and a way of expressing themselves. Emily's latest idea, a comics convention for kids, builds on the idea of adult-version Comic Con but is based in New England and just for kids. It had to be virtual in May 2020, but she is busy planning for a November 13, 2021, live/virtual hybrid version in Portland, ME. For more on Kids Con New England, see http://www.kidsconne.com.
Emily and her husband live in Raymond, NH, and when she gets stuck on how to approach an idea, she goes for a walk, or plays the piano for a break. "The hardest thing is always a blank page," she observed. It is where the creative process starts, no matter how accomplished the artist. And it's a great lesson for the kids she teaches, as she encourages them to follow their own passion and see where they might go.
To see the complete range of Emily's talents and creative ideas, including coloring and activity books, animated videos, and more, go to http://www.emilyatplay.com.
Related Stories