Owls On The Air: Keene State Alum and Student Hitting the Airwaves This Summer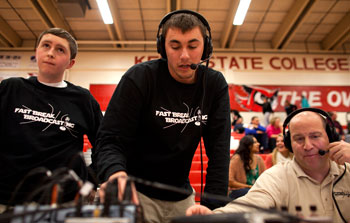 In many ways, Brian Schnee '13 and Brian Clemmenson '16 are like the recently graduated player and the aspiring sophomore on a college sports team, respectively.
With four years of experience under his belt, not to mention a couple of resume-building and valuable internships, Keene State College graduate Schnee is ready to take that first scary step into the professional work force, while KSC student Clemmenson stays behind, looking to replace the departed senior and make a name for himself on the team.
However, instead of playing sports, the pair is talking sports, switching on their mikes and trying to break into the highly competitive sports broadcasting business.
Presently, Schnee and Clemmenson are at different ends of the radio dial.
While Schnee, who graduated this spring, climbed aboard the non-stop ESPN radio train that just arrived in the Granite State, Clemmenson, who just completed his freshman year, is spending the summer as the play-by-play man for the Brewster White Caps in the prestigious Cape Cod Baseball League.
Schnee and Clemmenson are prize protégés of Gino Vallante '97, the founder and vociferous voice of Fastbreak Broadcasting. Started in 2004, Fastbreak introduced Keene State athletics to the world of Internet broadcasting. Initially a way to bring men's basketball games to a wider audience, Fastbreak has quickly come up to speed over the years, currently broadcasting and video streaming over 100 Owl games each season.
Schnee and Clemmenson jumped at the opportunity to get behind the mike and join the many voices of Owl sports.
Impressed with Schnee after an initial meeting, Vallante didn't waste any time getting him on the air. "I could tell from the start he was very talented and multifaceted and someone who could help the broadcast company move forward," Vallante recalls. "He was a natural."
However, Schnee's first broadcast, a baseball game against powerhouse Wheaton College, didn't go well. "I was scared beyond belief, but I eventually got in the flow," said Schnee. "I learned my own style and Gino pushed me to get into a lot of sports – not just broadcasting, but becoming a media professional.
"The best part of being at Keene State and Fastbreak is Gino gives you an opportunity to do every sport," Schnee added. "Swimming and diving was a challenge for me. In field hockey, I got thrown right into the championship despite never doing a game. But Gino had the confidence in me that I could get through it. Hopefully the people listening thought I knew what I was talking about."
Looking for an Internet broadcaster three years later, Vallante got an email out of the blue from Clemmenson. "My initial reaction was, we got a long road to hoe here, but he had some experience and really wanted to do it, so I'm willing to work with him," said Vallante. After an interview, "Brian sent me a few links of a few baseball games he had done and he actually sounded pretty good. It's funny. When you talk to him personally and you hear him on a broadcast it's almost like its two different people."
Initially doing some set-up work, Clemmenson, affectionately called "Clem" by his Fastbreak colleagues, teamed up with Schnee for a few broadcasts before going solo. "Clem did a great job," said Vallante. "He can go solo and work with a partner. He's going to get a chance to expand his role next year."
"It felt great that Gino was giving me the opportunity. I was very fortunate because a lot of freshmen don't get the chance that I did," said Clemmenson.
Schnee and Clemmenson were actually bitten by the broadcasting bug prior to their arrival at Keene State.
Growing up in Burlington, Conn., the neighboring town to Bristol, the home of ESPN, Schnee was destined to step in front of the mike. It didn't hurt that two of his childhood friends, Bob Ley and Rece Davis, went on to become primetime anchors at ESPN.
Blowing out his arm pitching at Lewis S. Mills High School, Schnee planned to stay in sports by attending Springfield College and becoming an athletic trainer. Persuaded by his mother, Patricia, to give Keene State a shot, Schnee took a few general courses before finding his niche in journalism. "I immediately knew it was something I loved and wanted to do when I graduated," Schnee said.
Able to get hands-on broadcasting experience at KSC with Fastbreak, Schnee grew on the job. Doing his homework and self-critiquing his broadcasts after every game, Schnee became a broadcaster for all seasons, covering everything from volleyball to softball. "Regardless of the sport, I wanted to make sure I was doing a good job," he said. "It helped me get where I am today."
Always looking to gain more experience, Schnee took his talents off campus, doing an afternoon talk show at the local ESPN affiliate and serving an internship following his junior year with the Fox television station in Hartford.
Originally from Stamford, Conn., Clemmenson was also destined for the broadcast booth. "I've always been a big sports fan and liked listening to the broadcasts," Clemmenson said. "My first grade teacher said, 'One day I'm going to turn on the radio and you're going to be on.'"
Clemmenson got started early. Working as a high school intern handling stats and production work for the Whitecaps, Clemmenson got a break the following summer when one of the announcers decided to leave midway through the season. Clemmenson slid into his seat. A fill-in announcer the past two years, Clemmenson got the full-time gig this summer, beating out a couple of strong candidates, including a student from broadcast power Syracuse University. "It just shows you can be a good broadcaster no matter what school you go to," he said.
Clemmenson learned early that you have to be ready for anything when you're broadcasting a game. Afforded the luxury of having a home press box for home games, Clemmenson and his partner must do their road broadcasts from the stands – next to the closest power outlet. What does he do if the fans get a little too loud? "You just turn the volume and amps up," he said.
Because the Whitecaps' home field at the Stoney Brook School doesn't have lights, Clemmenson also has to be put on his meteorologist cap – giving constant updates on when the sun is about to set.
Unfortunately, Clemmenson didn't bring much luck to the Whitecaps in his first full-time season behind the mike this summer. Despite celebrating its 25th season in the Cape Cod League, the team posted a 14-29-1 record and missed the playoffs.
Crossing paths with Schnee at Keene State last year proved to be a bonus for the up-and-coming commentator. "If it wasn't for Schnee, I probably wouldn't have gotten involved with Fastbreak," said Clemmenson. "He showed me the ropes, taught me about the equipment and introduced me to a lot of players. It's going to be tough to replace him."
"I think Clem mirrors my career," said Schnee. "He's young, but I think he's going to do real well."
Using his connections to land a job with ESPN New Hampshire Radio, Schnee was able to get his foot in the door. Now he wants to stay there. Selling spots by day and producing by night on the stations' drive-time afternoon show, Schnee also had his own weekend morning show.
Early this month, Schnee debuted as the lead anchor on the Granite State NFL Preview Show that will run from 10 a.m. to 12:30 p.m. on Sundays. Schnee also used his powers of persuasion to sell the station on a Monday Night Football show in which he hobnobs with sports fans at bars around Manchester. "I have the ability to sell myself and they like it," said Schnee, who eventually would like to work in a larger radio market. "It's all about the quality of the show and I really focus on that."
Helping his announcers to gain valuable on-air broadcast experience while at Keene State, Vallante couldn't be any happier about the graduate and the promising sophomore on his Fastbreak team. "This is what it's all about," said Vallante, who credits KSC Athletic Director John Ratliff for providing the resources to put together a first-class broadcast. "You come to college and get some experience that will hopefully give you an opportunity to get a job in your field when you graduate. So for them it's great and for me I feel good because I actually feel like I'm doing something for the students who want to take a shot at broadcasting."