Keene State Adding Men's, Women's Ice Hockey and eSports as Varsity Programs in 2024-25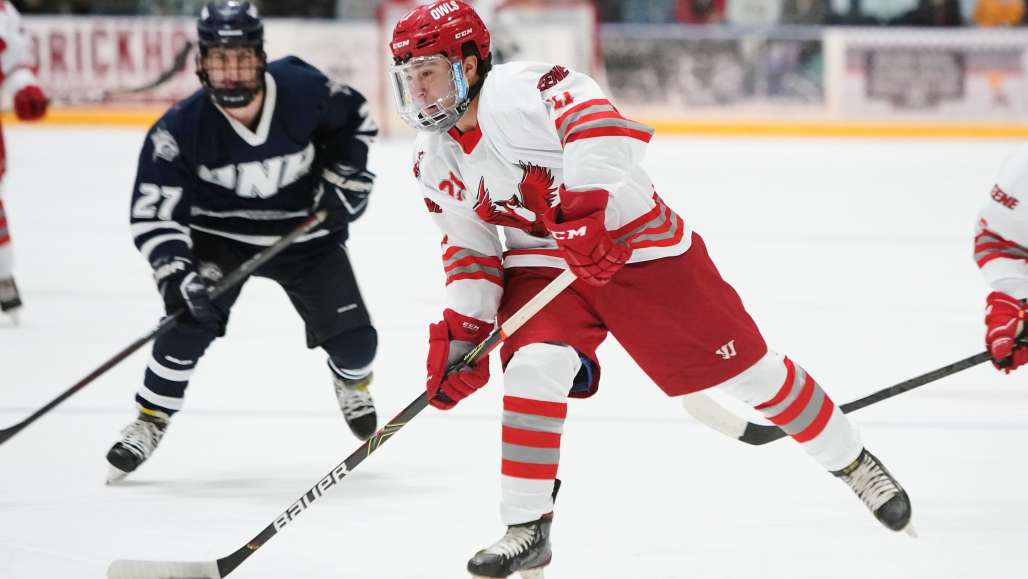 The Keene State College Department of Athletics is pleased to announce the addition of men's and women's ice hockey, as well as eSports, to the list of its varsity program offerings.
"I am thrilled to announce the launch of Keene State Owls DIII Ice Hockey and eSports," Keene State President Dr. Melinda Treadwell said. "The decision supports strategic enrollment and potential academic program growth for our College. In the case of hockey, of equal strategic benefit is that this investment supports our community's growing passion and the future success of Keene Ice. This is exactly how a public college can support itself and make a positive difference for the region it shares."
All three sports will begin competition in 2024-25.
Men's and women's ice hockey will compete during the 2024-25 season as independent programs. In 2025-26, the men's program will transition to competition within the Little East Conference (LEC), when the Little East will begin offering a conference championship in that sport. Castleton University, Plymouth State University, UMass Dartmouth, UMass Boston, and the University of Southern Maine are current LEC members that feature men's ice hockey.
Keene State men's ice hockey has a history of success as a club sport program competing in the American Collegiate Hockey Association (ACHA). In 2023, the team captured the New England Collegiate Hockey Association Patriots Conference Championship, defeating Boston College 6-0 in the semifinals and Northeastern 3-2 to reach the ACHA Northeast Regional Tournament. In that regional, the Owls lost 3-2 in overtime to the University of Vermont.
Plans are still under way to confirm a conference for the women's program, Keene State Athletic Director Marty Testo said. Per NCAA regulations, six member institutions must sponsor a sport for the league to receive an automatic qualifying bid for the NCAA Division III Championships. Keene State will become the fifth LEC member to sponsor ice hockey for women. Castleton, Plymouth State, UMass Boston, and Southern Maine also feature women's ice hockey.
Keene State ice hockey teams will host games at Keene Ice on Marlboro Street in Keene.
The Keene State eSports team will compete in a renovated room in the Living and Learning Commons. The Commons is a state-of-the-art residential facility that houses more than 300 students. The college is exploring options for a governing body for the program, Testo said. As a non-NCAA sport, there are several options, including the National Association of Collegiate Esports (NACE).
"Collegiately and professionally, we are seeing soaring interest in eSports," said Treadwell, noting that, according to NACE more than 5,000 eSports athletes participate in competitive videogaming. "As the sport continues to garner more interest and attention, we want to be an option for those students – current and future – for whom gaming and this kind of competition is important and exciting."
A national search will be conducted to hire head coaches for all three Keene State programs, Testo said.
Questions about men's ice hockey can be directed to Testo; questions about women's ice hockey to Amy Watson, associate athletic director and women's field hockey coach; and questions about eSports to Travis Wyant, head coach for women's lacrosse.
The addition of the three sports brings the list of varsity sports teams at Keene State to 23. Men's and women's golf are the most recent additions; those teams began competing during the 2022-23 academic year.
Related Stories