Grad Julia McDonough on the Rise; Her Career Track Not for the Unimaginative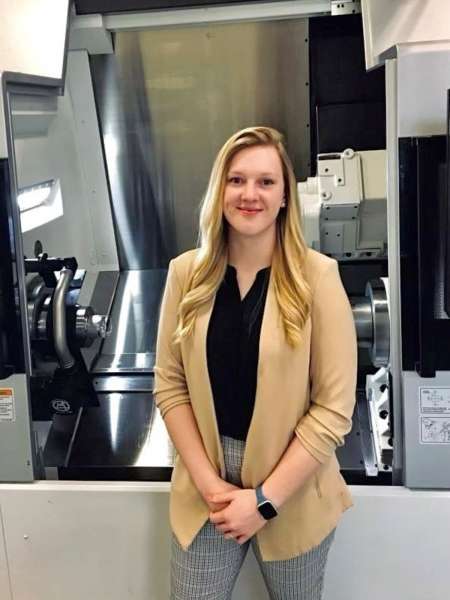 Julia McDonough '20 had an ambitious education plan: A bachelor's degree; five years of related internship experience, high school to college; and involvement in major-related extracurricular activities.
That's right, high school to college. Julia's first internship, at Corning Optics in Keene, was in engineering. She was a tool and die maker apprentice and CNC operator, and she had just turned 18, the required age to run equipment at the company.
"Getting all of those things under my belt … that was big for me," says Julia, now a sales associate for the Robert E. Morris Company, a leading machine tool distributor in the Northeast.
For a third straight summer, the Keene State graduate returned to campus to speak to a group of wide-eyed middle school students at the GoSTEM camp, one of the college's popular Kids on Campus program offerings.
Students on this day were generating coding sequences on laptops to navigate their hand-made mini drones, which they did in the spacious atrium of the TD Science Center.
Julia's message to the students was one of high-flying possibility. Of finding one's passion. Of the value of an education and future working in the field of science, technology, engineering, and math as a female.
"I've found success in a field traditionally dominated by male workers," Julia, 24, told the girls during lunch break at camp.
Julia takes the view that the full-immersion, multifaceted nature of her education was elemental to everything that would, and will, follow. She wants to inspire others to see the benefits that preparation, strong connections, and project-based learning can yield.
She wants to let young girls know that they can dream – and dream big.
Just as she did.
At Keene State, they teach things that are credible in the real world. Setting you up for a hands-on work environment … that is such a special part of the SPDI program."

– Julia McDonough
The college's Sustainable Product Design and Innovation program that Julia made the most of is a destination major for first year and transfer students at Keene State. Referred to simply as SPDI – pronounced "speedy" – the program is the only one of its kind in New England that combines industrial design, project management and manufacturing engineering technologies.
Lisa Hix, a SPDI professor and former designer and engineer for several major manufacturing corporations, said the academic program is about designing products with an eye toward a sustainable world. The placement success of graduates into the workforce is something the program's faculty and the college are proud of, she added.
"At Keene State, they teach things that are credible in the real world," Julia said. "Other kinds of education are more behind a desk, more theoretical. Setting you up for a hands-on work environment … that is such a special part of the SPDI program."
"I've been in lot of shops. I've seen a lot of women; I think it's fantastic. Being an operator, or an assembler, or an engineer, I feel like companies today in this field prefer women. We're not better, but we're different. We want to prove ourselves. I do not want young women to think they can only be a teacher, or a nurse. This is a different career path, and it is exciting."
The Robert E. Morris Company is one of the most respected machine tool distributors in the Northeast. The firm has whole or partial exclusive rights in Connecticut, Massachusetts, Maine, New Jersey, New Hampshire, New York, Rhode Island, and Vermont.
"My internships started to steer me away from engineering, and behind a desk," she said. "I wanted more hands-on, more chance to talk to people." "I developed a lot of friendships with the professors, which was a contributing factor to my growth and enjoyment of the SPDI program," Julia said. "Curtis Meade, he was always super helpful and made the classroom a fun place to learn."
Julia also interned at Moore Nanotech in Swanzey, as an electromechanical assembler, building control pendants, accessories for diamond-turning machines, as well as enclosures.
She earned a summer internship at BAE in Nashua, making the cut in a "grueling and competitive application process," she said. She was a compliance intern in the shop where micro soldering of microchips occurs. Julia enforced compliance standards for that important part of the firm that does aerospace and defense work.
At Tidland Corporation in Keene, as a safety and manufacturing engineering intern, Julia updated procedures and safety documents for each of the firm's machines, inventoried machines and developed maintenance schedules, and updated drawing files and work-order documents.
Tidland makes equipment for winding paper, film and other materials.
"I find that I am one of the few women in settings I've worked in," said Julia, "but it's not as scary as it might sound. It's not without challenges, but it's getting better all the time."
At the GoSTEM camp, imaginations were running mini-drone wild, students were having a blast, and that was more than enough for Julia to justify her long trip across the state to tell the students that they can be all that they wish and that they can succeed and succeed brilliantly. It's a powerful message.
Learn more about SPDI at Keene State. (https://www.keene.edu/academics/programs/spdi/)
Visit the Keene State campus and tour the Technology, Design, and Safety (TDS) Center, home to the SPDI program. (https://www.keene.edu/admissions/tours/)
Related Stories