Josh and Rachel Boynton Give Back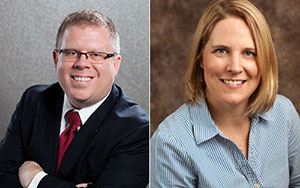 Josh '96 and Rachel '95 Boynton have made it their life's mission to give back. From providing direct support to one person in Keene while still students to having the vision to start LifeShare, an organization that utilizes a person-centered, community-based approach to help people with developmental disabilities.
Both said Keene State provided them with a solid education and opportunities that inspired them to be influential community members dedicated to helping others. "I felt Keene State was such an important part of my life path and the success that I see each day in the world," said Josh, a native of Candia, NH, who serves as president and CEO of LifeShare. "I'd like to continue to give back. It's an important part of who I am and what makes me today."
"Josh found his groove at Keene State and really became a valuable member of his college community," said Rachel, who grew up in Campton, NH, and is the senior vice-president of quality assurance for LifeShare. "Because he was given so many opportunities at KSC to experiment and try things out and be successful, Josh felt like he really could change the world. We both walked away from Keene State feeling like we could do great things."
Josh and Rachel Boynton found direction at Keene State. Josh, a psychology major who followed in the philanthropic footsteps of his father, Paul, a CEO of The Moore Center, became involved in numerous activities on campus, including the Student Social Advisory Committee and student government. "Keene State really opened my eyes to the unlimited possibilities," he said. "It gave me the opportunity to dream and start to achieve my dreams."
Although she first envisioned a career in the classroom, Rachel, an education/special education major who enjoyed working with kids, eventually found her calling in human services. "Keene State really taught me how education should be and I really loved that," she said, "but my advisor was smart enough to say to me – teaching was great for you but I see you in human services even more."
While Josh, a childhood actor, got to rekindle his thespian roots by organizing and performing in the musical Hair on campus, the two also got to experience first-hand the undeniable joy of helping others when they provided live-in support for a man named Ron, who was institutionalized most of his life and needed support to be successful in the community.
It was not long before Josh and Rachel saw not only a very talented man with many gifts to offer the world, but a great need for change in the system. Josh created a personalized services contract with Ron and his team based on his interests, specifically artistic expression. This new, innovative model worked well for Ron – and inspired Josh and Rachel to found LifeShare in 1996.
"Every day I wake up and feel so lucky to be doing what I'm doing," said Josh about LifeShare, which is based in Manchester and now has 16 locations in eight states along the East Coast.
"I never thought it would grow like it did," said Rachel. "He brought this to a level than I could never imagine in a million years. We're making so much of a difference out there now."
Josh's work hasn't gone unnoticed. Awarded the prestigious Keene State College Alumni Inspiration Award, and often asked to advise political leaders nationally and locally on a broad range of social policy issues, Josh takes pride in helping those in need of help. And that includes Keene State students.
Related Stories