Inspiring Conversations in Education (ICE) Conference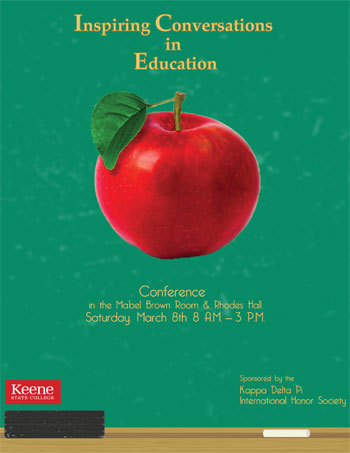 Saturday, March 8, 8 a.m–3 p.m.
Mabel Brown Room (in the Student Center) & Rhodes Hall
Featuring presentations by KSC alumni and current graduate students, the ICE Conference offers educators an opportunity to come together and discuss insights, experiences, and issues in their field. The sessions will cover a variety of topics, subject areas, and grade levels.
Keynote speaker: 2013 NH State Teacher of the Year Heidi Welch '96
Alumni session speakers:
Kelly Beliveau '13, Jessica Boland '13, Laura Bradley (MA student), Ashlee Carr '11, Erin Cogan '13, Alyssa Comeau '13, Sara Cummings '12, Dustina Cunan '13, Corey Hayes '09, Courtney Lambert '03, Jennifer MacKay '10, Allison Mangan '11, Mia McGory '13, Melanie Seavey '13, Sara Seckla '03
Sessions:
Title I Reading
Classroom Management
Montessori Schooling
Surviving the First Years of Teaching
High School Math & Khan Academy
Competency Based Learning
The Top 10 Things New Music Teachers Should Know
Landing Your First Teaching Assignment
Everything They Don't Tell You About Your First Year of Teaching
7th & 8th Grade General Science
SMART Notebook in the Music Classroom
60 Minutes Featuring Graduate School (pertaining to the KSC graduate program opportunities)
Sponsored by Kappa Delta Pi, International Honor Society in Education
Attendance is open to anyone who is interested, and free!
The conference offers students an opportunity to enhance their classroom learning, network, learn from engaged professionals, and increase their chances in the job market. "We're bringing back several teachers, ranging from elementary ed to secondary to high school. The sessions will cover a wide range of subjects, including music, art, and physical and special education," explained Maria Franciosa, conference organizer and president of the Kappa Delta Pi Education Honor Society and the Music Teachers National Association. "We wanted to put together as diverse a group as possible. We'll also have graduate students presenting—graduate students at KSC, and grad students who are teaching while they're getting their masters, so we'll have that perspective as well."
After the morning's keynote address in the Mabel Brown Room, attendees will move to Rhodes Hall to attend breakout sessions. There will be two breakout sessions before lunch, and after lunch, all the presenters will participate in a panel discussion in the Mabel Brown Room to discuss important issues and whatever topics the audience wants to raise.
"The conference is about bringing the alumni speakers back to share practice and their success stories, and their challenges," said Darrell Hucks, assistant professor of Education, and advisor of the Honor Society. "We want to inspire conversations in education—the idea is to bring practitioners and students together to have those conversations that uplift teaching."
The organizers expect to host about 150 people. And remember, this is not just for Keene State students; anyone is invited to attend, and attendance is free. "For the most part, this is targeted towards students, but a lot of practicing teachers have expressed interest in attending, primarily for the opportunity to share ideas," said Franciosa. "The panel setting will offer open discussion, where everyone can share their teaching strategies and hear what others are doing that's effective."
Related Stories