Honorees of 27th Annual Outstanding Women of New Hampshire Announced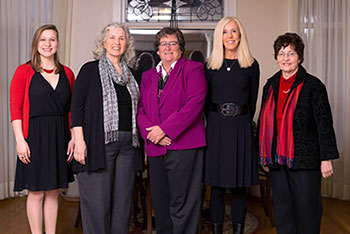 On March 28th" Keene State College honored the twenty-seventh annual Outstanding Women of New Hampshire award recipients. The awards, which are given during National Women's History Month, recognize New Hampshire women who have promoted equality for women in business and in the paid labor force. This year, the awards will recognize Marisa Benson, Keene State senior; Katie Schwerin, co-founder and COO of W.S. Badger; Ellen Moynihan, former adjunct faculty member; and Barbara Couch, Vice President of Corporate Social Responsibility for Hypertherm.
The Outstanding Women of New Hampshire event is sponsored by American Association of University Women – Keene Chapter, Campus Commission on Diversity, Equity & Inclusiveness, Greater Keene Chamber of Commerce, Mentors in Violence Prevention, National Women's History Project, and New Hampshire Women in Higher Education Leadership.
Background on Awardees
Marisa Benson is an inspiration for many people at Keene State College. One of her nomination letters summed it up well with this sentence: "I am not sure if words will fully be able to capture all that she has done for this community and the women who are a part of it."
With grace and maturity, she serves as a leader and friend to young women who are adjusting to college. These students rely on her support as they learn how to manage the demands and opportunities that are presented to them, as part of college life. Through her service as a Resident Assistant, she has created a supportive, welcoming environment in which new students are heard and understood. She serves as an advocate for young women on campus, helping them to more easily find resources and opportunities for success. Her efforts are noticed – residents who have come to know her say that she has impacted their college experience.
In addition to her work on campus, she is passionate about ethical business and strong women leaders in our community. Her ongoing support and volunteerism in the Keene community with Country Life Vegetarian Restaurant demonstrates her commitment to these values.
Ellen Moynihan has been an important part of the Keene State College community for many years. First as a student, and subsequently as an adjunct faculty member for the English Department at Keene State. Her lasting impact on Keene State and the people around her genuinely reflects this year's theme for these awards, "Honoring Trailblazing Women in Labor and Business."
She is a true leader who helps to raise up the people around her. Her dedication to fairness and equality for women in the workplace is unwavering. Her insistence on these values, and her persistence in making these values a reality, is respected. Her dedication was demonstrated by her extensive efforts in founding the Keene State College Adjunct Association, for which she was also the first president in 1997. Today, 20 years later, the KSCAA continues to provide adjunct faculty with a role in determining conditions for their work.
In addition to her advocacy efforts at Keene State, she has achieved substantial teaching and scholarly success. Her success with published articles in the US and abroad, and essay readings throughout the state, are admirable.
Katie Schwerin, as co-owner and COO of W.S Badger, she is a unique embodiment of this year's theme. Her dedication to socially responsible business and managerial practices is remarkable. Under her leadership and that of her husband, W.S. Badger has grown from a small family operation into a successful business with an international footprint and a designation as a "B Corporation," a status that adds transparency to a company's social and environmental business practices. Furthermore, it has been honored as "Best for the Environment" in 2015 and 2016 and "Best for the World" for 2016.
Her energy, dedication, and dynamism have played a major role in the company's success. Her family-friendly management practices at the company have launched initiatives, which have helped create a workplace that opens up new opportunities for all employees.
Her involvement in local non-profit organizations, notably Impact Monadnock, has led to several other businesses in the region adopting family-friendly workplace practices. Her belief that the best kind of business is one that integrates social responsibility is worthy of emulation and applause.
Barbara Couch undoubtedly exemplifies this year's theme: "Trailblazing Women in Business and Labor." As a crucial part of Hypertherm's success for the past 30 years, her programs have contributed immeasurably to the development and well-being of the company's employees. Hypertherm has been recognized repeatedly as one of the best places to work in the state and in the US, reaching number twelve on Fortune magazine's top 100 list.

She is the force behind Hypertherm's Corporate Social Responsibility initiatives and also the founder and president of the company's HOPE Foundation. Ms. Couch is particularly dedicated to enhancing women's roles in manufacturing and STEM-related careers, and, through her efforts, the company has accelerated its efforts to recruit women into shop floor, management, and engineering roles.
Outside of Hypertherm, she has been a tireless advocate for the importance of education in our economy, serving on the Governor's Advanced Manufacturers' Advisory Council, the Governor's STEM Education Task Force, and the NH Coalition for Business and Education. Through this service, her work with other organizations and boards, and, notably, her efforts at Hypertherm, she has enriched the state of New Hampshire and the local community in many ways.
Related Stories