From Graduation Stage to Frontlines Helping Children, Jewell Finds her Niche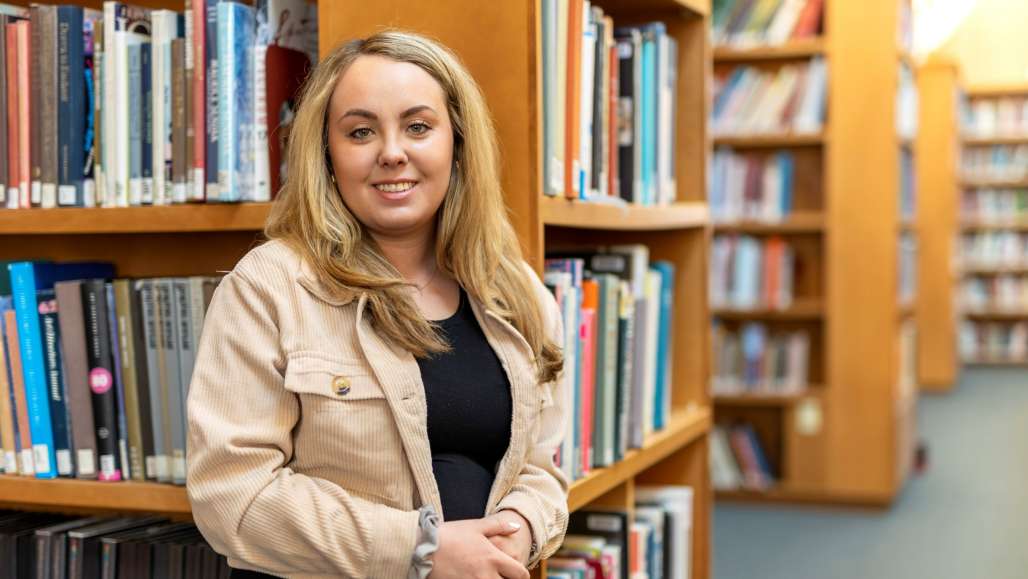 Mercedes Jewell did not sit up in bed in the middle of the night and, in a lightbulb moment, decide what it was she wanted to do in life.
Rather, it has been more of a constant theme, a part of who she is and who she was growing up.
The 21-year-old earned dual bachelor's degrees at Keene State this month, in criminal justice and psychology. She has accepted a position with Child Protective Services within the New Hampshire Department of Health and Human Services, and she will be based in Portsmouth, in the state's Seacoast Region.
The position, she says, pairs perfectly her deep interest in both of her fields of academic study at Keene State.
She will be part of a team responsible for providing child protection, which includes responding to reports of child abuse or neglect.
Mercedes, 21, who attended Oyster River High School in Durham, NH, says she feels fortunate to be able to walk from the graduation stage directly into the workforce. She sees the work she will be doing as meaningful. Down the road, 10 years or so, she can imagine being a juvenile probation officer. "That is probably more fitting for what I feel like I want to do long term."
Mercedes says she chose Keene State for its smaller class sizes, which she equated to professors being more engaged in her education and enhanced opportunities to excel.
She began as a psychology major, fascinated primarily with "the working of the brain and how people interact." She took a criminal justice class, "thoroughly enjoyed" the subject matter and the professors, then added the criminal justice degree program to her existing studies. "Everything about it exceeded my expectations."
Research a growth opportunity
In April, at Mason Library, Mercedes was one of three Keene State psychology honors students to share findings from respective yearlong independent research projects. Mercedes' year-and-a-half-long project was titled "Childhood Trauma Leads to Adult Criminality and How Criminality is Viewed."
"What I looked at is whether people's adverse childhood events affect the way they perceived criminals and their offenses…I knew I was going to apply to study forensic psychology in grad school, so I looked for an opportunity to stand out. This (research) is one of the ways I was able to do that."
She adds: "Dr. Karen Jennings has looked out for me both personally and professionally and has given me opportunities and resources to pursue my research."
Mercedes says the research was a learning experience. "I did not find the significance I was looking for. I would do the (student) survey process differently next time, I think. I got only fifty students to respond; I needed more. But I am proud of the entire process."
She leaves Keene State, she says, a more confident person capable of advocating for herself, and tackling challenges in analytical and thoughtful ways. "Presenting research was a big part of that growth."
She also discovered she is not a Zoom learner and admits that it was no small thing overcoming feelings of isolation and not being with friends regularly.
In the end, though, her focus is where she wants it and has always seen it.
"I want people to understand that childhood trauma plays a role in the thought processes behind crimes and in building prevention strategies to recognize and address issues before they happen.
"Keene State gave me the tools to make that happen."
Related Stories