Four Seniors Attend Writing Conference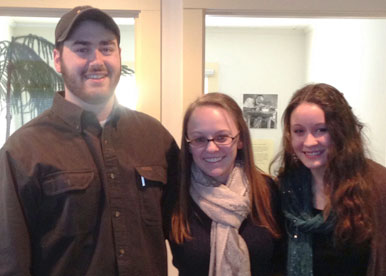 Four seniors and tutors at Keene State's Center for Writing — Michael Kelly (architecture), Hillary Smith (secondary education), Jessica Pierce (psychology), and Alex Wolff (American studies) — will be presenting at the Northeast Writing Center Association's annual conference at Bryant University in Smithfield, Rhode Island, on March 1–2.
This year's conference theme is "Difference & Inclusion: Writing Centers as Sites for Change," and the students, in coordination with Dr. Phyllis Benay, the Center's director, and Cyndi Glover, the Center's assistant, will conduct a roundtable discussion entitled "It's Beginning to Look Too Much Like Christmas: the Challenge of Teaching a Homogenous Student Body."
Whereas many of the conference participants come from very diverse campuses, KSC is still working to bring more diversity to its student body, so Keene's approach to the conference theme is different than most. "Clearly, the problems we face around notions of inclusion are different than those that infiltrate a more diverse student body," noted Prof. Benay. "Rather than helping our students adjust to a variety of dialects, we need to convince them that these dialects even exist. Rather than helping them accommodate diverse cultures, our challenge is finding ways to bring the rest of the world into their lives. From in-class workshops to one-on-one tutoring to assisting faculty as they design strategies and techniques, the Center for Writing tutors and director are committed to one overarching goal: moving students toward a more inclusive and complex world view."
Related Stories