Former Owl Tress to Compete for Israel in 2014 World Lacrosse Championships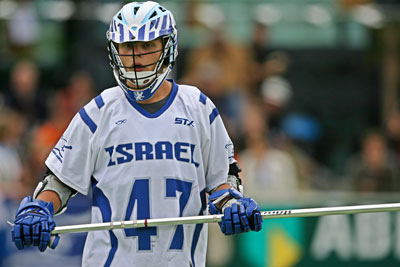 Former Keene State College men's lacrosse player Alex Tress from Simsbury, Conn., is a member of the recently announced Israel Lacrosse Association's 46-man travel roster which will compete at the Federation of International Lacrosse (FIL) World Championships; held at Dick's Sporting Goods Park in Denver, Colorado, this July.
The roster was selected following a six-month tryout process, including national team tryouts at the Wingate Institute in Netanya, Israel in July, several exhibitions and an extensive interview process.
"I'm very excited. I've been waiting for the roster to come out," said Tress, who completed his four-year Owl career last spring. "I was hopeful I was going to be on it."
"It was terribly difficult to make our final roster decisions, as we've been fortunate to have so many talented athletes who are strongly committed to our program and what we're trying to achieve," said Israel head coach Bill Beroza. "We've had so many unique factors in shaping what we believe to be a very strong team, which will truly and wholly represent our country, our program, and our people on the world stage in Colorado."
Born in the Soviet Union, Tress and his family lived in Israel for many years before coming to the United States. "It's a special honor," said Tress, who also played for Israel in the European Championships two years ago. "I'm representing my family and my heritage and the country I grew up in."
Tress said lacrosse is a growing sport in Israel. "They're starting a youth lacrosse movement over there," said Tress. "They're putting lacrosse sticks in a lot of kids' hands."
Team Israel will hold training camp in Vail, Colorado, from July 3-6, before arriving in Denver on July 7th. Israel's first official World Championship game is scheduled for July 11th; though the schedule has yet to be released by the FIL.
Following training camp, Israel's roster will be trimmed to 23 players for Championship play; comprised of both Israeli players, as well as members of the Jewish Diaspora, in accordance with the rules and regulations of the FIL.
A record 38 nations are expected to participate in the World Championships. In conjunction with the Israel Lacrosse Tzedakah Program, each player will be competing in honor of a charity of their choosing. A portion of the national team's general fundraising efforts has been committed to each charity.
The United State has captured nine World Lacrosse Championships, including the most recent event in 2010 that took place in Manchester, England.
Related Stories