Former Coach Theulen Remembered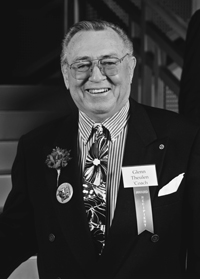 Former Keene State Coach Glenn Theulen Remembered for Building Owl Athletic and Basketball Programs
Glenn Theulen returned to Keene State in the fall of 1997 to be inducted into the College's Alumni Athletic Hall of Fame. A charismatic and colorful coach during his 16 seasons directing the Owls men's basketball team, Theulen had the crowd in the palm of his hand as he turned the clock back and reminisced about his days on the sidelines at Spaulding Gym.
"Being inducted into the Hall of Fame brought closure to my career at Keene State," said Theulen after the ceremony. "By affording me this honor, which I receive with gratitude and an open heart, I have the opportunity to close my career with a good feeling."
Theulen, who played a pivotal role in the growth of the Keene State College athletic program and basketball team died last Monday in his hometown of Perry, Iowa. He was 88.
Theulen arrived at Keene Stale College in 1968 and along with longtime men's soccer coach Ron Butcher and athletic director Ted Kehr elevated the Owl athletic program where it became a major soccer of pride for the College.
"Glenn Theulen was Keene State College athletics," said Butcher. "He was brought in to give the College and the students an athletic program that they could rally around and be proud of and he did just that. Even today, the athletes should be indebted to him for building and establishing the program."
"When Theulen came to Keene State, Spaulding Gym had bleachers on just one side. "He told the President that you better put seats on the other side," said Butcher. "In another year we're going to have this place jumping with standing room crowds."
Sixteen years and 210 victories later he would end his Owl coaching career with three 20-win seasons, four New England State College Athletic Conference (NESCAC) championships, and three NAIA Tourna¬ment appearances - and as the winningest men's bas¬ketball coach in KSC history.
Impressive as those numbers are, Theulen is just as proud, if not more so, of his other accomplishment during his tenure. "Sure it was great to win basketball games, but I'm also proud of the fact that just about all my players graduated and went on to be productive members of society."
One of those players was Dave Terry. Terry, who played for Theulen for two seasons 1969-71, came to Keene State from Bloomington Indiana. "When I was a high school player, I used to play basketball with him on the campus of Indiana University. We became great friends and he always said if he ever got a job he'd call me up."
Terry, who still holds Owl game, season and career rebound records, called Theulen a father figure who took his game to another level. "I brought into what he was saying and his theories," said Terry. "He had great ideas about coaching which came from his days in Indiana."
"Sports need a few characters and a little color and he brought that to Keene State," added Terry, now living in Erie, Pa. "But he was also a teacher who had a positive influence on his players."
The fact that Theulen preached success off and on the basketball court should come as no surprise to those who knew of his background. An All-State high school basketball and football player from Perry, Iowa, Theulen twice enlisted in the armed services before returning to Buena Vista College, where at the age of 36 he became the oldest player to participate in the NAIA Tournament.
After a successful high school coaching career in the Midwest, Theulen moved on to work as an assistant at Indiana University before answering the call to revive the basketball program at Keene State.
"Except for a few returning letterman, there wasn't much to work with when I got there," Theulen recalls. Not discouraged, Theulen hit the recruiting trail - a trail that would be very productive for Keene State. The list of Theulen's recruits reads like a Who's Who of Owl standouts, "I don't want to start mentioning names, because I might leave somebody out," he said.
It didn't take long for Theulen to work his magic. Three years later his Owls would post a program-best 21-8 record before making their first of three NAIA Tourna¬ment appearances in the 1972-73 season. "Chemistry was important," said Theulen, who at one time also served as athletic director and baseball and golf coach as well as a physical education instructor. "I tried to bring in players who had a winning attitude."
While Theulen coached his share of great athletes at Keene State, two in particular stand out: his sons, Mike and Matt Theulen. "It was the greatest joy of my career to coach them," he said.
Not afraid to play anyone, Theulen took on all comers on the court from the top teams in New England to national NAlA powers, And the fans at Keene State and in the Keene community responded. Theulen's Owls delighted the sold-out crowds at Spaulding Gym with their athleticism and run-and-gun style of play. "Every¬one came out for the games," said Theulen.
"I didn't have to do anything at times," he would say modestly. "They loved play¬ing the game," But those who were around him during those 16 years knew better. In his own way Theulen helped put Keene State on the basketball map. Leading up to his induction into the KSC Alumni Athletic Hall of Fame, Theulen commented, "I wish I could line up all my players and shake their hands." When you consider his genuine concern for his players, in and out of the gym, it's easy to understand his success. "His players always held him in very high esteem," said Butcher. "To this day, they always refer to him as coach."
Related Stories